Q&A: Interior Designer Tom Holley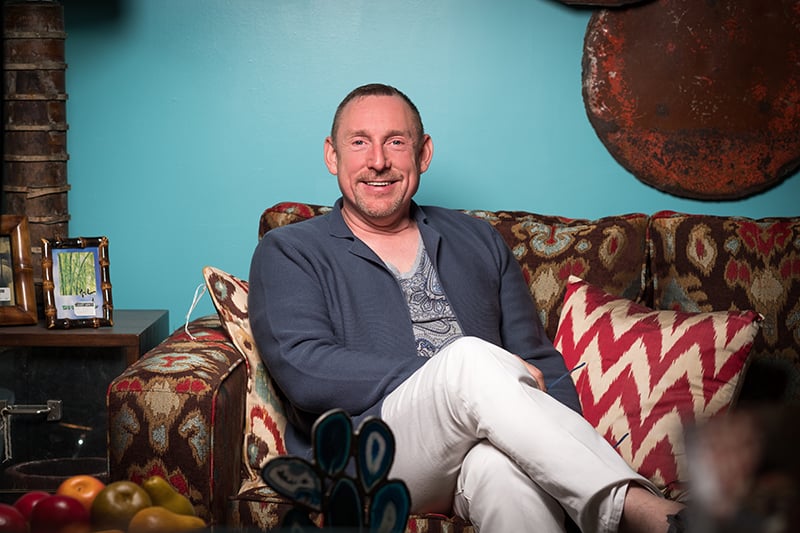 CHARLOTTE HOME + GARDEN: What's your favorite beverage?
TOM HOLLEY: Iced tea. Hands down; I drink it all the time.
CHG: Favorite color to wear?
TH: I wear a mixture of navy, gray, and black and bone.
CHG: Favorite color to design with?
TH: Turquoise. If you cut me open, I'm turquoise inside. I love turquoise. I love blues. I didn't used to love blues; that was a switch some years ago. It's very happy. In general, personally, I love jewel-tone brights. Colors that have a lot of depth. But I've come over recently to grays.
CHG: Favorite recent design trend?
TH: The grays, but more than that, I love all this natural, reclaimed, and organic wood pieces that you can put in. I want everything to be really grounded; I like everything really comfortable. I don't like any room you don't use.
CHG: Design trend you wish never happened?
TH: All beige.
CHG: Favorite national interior designer?
TH: Martyn Lawrence Bullard, because I love ethnic influences. He's an L.A. designer. I don't like everything he does, but he's probably the closest one I can identify with.
CHG: When did you know you wanted to be an interior designer?
TH: I was a French major that never taught. I was trained to be a French teacher. So I worked for French fashion companies in New York and L.A., managing stores and buying clothing and shoes and bags; that was my business for years and years and years. But it was a really good foundation, because home had always been about six months after fashion. … So when I was about 32, my mentor at that company left and went to a home company and took me.
CHG: Best career advice you've been given?
TH: "You can do anything." When I worked for Charles Jourdan in New York, the VP of that company was Kay Shortway; her husband was Dick Shortway, and he was editor of Vogue. And you would think that you're living in New York and that would be a liberal environment, and you're in high fashion. This is French high fashion. I stood outside of her doorway one day and she said, she was talking to someone, how gays were a necessary evil in fashion. And I thought right then that I would leave that company and just show them. So, being given the opportunity to go into the home and get out of fashion and that rat race was probably the best thing that ever happened. And it was my mentor from that same company who took me out of that (and gave me that advice).
CHG: Best place to find inspiration?
TH: Capri, Italy. I go every June, till I die or I can't be pushed in a chair any longer. The sun, the colors. I love Italian style; I love the mix of modern with old, just a little old. I love all the natural stuff that they do. It's my favorite. … In Italy, everything from the airport to the hotel is beauty. Everything is centered around beauty. They come from a space of beauty first. So there is design in everything and design inspiration in everything.
CHG: What's your best memory of the Clyne home, featured on page 50?
TH: It's picking each and every last thing, and they had no idea how involved it was going to be (building the house), and how much simpler it was because we worked as team. It always is. A designer can't replace the design office of a builder—they send you somewhere. But if you just go in by yourself, you're flailing in the wind, because you're at their mercy. They want to build the same thing: travertine.
CHG: What was your favorite completed room?
TH: Their great room. They have that great fireplace; it has a lot of furniture in it and has that great special trough and then you see all outside, and from that great room you're seeing that kitchen, that rosewood modern kitchen with all those organic mixtures. It's that juxtaposition that I like in that room.
---
Crazy Jane's
2502 Dunavant St.
704-332-5454
Years in business: 20
Hometown: Born in Tennessee, grew up in Black Mountain and Morganton, North Carolina
Years in Charlotte: The most recent time, 21. I went to UNCC and I promptly left for New York. …And the reason I moved home in 1995 was my mother was sick with cancer, so I moved back to Charlotte.
Pets: A half-long-haired Chihuahua, half-papillon named Romeo. Five pounds, and joy of my life.