Q&A: Interior Designer Wanda Horton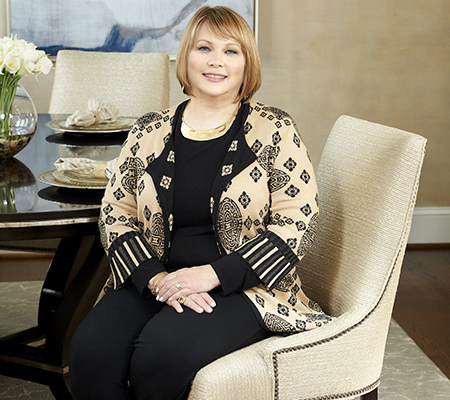 Wanda S. Horton Interior Design
704-776-9100
Years in business: I have had my own business over 20 years, but graduated from (East Carolina University) with a degree in interior design more than 30 years ago.
Hometown: Durham
Lives in: Union County
Family: Husband, Roger, and three rescued dachshunds named Freckles, Magnum, and Mindy
Charlotte Home + Garden: What's your favorite color to wear?
Wanda Horton: Black
CHG: Favorite color to design with?
WH: I know there are some designers that have their signature look, and that's not necessarily a bad thing, but I just love so many different things. I live vicariously through projects.
CHG: When did you know you wanted to be an interior designer?
WH: My mother's a nurse, I have several aunts that are nurses, and I also had an uncle and a cousin that were physicians, so medicine ran in the family. You heard that message, 'Go into the health care field and you'll always have a job,' so I did. I majored in community health for the first three years. I remember the minute I called home to my parents and said, 'I hate my major. I want to quit school.' … Over the summer, I really thought long and hard about what is it I want to do. I always loved being creative and artistically inclined … I took some classes in design and I was hooked.
CHG: What's the best career advice you've been given?
WH: When I began my business, there was a gentleman that used to own a bedding manufacturing company. He was retired, but he was still kind of working in the home furnishings industry. I told him that I was starting my own business, and he said, 'Well, the best advice I can give you is this,' and I thought it was a funny analogy: 'Think of this as, have you ever been to a cafeteria before?' I said, 'Yeah, you know, we all have, probably.' He said, 'You know you've got this tray and it will only hold so much. So pick and choose what really speaks to you, to your palate, to your desires.' In other words, don't gorge yourself. Don't take on too much. Be judicious in how you proceed.
CHG: What's your favorite recent design trend?
WH: I am kind of a non-trend person. By that I mean, yes, I have to know what's out there, what's available, but I feel like sometimes we're so focused on what's trending—be it a color palette, be it a certain style— and then you start to feel like it gets so redundant over a period of time. You start to look at it, even in a couple (of) years, and you go, 'Ugh, I'm tired of that.' And I have to say—probably because of my age—I've seen it come full circle a couple of times, so I think if it was heinous then, it's heinous now. Good design is always good.
CHG: Favorite national interior designer?
WH: Barry Dixon, mainly because I've had an opportunity to chat with him and meet him directly. You can look at his work and you can see where he's done some historical properties, and they're honoring that. Yet, he's also done some things that are very clean and leaning towards modern. One of the things he said in one of his presentations that also stuck in my mind is that he always considers the exterior. For example, if you're walking into a home like this, the exterior's more Mediterranean. It might feel a little odd to come into something that feels like it belongs in a New York City loft. … It's a good guideline to be thinking about it. Switch it up a little bit and break the rules, but not too much, where it feels like it's not genuine to the architecture.
CHG: Best place to find inspiration?
WH: Market is always a great place for inspiration. … Any place, I say, that has history. A place you can pop to pretty quickly from here is Charleston. Every time I go to a place like that, I feel like I see a different architectural element.
CHG: Three words that describe when clients see their completed home
WH: Joy. Accomplishment. Livable.