Q&A: Johnson C. Smith University President Clarence D. Armbrister
New university leader Clarence D. Armbrister on what he's learned in the first few months of his tenure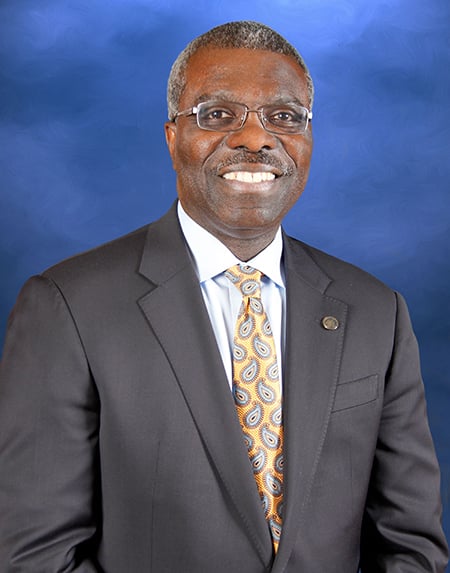 IN EARLY FEBRUARY, after just one month on the job—the new Johnson C. Smith University president officially took the helm of the university on January 1—Clarence D. Armbrister sat down with Charlotte magazine. Armbrister had plenty to say about the institution's place in a gentrifying west side; the school's 150th anniversary; how he plans to steer the university out of the financial probation it found itself in last December, when the Southern Association of Colleges and Schools Commission on Colleges refused to reaffirm its accreditation; and how he might one day become a Panthers fan. (This interview has been edited for length and clarity.)
---
Charlotte magazine: How does Johnson C. Smith University fit into a rapidly growing Charlotte?
Clarence D. Armbrister: As I'm going around and talking to various constituencies, I've started to evolve in my thinking. I've always understood JCSU's importance to the area. One of the things that seems of some interest, particularly to Charlotteans and Charlotte's civic leaders, is this notion that somehow the city ended up as 50th in that economic mobility scale, and as I sit back and I contemplate how you move the needle on that, there really is no institution in this area that's better prepared to move the needle. I'm not saying we're gonna solve all the problems, but a place like Johnson C. Smith, which gives access and opportunity to the types of students we have—many of whom are first-time college-goers in their families—can move the needle in very significant ways. To those folks who are looking to invest and move that needle, Johnson C. Smith is the place to do it.
CM: How in the immediate future does JCSU plan to support the growing West End?
CDA: A lot of great work has already started. The university, particularly under Dr. Ronald Carter's leadership and the board's, has made significant investments in the creation of, for example, the Smith Institute, which is a research arm of the university doing lots of research in the area to help inform the community of choices it might want to make. Not making choices for them, but helping them be informed as they make a choice. The university will continue to invest in those ways and continue to be a convener when asked, and a leader when appropriate, to help move the community, because this community is a significant part of our existence, as well.
CM: As some parts of the West End begin to gentrify, how does JCSU plan to support its history and stature as a strong historically black college and university (HBCU) in this changing environment?
CDA: Well, part of that is staying true to our roots in our 150-year history, which is providing access and opportunity for students who may not have those opportunities. And some of that has been manifested in some great work that's being done in the focus of our social work school in metacognitive issues, the fact that through our admissions process, we look at things other than SAT scores. I think we're gonna continue to be a place that provides access and opportunities to students and makes sure that we're not exclusive, either. Going back again to that mobility issue, it really is important our students be prepared to go out in the world that exists, which is this kind of multicultural mix, but we really want to make sure we don't forget our traditions, as well, because they're really, really important to the foundation of this school.
CM: What are some of those traditions?
CDA: One of the things about HBCUs in general, but I've seen here in particular, this is a very, very close-knit community. People here feel good about being here, and that's really the heart and soul of the tradition of this institution that I've seen in multiple instances, whether it's students interacting with support staff or the cafeteria workers; it's things like that. It's just a real big family, and so that's one of the traditions I want to maintain.
CM: How do you plan to steer JCSU out of its current financial probation?
CDA: Certainly, whatever's going to happen is going to be a collective effort. It's not solely incumbent upon me. But part of what we need to do is make sure we understand what the concerns are, and so we're in the process of talking to our creditors about that and trying to address those concerns, and as we continue to work with them—we don't have all the answers yet—we're gonna come up with a plan to address that. I have, unfortunately, had experience in financially stressful entities, be it my work in the Philadelphia school district when I was managing director there, or when I was the chief of staff to the mayor of Philadelphia in 2008, before the recession. I'm not daunted by the challenge. I'm gonna look forward to working with some really competent folks around here to make sure we understand what the concerns are and that we have a plan to address them.
CM: Taking that finance bucket aside, where do you think you would like to strengthen JCSU and improve the most?
CDA: One of the things that we all want to do is to make sure JCSU gets the prominent recognition it deserves among its faculty, its students, and staff. What I'd like to see, aside from those other finances, is to see when issues of concern arise in the local community, the region, or even global or national concerns, that somebody would call my colleague here and say, 'Can I get a quote from fill-in-the-blank on what's going on in terms of the demographics of crime statistics?' We have these great criminologists here. I'm not sure why, when we're this close to the media infrastructure, that people don't come here first. And that's something I've heard some of my colleagues talk about, because they're doing good things. So, if I can do anything, and I don't mean me solely, but if we can do anything collectively, it's to raise the profile and make sure people like you come here first.
CM: The university just celebrated its 150th anniversary. If you had to predict the future, what would you hope the university is celebrating in its 300th year?
CDA: Oh boy, that's a great question. That we're among those institutions considered go-to institutions not only in Charlotte but in the region, that we've played a very significant role in that huge upward mobility gap that now is a bad dream, that is forgotten because people who need access to higher education have found a place at Johnson C. Smith and they come here and stay here in this community, and they become productive, active citizens of the region, and that Johnson C. Smith continues to be looked upon as a thought leader in all of those areas.
CM: What's the best thing you've eaten since you've been in Charlotte so far?
CDA: (Laughs) Can I give you a slightly different take on that? I'll tell you something that was interesting that I ate, and I wanna tell you a little bit of a story, because it confirms this was the place I was supposed to be. My wife and I have been married 20 years. My wife has never fried a pork chop. She's cooked pork chops in other ways, but she's never fried a pork chop. For some reason—this is after I'm announced, but before we're introduced to the community—I want a pork chop so badly, and I verbalized this to my wife. God bless her, the great woman that she is, she's gonna get a recipe for fried pork chops, and I said, 'Sweetheart, don't do that. Just cook 'em the way you normally do.' So, she baked 'em and I ate 'em. And I kinda forgot about it. When I come here for my announcement—when I was formally introduced to the community—we went over to the faculty dining room, and one of the first things you see is fried chicken. The next thing was fried pork chops. I looked up and said, 'If there's a God, I know I'm in the right place.' It was like serendipity. The food here is fabulous. There hasn't been anything here that I haven't liked; I'll put it that way.
CM: When the Philadelphia Eagles play the Panthers next, who are you rooting for?
CDA: (Laughs)
CM: Or are you a Dolphins fan? (Armbrister is originally from Miami.)
CDA: You hit it right on the head. I'm a very frustrated Dolphins fan. I got to live as a teenager through their glory days. They won the Super Bowl in 1972 (and 1973). I'm still a diehard Dolphins fan. I have to admit, the last time Carolina and the Eagles played, I pulled for the Eagles. But I can be persuaded. I'll leave it at that.