Q&A: #KeithLamontScott Reactions Used in Goodyear Arts Residency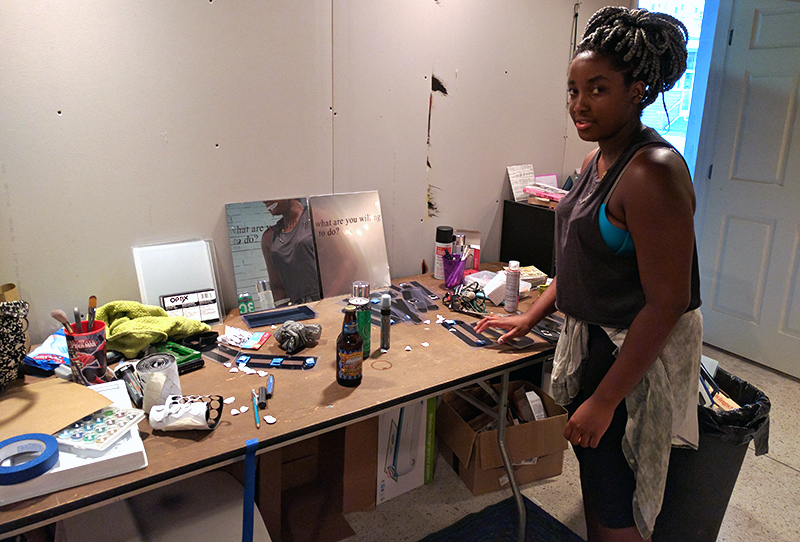 RENEE CLOUD IS one month into her stay at Goodyear Arts, an artist-led residency program that currently inhabits a former nightclub at 516 N College St. But last week, she decided to abandon everything she had been working on and try something new. Following the police shooting of Keith Lamont Scott and subsequent protests, Cloud decided to take social media comments from news outlet posts about the situation and recreate them on the windows of the space. During this process, words become obscured and garbled, which Cloud saw fitting and true to the nature of Internet comments. Here, we talk to her about this new project. (We spoke two days after the shooting.)
So, what made you decide to completely pivot your work here at Goodyear Arts?
I went to bed two nights ago not OK. And I spent a lot of time yesterday trying to work through it but also stay on track on what I has been making, not letting it derail this project. But then I woke up this morning and thought, "I can't just hide from it. I can't run away with it. I gotta do something. What can I do?" The only thing I could think of doing is taking what is out there and what is already being said by people in those comment sections, especially on sources that are supposed to be providing information. I watched them put their own spin on the point of (those articles and videos). I wanted to explore what's going on in their minds. Who is on the side that's protesting? Who's against the protesting? There's all this specific language that was being used. I have to use my platform within the city, it's not a giant one, but I have to use it to elevate awareness of what's going on.
So you're picking from both sides of that debate?
I'm trying to go from both sides. There are some picked based on their formatting style. (Laughs.) There's a little bit of an aesthetic window that I was exploiting. But I'm trying to show dissenters and supporters. When people are typing, they're in the heat of the moment, and they misspell things and there's no sitting back and putting together what we want to say. They think, "Let me just fire this off."
Are there any small discoveries so far in this process?
I am surprised by the heavy use of the term "thug" in the comments. In my naivete, I thought we were past the point of using that term. We are not. I felt like we had established that it's borderline a racial slur, because it's not applied to any other group when anything else going on. It's just immediately, "black thug."
It also surprised me to see the amount of derailment. There's one woman who is insistent on talking about things going on in Shelby that in no way relate to what's going on right now. She just talks about unrelated crime in Shelby. And people saying, "What about black-on-black crime?" Well, what about it? What does that have to do with this?
As a Charlotte native, how do you feel about people showing surprise in it coming to this?
I've seen it coming within society. It was only a matter of time before it got here, because we're dealing with a lot of gentrification right now. We're dealing with the re-landscaping of the city. So many people who have called it home can't afford to call it home anymore. It does not surprise me. I wouldn't say that I wanted it to happen.
You just have to stay aware. The city's just changing so fast; we have to remember where it came from.