Q&A: Next Steps for Heritage Food & Drink, Now The Stanley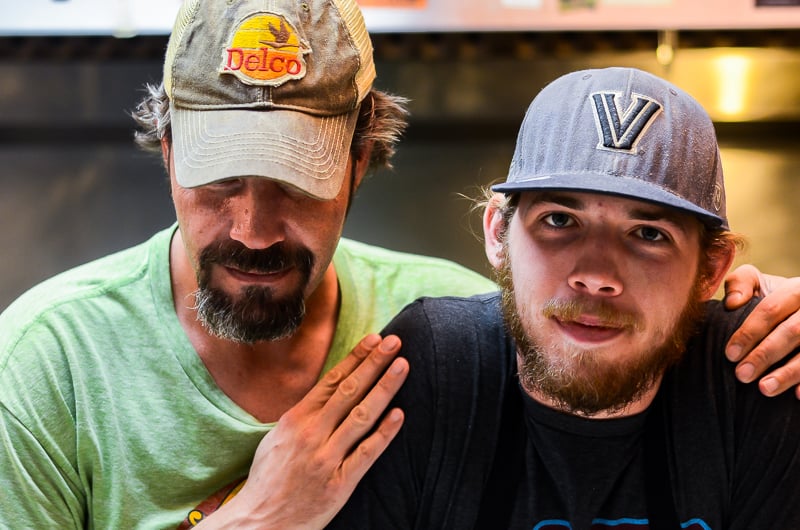 Editor's note: Verica confirmed that the name for the new restaurant in Elizabeth will be The Stanley.
YOU'LL NOTICE the reigning No. 1 restaurant on the 2016 edition of our 50 Best Restaurants isn't on this year's list. Paul Verica, chef and owner of Heritage Food & Drink in Waxhaw, announced in August that he's opening a new restaurant in the Elizabeth neighborhood of Charlotte. The name of the new restaurant will be The Stanley, a name borrowed from the neighborhood's history. Below, Verica shares details on what will be different at his new place, which he's temporarily calling Heritage 2.0, and his goals for the restaurant's first year. (Edited for clarity and for space.)
Charlotte magazine: How did the decision to move Heritage come about?
Paul Verica: When we hit No. 1 (on Charlotte magazine's best restaurants list), what two years ago? It's just one of those things that I really think helped us get over the hump, so to speak, and it dynamically just changed our business. We went from being full weekends and weekdays being OK to turning away 50 to 60 people a weekend. Even at the very end, we were still turning away, on average, 40 people a weekend. When you do that math, 40 people a week at $60 a head over the course of a year, it's a lot of money. The kitchen was really limited, what we could do—the size limited what we could do. It was time.
CM: What kind of emotions were you feeling on your last day?
PV: The last day was beyond bittersweet. With all the personal stuff I've had going on this year, it made it even that much more so. When the last plate went out, I remember grabbing (my son) Alex and just hugging him. It was sad. But it's, you know, what do they say? One door closes, another one opens. It was definitely the end of an era, the end of a chapter in my life in so many ways. But on to new beginnings.
CM: Your son, Alex, is your sous chef. How important is he to your success?
PV: Huge. Alex is huge. Number one, he knows and understands my standards and the level we want to perform at, and the level we want the restaurant to be at, and to have him there to help me train people will just be awesome, having somebody I know like that, that knows me so well, that I trust, is huge. I really feel like it will help me get out of the restaurant more, and be able to get out and do things. There are so many events and festivals and stuff like that I haven't been able to do because it was me, Alex, and one other person. I'm excited to start to see him grow into more of a leadership role.
CM: What are some of the things you'll have at the new place that you couldn't do at Heritage?
PV: The menu's going to change drastically. I know this might sound funny, but having the bigger space and more people in the kitchen will allow me to do more touches and really be able to, I think, focus and get a little more intense with what we're doing. I have been reading like mad, it's been a lot of fun. Just ordered the new WD~50 book (Wylie Dufresne's new cookbook), which I'm super, super excited about. I want to do some really cool table-side stuff; I don't think anybody's doing anything like that in town right now. And we have a couple really cool concepts for that that I'm excited about.
CM: What else can you share about the food?
PV: The menu, it's going to very much the same but very different. No deviled eggs. Absolutely not. I don't think I could pay Alex enough to make deviled eggs again. The menu's going to be more small plates-focused, just because I feel like we've always been able to play more with the small plates. And I think in that neighborhood, the neighborhood's going to allow me to be a little more creative and expressive. Still totally seasonally-driven and farm-driven, for sure; one of the things I'm excited about is being able to work with people I haven't been able to work with before.
CM: It sounds like the new place will have more of a focus on the restaurant's interior and vibe, as well as the beverage program, than there was at Heritage.
PV: It's so nice to finally have the restaurant I always wanted. Heritage was great and we did great things there, and especially in the size of the space and everything about it, but now I've been able to do it from start to finish, sitting there with Scott (Betzold) and his team at (design firm) D3 and going through the design every step of the way. They've done a great job making sure what I see in my head, I see on the paper and I see in the renderings and the drawings. Being able to have a bar is going to be huge. We'll have our special consultant developing our cocktail program, and I'm excited about that, and I think having Gary (Crunkleton, of The Crunkleton in Chapel Hill, opening a bar) next door is going to be really good, too. I really think the two of us are going to feed off of each other. But yeah, it'll definitely be a lot more me than the other space was. It's going to have a much more modern feel to it, but still have the classic elements, with the exposed brick and the pressed tin ceiling. I kind of look at it like that's the way our food is, very classically, old-school grounded, but I love to play with new and modern stuff, too.
CM: You mentioned a lot of personal sacrifice. How do you weigh whether it's worth it?
PV: I don't know; that's a tough one. You know, Heritage, my work ethic, the way I look at work cost me a lot on a personal level. It was pretty much the downfall of my marriage. I was married to that restaurant for four years. It was all I thought, lived, ate, and breathed, and it got to a point where it was consuming, and I let it consume me. It took its toll. For me, is it worth it? That's a tough one. I'm kind of at the point in my career that I've been working toward for the last 20 years. So, to me it's now or never, you know? I've gotta take this shot. And I hope that it pays off in the long run.
CM: What is your plan for the time between restaurants?
PV: To relax. To travel. Eat as much as I possibly can. Read as much as I possibly can. I've probably got four books I'm working my way through on my coffee table right now, really trying to get back in touch with the creative process. Just trying to focus in on what I want the restaurant to be.
CM: What are your goals for the first year of the restaurant?
PV: Best three (James Beard Award) nominations—one of three would be great. Best New Restaurant would be awesome, even to be on the radar for that would be cool. I look at the little placard from the James Beard Foundation at my house all the time, and I'm like, I still can't believe I got that (semi-finalist for Best Chef: Southeast). Best restaurant, best chef, best bar program, best pastry program. We're trying to pull out all the stops. Ashley (Bivens Boyd, pastry chef) is super creative, and we're happy to have her, and she brings a lot to the table. Her and Alex both really do. It's good to have them. You're doing top 50 this year, so I don't have to worry about that for another two years (laughs).