Q+A: The Future of The Penguin
Alesha Vanata on her new restaurant coming to Plaza Midwood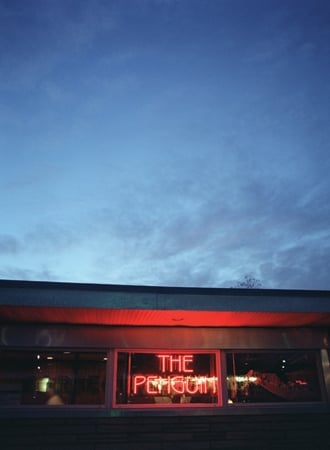 This week, we learned the fate of The Penguin in Plaza Midwood: It will reopen as Comida, a lunch and dinner spot focusing on Latin flavors. Will the sign stay? What does this mean for the exterior? Here, Alesha Vanata, the restaurant's new owner and owner of littleSpoon, answers our questions.
Charlotte magazine: Why did you choose Latin cuisine?
Alesha Vanata: I've been here a year and a half, and [Latin is] the cuisine outside of Korean food that I miss the most … this is a completely different take on what I miss from southern California, what I miss from Mexico from my travels. I want it to be light and casual and easy, but elevated.
CM: How would you describe that cuisine to people who haven't experienced Latin flavors before?
AV: It's not Tex-Mex; it's lighter, it's fresher, it's better for you. It's not that fried, it's not cheese-laden. We want to utilize as many local ingredients as we can, but obviously avocados are not from here. There are greenhouses, [and] we're trying. We're talking to [local farmers], like, "Let's try to grow avocados! I'll start them in my kitchen." Tomatoes, fire-roasted salsas. I want everything to be made in-house, I want everything to be presented in a way that is a new traditional for the cuisine, not American traditional. Don't expect fajitas on our menu. Or burritos, or a chimichanga.
CM: Do you know what the menu is going to be, and have you picked a chef yet?
AV: We're in permitting right now, so all of our equipment has been selected. We have found the chef that we want to use, and I'm not releasing his name because there's a lot of time between then and now. We love him and we're nurturing him and I am super-excited that he's come on board, but it's really not about me, not about him, it's about what we're doing, so I want to keep focused on that. For the menu, I have a skeletal idea, but I believe menus are constantly evolving and changing and really organic. I know we'll have house-made tortillas, we'll have a wood-fired grill. There are great things that are going to happen, but how those things are going to play out, I'm not quite sure yet.
CM: The Penguin was a big part of Plaza Midwood's neighborhood identity. Do you feel a lot of weight coming into this landmark?
AV: I feel honored that we have it. It was a battle to get it, so I feel like we've earned it. To be honest, as glorified as the history was, it's really checkered, and not all that positive. And so I want to take a space that is a landmark and make it pretty again, and give it a new future, and a new face and a new name, and create a place where it is comfortable and fun and you want to hang out, and it's easy. But I want to separate myself from the drama and the history because it's just not who I am. And I think it's amazing that everyone is so passionate about the space, and we promise not to change the exterior too much. I love the mid-century building, love the weird slate tiling. But it needed a facelift 15 years ago, so we're just going to freshen it up. It's such an important corner for Midwood, and Midwood is changing. It's changed so much in the year and a half I've been here. We're not big corporate money; everything is heartfelt. Everything at littleSpoon was picked out by hand. It's literally my heart on my sleeve, so I feel good. I want it to be successful.
CM: Will you keep the Penguin sign?
AV: We don't own the copyright to The Penguin, so in the rotating sign, we don't own the plastic inserts. But the sign will stay. And as long as it rotates, we'll put in our own signage. Everything else is ours. We'll be selling the tables and chairs, and some of the memorabilia, some of the stuff in it as well. I hope people will be really pleasantly surprised [by the new look]. The people who've seen the plans love them.
CM: What is the seating capacity? Will there be any patio space?
AV: There is a patio. It's not where I think everyone is expecting. L.A. has a lot of enclosed patios that feel like mini oases, and that's the feel we're going for, so that you're still outside but you're in the shelter of thid little world. Right now, in the plans we have 30 to 40 seats outside. [Inside], we're hoping to have 15 to 20 at the bar itself. We'll have a kitchen-facing counter bar that will seat five to six, and we're looking at probably 30 to 32 inside.
CM: You designed littleSpoon yourself. Are you doing Comida's design, too?
AV: The design, for the most part, is very clear in my head. All the elements have been picked, we're just waiting for the go-ahead. Designing the restaurant is one of my favorite things to do, it's picking out every element. It's important to me to create a home, not only for my staff and family, but everyone that comes in. I want them to feel like they're dining in my house, I want them to be comfortable. So we sit in all the chairs and I pick out the design and I'm very specific about where everything is. We have great people that we worked with on littleSpoon that are going to come work on the new place, too.
CM: How has your life changed since opening your first restaurant, littleSpoon?
AV: I don't sleep anymore. It's funny, it's like being a parent. I don't sleep, not like I used to. But it's exciting and it's rewarding and it's a constant challenge. It's always fulfilling, and every good and bad decision I've ever made made me right for this. Four years ago, if you said, 'You're going to move to Charlotte, and you're going to own a restaurant, and then you're going to open another one,' I would have laughed in your face and told you you were crazy. I'm never leaving L.A. I don't know what you're talking about. That, or I'm going to New York. Those were the only two options. And then Cupid hit me over the head, and showed me the life I was always supposed to lead. Which is amazing.
We'll keep you updated on Comida's progress. In the meantime, read about the history of The Penguin from the Charlotte magazine archives here.