Q&A with Charlotte brides
It's easy to get caught up in the bells and whistles of planning a wedding. Learn from these Charlottean newlyweds and see what they had to say about their big day, for better or worse.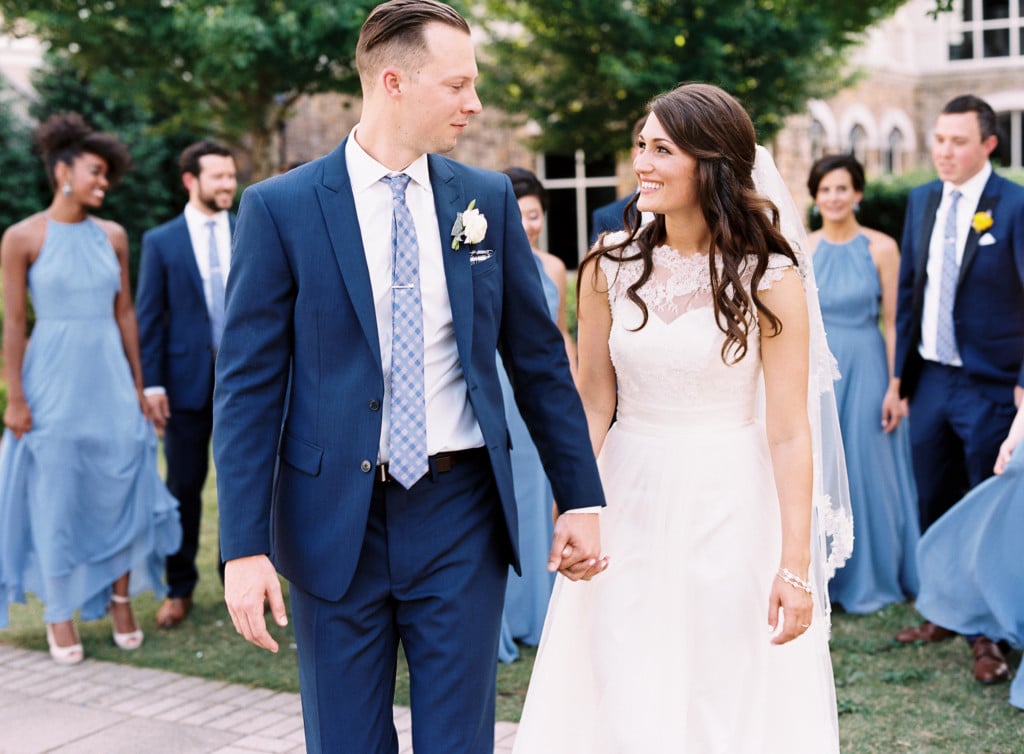 Planning a wedding is fabulous, but we'd be kidding ourselves if we said it was always smooth sailing. That's why we reached out to local brides in the Charlotte area who have already tied the knot to see what they loved (and maybe didn't love) about their big day. We've got it all here – the good, the bad and the ugly.
What do you wish someone would've told you about wedding planning?
Megan, married May 17 at Ballantyne Resort
I wish somebody would have told me how incredibly exhausted I would be the next day… and the next. With us not going on our honeymoon right away, we actually went back to work right after the wedding. I wish somebody told me to take some time to emotionally regroup and to just decompress. Eighteen months of stress and planning can take quite the toll, and once it is all over, having some time to mentally adjust will do you well.
Kali, married July 26 at Omni Grove Park Inn
To not get hung up on the details. The day goes so fast, and nobody is going to remember what color napkins were on your tables.
Kathryn, married May 24 at Myers Park Country Club
Be flexible and have fun. I also wish I considered all the extra "small" costs in my budget. I only focused on the big things… Things I did not think about in terms of my budget and time were cost of stamps on both envelopes, calligraphy, accessories, linens, chairs, hair and makeup, lighting, decor, fees for cake and dessert stands, license, transportation, gift bags in the hotel (literally the bags, not what went in them), sparklers and thank-you cards.
It's no secret that weddings are expensive. Did you splurge on anything?
Kali
The venue and the band. The venue was a sentimental place for us. It was one of my husband's late mother's favorite vacation spots. The band was so worth it! Having live music and a great band made the party! Guests couldn't stop talking about it.
Krysta, married April 25 at Unknown Brewing Co.
We splurged on flowers, food, and dessert. … I got so many compliments on my flowers and am glad I chose modern, fun, and fresh flowers. As far as food, we went with a catering company that teaches men and women with troubled pasts a culinary skill that they can take into the real world. … We splurged on that because we felt that giving back to our hometown was important. Dessert was a splurge because we had a whoopie pie bar instead of one traditional cake.
Jenny, married Nov. 8 at The Gaspirillia Inn
Our photographers were amazing … My husband and I are not with the traditional, obligatory — and usually boring — super-posed, family-a-hundred-ways arrangements. We were hoping for unusual, artistic, once in a lifetime moments that capture the flavor of the wedding day, and of us. And that's exactly what we got. Definitely worth the splurge.
If you could relive your engagement and wedding day, would you do anything differently?
KC, married April 11 at St. Ann Catholic Church
I would not have been engaged for so long. We were engaged for 18 months because that worked best for our schedules and we wanted our daughter to be able to participate. It was way too much time for planning because it allowed us to change our mind so much and left a lot of time for things to go wrong last minute. If you can, I wouldn't go more than 12 months.
Megan
If you would've asked me this before the wedding, I would have said that I would not have scheduled my wedding the same weekend as the NASCAR All-Star Race, the Wells Fargo golf tournament, and graduation. Leading up to the wedding, I was so stressed about the number of events in the city that were happening the same weekend as our wedding, but now it actually was a great thing. With so many people traveling from out of town, many people made a weekend out of it and actually went to all of the events that were happening.
Stephanie, married Sept. 14 at the Holiday Inn Centre City
I had a kids' table at the reception and a nanny in a hotel room for the babies. All of the parents wanted to use the nanny, however, so the kids' table was empty and my nanny was unprepared for that many kids. I would have planned for just the nanny and skipped the kids' table had I known none of the kids would stay.
{ as seen in August 2015 Charlotte Wedding magazine }