Q&A with Lindsay Cunningham of NC Yoga Bar
Local yogi shares her experiences helping brides get fit and have fun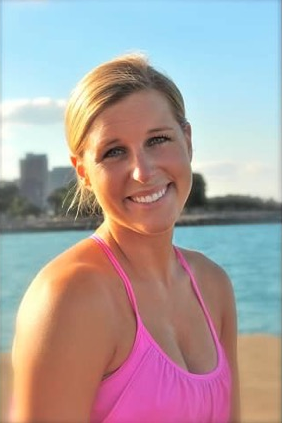 Lindsay Cunningham, a native of Chicago and Michigan State grad, noticed something was missing in Charlotte's yoga scene when she moved here a few years ago. To fill the gap, she launched her own mobile yoga studio, NC Yoga Bar. A newlywed herself, Lindsay calls her business "yoga with a twist" as she combines fitness with fun (and usually cocktails!) for brides-to-be.
On May 31, NC Yoga Bar will team up with AIR Aerial Fitness to host "Wedding Day Namaste" for brides and a friend. Brides will spend 30 minutes exploring aerial fitness with professional instructor Kerri Flanigan before launching into 30 minutes of yoga and stretching with Lindsay. Afterward, attendees will sip mimosas and snack on light bites while mingling with other brides.
Bride + Groom sat down with Lindsay to learn a little more about NC Yoga Bar and how her platform is helping brides in Charlotte get ready for their big day.
What is NC Yoga Bar?
It's kind of a new concept. My husband and I moved down here thinking I wanted to open my own brick and mortar studio. After doing research on the market, I realized, there are tons of studios with lots of options so let's do something different. I come from the marketing and event planning industry so I thought, 'Why don't we create an experiential yoga studio where instead of people coming to our studio, we bring studio experience to them? Then, let's tie it in with a social aspect in the community.' Instead of just doing yoga, we're pairing it with a wine and beer social hour after work, happy hours, Bloody Mary bars and more.
How does NC Yoga Bar appeal to brides?
When we got started, I thought, 'Why don't we do something for brides at their bachelorette party? We could do mimosas, fruit and breakfast. We want to bring a less-intimidating social aspect to yoga.
We also do events on the day of a wedding. My husband and I got married back in July and I hosted an event for my bridesmaids the day of the wedding. Wedding days are hectic so I got to connect with people on a more personal level. It was fun for me.
A lot of times, I'll do yoga and social events for brides and her bridesmaids on the day of the wedding, or as bachelorette parties. It's a way to relax before things get hectic.
So you don't have a studio?
We have a traveling studio. We have 20 mats and all the accessories needed and brides or bridesmaids can pick from different packages of what they would like to do.
We try and make yoga less intimidating. We broaden the appeal. A lot of times people are scared to walk into a studio of people who know exactly what they're doing. We try and make it more affordable too.
Yes, we're about getting fit and healthy and showing you the benefits of yoga but it's so much more than that. We want you to have fun with it and enjoy yourself with friends. I think that's going to keep you doing it and keep you in that routine of staying fit and healthy.
What's Wedding Day Namaste all about?
Kerri and I were looking for a way to reach out to brides. We'll do half an hour AIR fitness and then half an hour of restorative yoga deep stretch. After that, we've invited vendors to come in, we'll have mimosas, wine, champagne, light bites and snacks. Brides can relax with their friend but also get a taste of what we do. It's an introduction to the yoga bar.
What you need to know:
Wedding Day Namaste
When: Sunday, May 31
Where: AIR Aerial Fitness | 1043 Providence Road
RSVP: www.airfitnow.com
Cost: $5 for bride and a friend
2:30 p.m. AIR class
3:15 p.m. NC Yoga Bar
3:45 p.m. Social
Brides and bridesmaids have fun getting in shape and sipping mimosas with Lindsay at the NC Yoga Bar