Q&A with Mick Foley
The author, former pro wrestling star, and now comedian talks about his act, why standup is a lot like rasslin', and his upcoming Charlotte show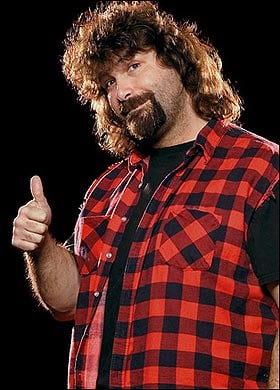 Hardcore wrestling legend Mick Foley has collected a lot of titles over his near thirty-year career. The 46-year-old father of four is a best-selling author, a sometime actor, and the star of the eye-opening 1999 documentary Beyond the Mat. He's recently added standup comic to that list. He'll display his still very new standup skills at a fundraiser for fellow pro wrestler Shane "Hurricane" Helms (a Smithfield native who was injured in a motorcycle accident in May) at The Comedy Zone, Wednesday, October 5. Foley talked to Charlotte magazine recently about the Hurricane Relief Benefit, his foray into standup, and his work with singer/songwriter Tori Amos.
Tell me about this comedy tour. I've heard from wrestling fans that you talk a lot about your experiences in wrestling, and obviously you've been funny in your books, so should fans expect a traditional standup act?
Certainly there are elements of wrestling in the show. But I try not to exclude those brave enough to come who are not wrestling fans. It's a very inclusive experience. I don't do mean material at all. Some of the stuff is probably better for people over 16. There's nothing really shocking. It's a storytelling form of standup comedy. I'm not hitting punchline after punchline. I touch on current events. I don't have one set show. Some comedians do it that way. If I have something that seems humorous happen to me or if I happen to hear of something that lends itself to humor, I'll try it out the next day.
How did this next career come about?
As you mentioned, the books sometimes made people laugh out loud in inappropriate situations, on airplanes and whatnot. And on book tours I did get a chance to talk to several dozen universities, including prestigious ones. But when I did college talks there was no emphasis on being funny. A humorous story was just a bonus. Whereas getting on the standup stage predicates being funny. It's been an adjustment. And there are some nights that go really well and some nights that are works in progress, but I hope that this event, raising money for one of our own guys, will bring wrestling fans out, especially in a city with such a rich wrestling history.
Hurricane was injured along with his girlfriend. How is he now?
He's laid up for at least a year and may never wrestle again. I talked to some guys that saw him (afterward) and they said it was just horrible. He nearly lost his leg. I do want to emphasize that 100 percent of the ticket money goes to the cause. I take care of my own airfare and hotel, and any of the guys that come in and help me out (to do the meet and greet) are doing it for free. I talked to Shane, and what he would like to do instead of taking the money for himself and his medical needs, he's going to take whatever money comes in and produce a public service announcement that may help other people avoid the pain and suffering he's going through.
Because of the circumstances of the accident (which includes a DUI charge)?
I think so. I don't want to get into anything else, because I think there are legal issues involved. I think he thinks he can help people through a service announcement.
Are you having it here because he's based in North Carolina?
That's exactly it. I'd just come off a couple fun successful shows and I cold called—well, emailed The Comedy Zone. They got back to me the next day and said let's pick out a day. I'm going to use social media to send out an open invite to any of the area wrestlers that still live there.
Are you working with any wrestling companies now?
I just left TNA (Spike TV's Total Nonstop Action). I will probably be joining WWE. Maybe I'll ask the powers that be there if (Charlotte's) Ron (Killings, aka R Truth) could stop by. [ED: Ric Flair has since joined the show.]
So what are you doing in L.A. this week?
I'm on the board of directors of an organization called RAINN (Rape, Abuse, and Incest National Network), and we're having our first Hollywood type of event.
Is that Tori Amos' organization?
Yes, it is. I did a big fundraiser the entire month of April. It's difficult stuff to talk about, and there's been no Hollywood imprint. So hopefully this event will be a way of introducing important people to what we do and hoping they'll help us out.
How long have you been involved?
Three years, and I've been a volunteer online for about a year and a half. If I get into a city and check into my hotel, instead of turning on the TV I'll try to see if I can help somebody out online.
So it's like the hotlines of old, but online?
It is. They don't have any idea they're talking to a pro wrestler, which I guess is a good thing. I get on there at least once a week and more when I can.
Did you train for it?
I did 40 hours of training, and you learn on the job as well. One of the things I'm hoping to do when I get a chance to talk about this on television or on radio or in papers is to encourage people to try volunteering. It's very hands on and it's something that is within people's grasp and they might never think of doing this type of work. I think sometimes the best volunteers are older people, and when I say older people I mean people my age, in their forties and fifties. I asked RAINN how many volunteers that they have that are my age and they said, "Including you? Three." Out of their hundreds of volunteers, there's only three people my age.
I saw an article somewhere about you and Tori and how you had been a fan.
Yeah. I've been a fan since 1993. Her music used to inspire me for some of my wrestling matches. And as I learned more about RAINN, it inspired me to become a volunteer. I had to make a decision between being a volunteer and pursuing comedy. Now that I'm established as a volunteer I thought I could give comedy a try. I did a few shows in New York a few months ago. I saw how good the experience made me feel and decided to give it a real shot. I found out a little while ago that I'm in Glasgow, Scotland, the same night that Tori is there. I Google-mapped it and the venues are like twenty-two seconds away from each other. So I'm planning to just do the meet and greet, finish my show and try to catch the last hour of her show.
Were you much of a class clown growing up?
I enjoyed reactions. I was drawn to wrestling by the reaction, not by the competitive aspects.
How close is it to playing a humorous character in the ring or on TV?
Much of what I did in my later years was humorous. It's not a vast departure like a lot of people think. The same people who laughed out loud at my books don't see what an actual extension it is. It seemed like a lot of fun. The struggle I had was realizing what a big difference it was between being pretty good at comedy and being really good. Being really good means really applying yourself and having dedication and showing up for unannounced and unpaid sets. Whereas being pretty good means going up there with only a couple ideas and hoping it works.
Did you test your material anywhere?
I'm lucky there's a big comedy scene both on Long Island, where I live, and in New York City. I've got carte blanche at the three comedy clubs in Long Island, which is where you can work on material. I can call up a day ahead and ask if I can come in (unannounced). People aren't expecting you and they aren't wrestling fans. I see what works and what doesn't. Figure out what material would be suited for non wrestling fans and for fans.
Any books in the works?
My last book came out last October and in paperback in July. I've written a couple of blogs. My website (www.realMickFoley.com) is up. I'm so excited to have one. I can't believe I didn't have one all these years. I learned to copy and paste two weeks ago. I'm a work in progress. I don't have any plans for another book right now.
This article only appears online, not in print.