Q&A: Your Mom's Donuts Owner Talks Park Road Location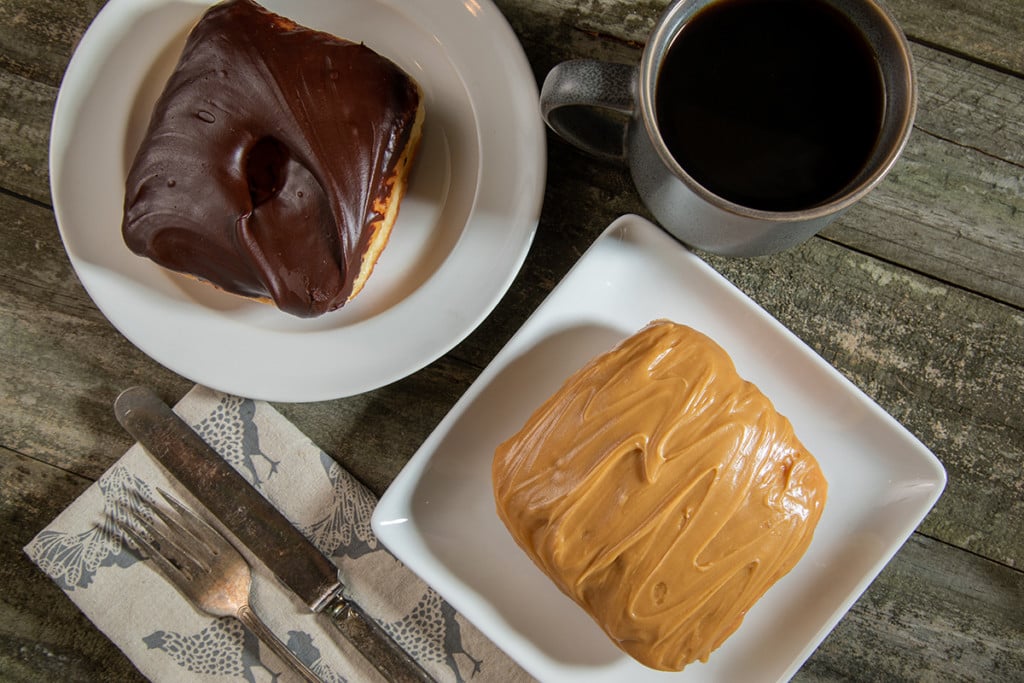 When Your Mom's Donuts first opened its Matthews shop in 2014 they didn't have a fryer or a mixer. Owner Courtney Buckley and her staff would hand roll the dough and use a hotel pan on the stove to fry her signature square doughnuts. Still, Your Mom's Donuts produced as many as 40 dozen doughnuts a day and managed to stay afloat.
Now, Courtney Buckley is opening her third location in a former key kiosk across from Blackhawk Hardware in Park Road Shopping Center on Sept. 12. Just like her second location in Monroe, the production for the new location will be provided by their kitchen in Matthews—a kitchen that's now fully equipped with a fryer and a mixer.
Buckley sat down with Charlotte magazine one week before opening her new store to discuss her scratch-made doughnut empire on the rise.
---
What makes YMD different?
Our doughnuts take (more than) 48 hours to make from start to finish. We have a brioche sourdough yeast dough as our base. There's ten-pounds of scrap dough from a previous batch in every new batch of dough to help the ferment get going. But, there's seven ingredients in our doughnuts. There's no artificial anything. We just try to keep everything as clean as possible. I want to have a 'junk food' that I feel good feeding to my kids.
What are some of the reactions you've seen in people who try your doughnuts for the first time?
We get a lot of people that don't like doughnuts who love our doughnuts. Because it's such a different concept—a totally different product.
Do you have a favorite flavor?
We change flavors all the time so that's tough. Out of the ones we always have available, cinnamon sugar with cream cheese frosting—I eat a fair amount of those. And we've done a pimiento cheese doughnut that makes me really happy.
How much spice is in the pimiento cheese?
A little bit of a kick. And we have a Tabasco glaze on top, with bacon. I like to tell people, 'It's like the best grilled cheese sandwich you'll ever have.'
Can inspiration for flavors occur at anytime and anywhere?
Absolutely. We have a couple of staff members who've been killing it too with new flavor ideas—which has been awesome. Everything we have this week, Kim was the flavor scientist behind. She's been doing our takes on candy bars which has been really fun. She did a Twix doughnut last week and a Snickers doughnut this week which, at most doughnut shops, means crumbled up candy bars on top. But we have taken and broken down each component in the candy bars and made it from scratch. So, you don't have any high-fructose corn syrup, artificial flavors, or any of that garbage. And you can still have the flavor of whatever candy bar you love so much.
In what situations have you been inspired to make new doughnut creations?
At the farmers markets. When I have time to go source product like that, that's my favorite way to do it. Because it gives me a jumping-off-point to allow for the creativity to flow as opposed to saying, 'What do I cook this week?' and sitting down with pen and paper. It's nice to have an amazing product to inspire me to do something with it.
What's next for YMD?
I'm looking at Davidson. And these people have a spot in Fort Mill they'd like us to look at. That would give me five (stores). But we'll see. My brain works in such short-term increments that I just have to get through Wednesday. And then I'm like, 'Okay, what's next?'