Ramona Holloway and Her Mom Wheezy on Mutual Caregiving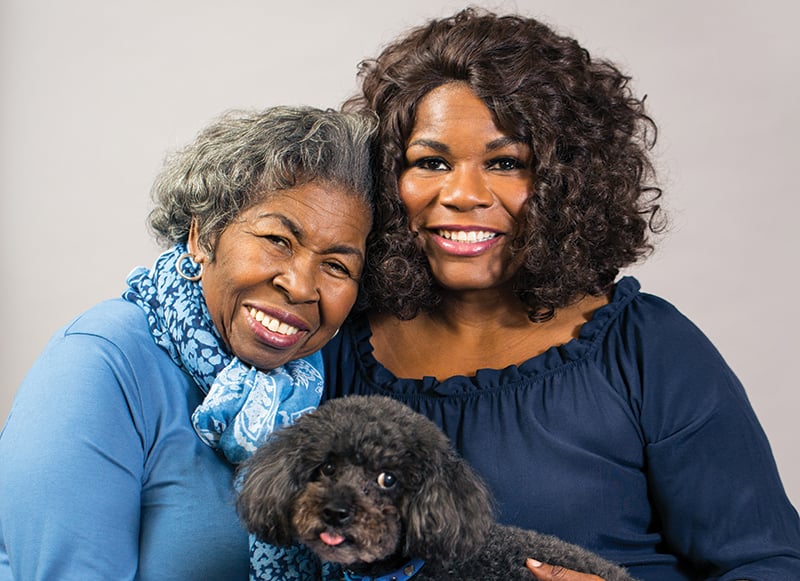 RAMONA HOLLOWAY IS best known as half of the 107.9 The Link radio duo Matt and Ramona, but she's part of another comedic duo as well: with her mom, Louise "Wheezy" Glover.
The two women share an elegant and laughter-filled Belmont home, custom designed with two master suites that suit each's needs and tastes. Their decision to join households began in 2004. As Glover recovered from neck surgery in Columbus, Ohio, Holloway juggled her work here with caregiving there. Now, in the same city and under the same roof, they've transitioned to a new stage of their mother-daughter relationship, one of mutual caregiving. It was a transition that came with a few power struggles, but also with laughter, compromise, and the musings of a passive-aggressive talking poodle named Henri.
Here, they discuss their transition to senior parent and adult child caregiver, edited for clarity and length.
Charlotte magazine: How did it feel to share a home again?
Glover: At first, the transition was a little bit difficult for me because I've always been one who rules the whole place. But I got used to it. And I have a dog; he is mine. Well, he's really Ramona's, but I claim him.
Holloway: The dog helps. We fix him, so we don't fix each other. He says passive-aggressive things sometimes, like, (in a high-pitched voice) 'Grandma, I shouldn't be eating this. I'm going to be a chubby dog. Full figured. I wish someone would stop feeding me treats. I think you did the same thing to Mom when she was a kid.' He can be very passive-aggressive in his little doggie voice that somehow gets channeled through me.
CM: Wheezy, how do you take care of Ramona?
Glover: Every day, I fix her lunch and send her on her way. I know she likes trail mix, so I make up trail mix for her to take to have something to just munch on. I also give her a sandwich, fruit—there's always something different. And I also fold the laundry.
CM: Ramona, how do you take care of Wheezy?
Holloway: I pay all the bills. I make sure she gets to her doctors' appointments—we kind of make it our morning—and I always have a list of her meds on me. I encourage healthy eating. We're managing diabetes because we've changed the way we shop for food, how we prepare food, and what we eat on a daily basis.
As an adult child, at different times I'm at different levels of caregiving. I have to allow Mom as an adult to make her own choices. And she has to do the same for me. But, yes, I would like to monitor every morsel of food. Like, sweet tea? Really? Sweet tea?
Glover: I've got to have my sweet tea! (Laughs)
Holloway: We've found that middle ground between caring for each other and trying to control each other—that power struggle between 'I'm in charge now! I'm the daughter paying the bills!' and 'I'm the mom! I took care of you when you couldn't even figure out when to poop or pee!'
CM: Many people prefer not to have conversations about aging or making plans for caregiving. You seem very open with each other about your needs as you transition to new caregiving roles.
Holloway: We like to live well. There's no cure for aging, but you can bare-knuckle survive it, or you can thrive in it. We wanted to create the best opportunity for both of us to thrive. We've tried to find a way to not just make it, but to make it better.
It's also about making things fun. For example, Mom gets along great on her feet when she's at home or in the neighborhood, but when we're at the airport or out sightseeing, we have a wheelchair. There's a practical factor, too: People part like the Red Sea for you, you get great parking, Mom's lap becomes a shopping cart. We've found ways to make things like that fun for us so they don't feel burdensome.
Glover: It even works at the airport!
Holloway: Oh my gosh, it's the best at the airport! We board with the military people and the first-class people. It's good stuff!
CM: Ramona, what advice would you give to adult children who care for their parents?
Holloway: Understand that your parent is still your parent, even if they don't look like or act like the person who raised you. Does it feel silly sometimes when this grown woman is walking out of the house with a polka-dot lunch bag because her mom made her lunch? Yeah. But I've found that allowing Mom to do things keeps her stronger mentally and physically, and it allows Mom the freedom to still be an adult. Even though you might be making important decisions, even if you're giving your mom or dad a bath, it's important to respect them and to treat them like your parent.
One of my friends, Rhonda, was caregiving for her mom during a very difficult battle with ALS. Rhonda has three children and she took a leave of absence from work, kept her mom at home. We didn't know how she was doing it. And Mom said, 'Wow, look at what her children are learning from watching their mom care for her.' I don't have kids, but I understand that you're teaching your children how to care for you. Whatever it is you want for yourself as you age is what you're showing your children through your example right now.
Jen Tota McGivney is a freelance writer based in Charlotte. Reach her at jennifer.mcgivney@gmail.com or on Twitter: @jen_mcgivney.