Real Weddings: Josalyn & Patrick
May 19, 2012: Foundation For The Carolinas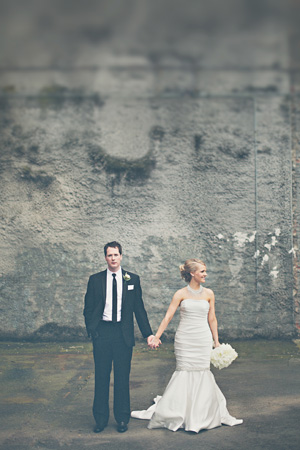 Patrick Allen almost spilled the beans. In the weeks leading up to his surprise proposal to Josalyn Lowrance in a garden in Wilmington, North Carolina, he struggled to keep his scheme to himself. "She tells me everything and I tell her everything," says Patrick. Friends and co-workers for a year before they made the switch to sweethearts, the two have a schoolyard romance built on laughter, comfort, and camaraderie.
The couple's uptown rooftop wedding was a mix of simplicity and sparkle. They took a chance and chose Foundation For The Carolinas for their ceremony and reception based on an artist's renderings of what the interior would look like months before renovations were scheduled for completion. Yet for their May wedding, an intimate gathering complete with a harpist and airy white bouquets by Flowers by Lingky, everything seemed to fall into place.
In a sleek and classic ceremony, the two exchanged vows against the backdrop of the city's glimmering skyline. Josalyn wore an Exclusive Edition gown by Allure, while her groom sported a Tony Bowls Genesis fitted tuxedo and skinny black tie from New York Bride and Groom. During the vows, Patrick paired Josalyn's silver C. Gonshor solitaire engagement ring with a rose gold, diamond-encrusted band, and then added another band privately just before cocktail hour. At dinner, the newlyweds shared a sweetheart table in the building's first floor art gallery, enjoying Best Impressions' filets mignon and salmon with their 120 guests.
The evening ended in snapshots—guests captured their post-nuptial enthusiasm in one of Carolina Photo Booths' stands before kicking their heels off and taking over the dance floor on the back terrace.