Reality Shows Filmed in Charlotte Spotlight Marriage
Get to know families behind To Have and to Hold Charlotte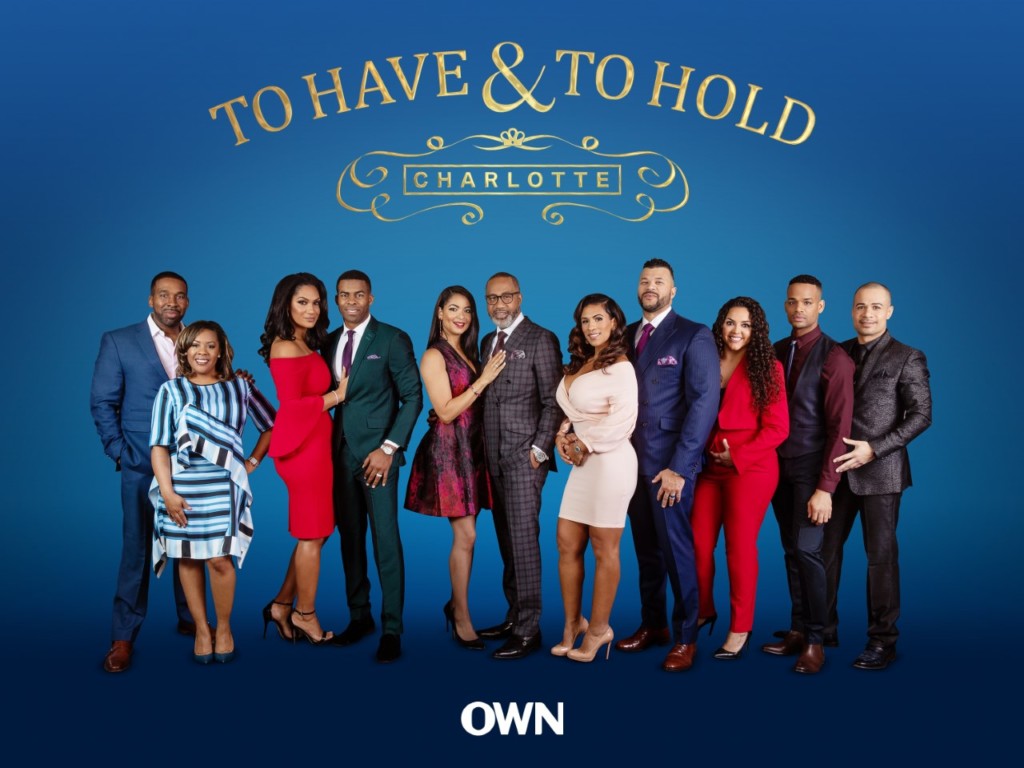 The cast of OWN Network's newest reality show To Have and to Hold Charlotte sit with their spouses—some holding hands, one wife has her arm intertwined with her husband's, and another has his arm casually slung across his wife's chair. In a private room at Fahrenheit Restaurant the five families field questions from the press, each representing different stages of marriage and commitment. From attorneys to entrepreneurs, the series follows the journey of five Charlotte area couples of color as they balance love, marriage, raising families, friendship, and business.
The couples are broken down into categories: The socialites are Yandrick and Alane Paraison, The DINKS (Double Income, No Kids) are Darhyl and Christine Pulley, the power couple includes a familiar face, David and Judge Ty Hands. The modern family is a triangle of Joshua Anglero, Juliana Gutierrez-Anglero, and Peter Carey, and the empty nesters, Clinton and Ursula Douglas.
Of the five families on the show, Peter, Joshua, and Juliana have the most unexpected situation. Joshua and Juliana were married and had two kids before separating in 2009. Joshua later became partners with Peter who now helps raise the two children. The three say they want viewers to learn from their situation. "There's not many families out there that can showcase gay relationships and have families with children; or able to show how they are raised and how wonderful they can become," Joshua says. There's usually a stigma around children raised by gay parents that they have social problems. So, we're just happy we can show that's not the case."
"There's this thing that a guy and a girl can't be friends if they had a past," Juliana says. "We have children and the situation we're in, it's complicated and it's hard, but I try to stay in a good place with both of them for the kid's sake and communication is key to that."
Charlotte seems to get a bad rap on social media when it comes to the dating scene, and the couples seemed to be divided on how singles should pursue finding "the one." Clinton said that it's best to focus on someone you share interests with. "Often times, men have a plethora of options. If you find someone you like, focus on them." Alane said women can have just as much fun as the men. "Women have options. You need to act like you have options because men will think you are real thirsty if they think they are the only one."
Her husband, Yandrick, added that timing is everything and men should take their time picking out the one. While Ursula explained women should look beyond where they currently live: "I came from Wilmington into Charlotte to take him [Clinton] off the market. So as women we have expand our territories."
Speaking of finding that special someone, another Charlotte based reality show premiered this month, Married at First Sight. Season 9 of the series includes Gregory Okotie and Deonna McNeill, Matthew Gwynne and Amber Bowles, Elizabeth Bice and Jamie Thompson, and Keith Manley and Iris Caldwell. All of them are strangers seeking a common goal; true love and a wedding ring.
To Have and to Hold Charlotte airs on OWN on Saturdays at 10p.m. ET and Married at First Sight airs on Wednesdays on Lifetime at 9p.m.