Reason to celebrate: incorporating holidays into your wedding
Holidays can be a great way to incorporate fun, style and spirit into your wedding day while making it your own.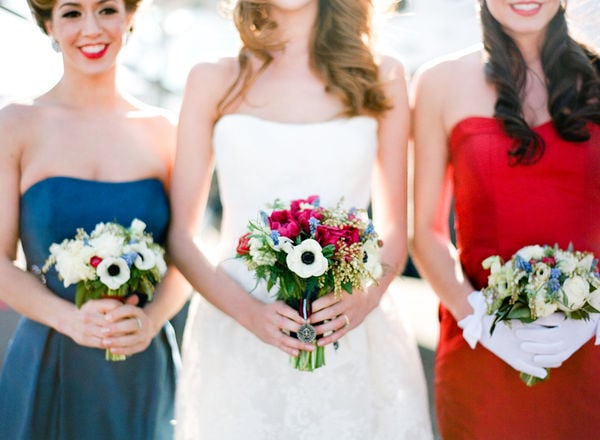 With July 4 falling on a Friday this year, couples across the country will be tying the knot the next day. Don't be surprised if you attend a wedding this weekend complete with fireworks and red, white and blue centerpieces.
If you're currently engaged and trying to set a date, don't let the holidays keep you from inking down your dream day. Holidays can be a great way for you to add tasteful style and personality into your wedding day without diving into an over-the-top holiday theme (we've all seen the gothic Halloween receptions….)
Summer

Fourth of July – Don't fall prey to the patriotic color scheme. Instead of royal blue, opt for navy and accent with various shades of peach or mint. You'll have a summery feel without looking like you're throwing a Fourth of July party. Go All-American with your cuisine – sliders, lobster rolls, s'mores and apple pie. You and your husband will leave the reception with a bang as fireworks are set off overhead. Don't forget the sparklers!
Orange Blossom Photography
Fall

Halloween – Just say no to orange flowers, dead roses and anything with a skeleton on it. Halloween is on a Friday this year, so if you're getting married the Saturday before or after, you can still take advantage of the holiday without the ghosts and goblins. Set up a candy bar at your dessert table and have guests fill up treat bags to take home. Use pumpkins as centerpieces, but paint them with your color palate (we love eggplant and moss) or hollow them out and fill with floral arrangements. If your wedding is outdoors, have a pumpkin patch onsite and let guests take one home. Opus Blossom
Thanksgiving – If you want to have your wedding over Thanksgiving weekend, or even the week before, be mindful that it's the busiest holiday time of the year and people will be traveling. Avoid the traditional turkey dinner for your reception and instead offer something on the other end of the spectrum – a traditional Italian dinner or lowcountry boil are two good options. Use a variety of gourds for your centerpieces and partner with your groom to write handwritten notes to have at each place setting, telling your guest why you're thankful for him or her. Jo Photo
Winter

Christmas – Stay away from red and green to keep your wedding day from looking like a tacky Christmas party. We're seeing a trend of winter white weddings and we're in love with the idea as it amps up the glamour. Set up two Christmas trees by the alter, decorated with all white and silver ornaments. Add drama to your reception by using tall centerpieces with white branches, crystals and hanging votive candles. Instead of favors, place a small wrapped present at each place setting with a few chocolate candies inside. Don't forget a beverage bar – hot cocoa, apple cider and eggnog are a must.
New Years Eve – Silver and gold is the best color palate for a ritzy New Years Eve Wedding, although a classic black and white affair would be lovely as well. In our opinion, New Years Eve is the one occasion where you can get away with dressing your bridesmaids in sparkly, sequin gowns (which we love) and don't forget to add sparkle in your shoe selection. For favors, offer guests mini bottles of champagne. Trent Bailey Photography
Spring

Easter – Easter falls on April 5, 2015 so if you're thinking of planning a wedding on April 4, dive head first into a pastel color scheme – we love periwinkle, blush pink and mint. For flowers, carry an all white tulip bouquet for soft drama and elegance and accent more of the same throughout your venue. Painted Easter eggs are a great substitute for name cards. Carmen Santorelli Photography