Recipe: A Classic Summer Pork Loin
With fresh summer peaches, herbs, and spices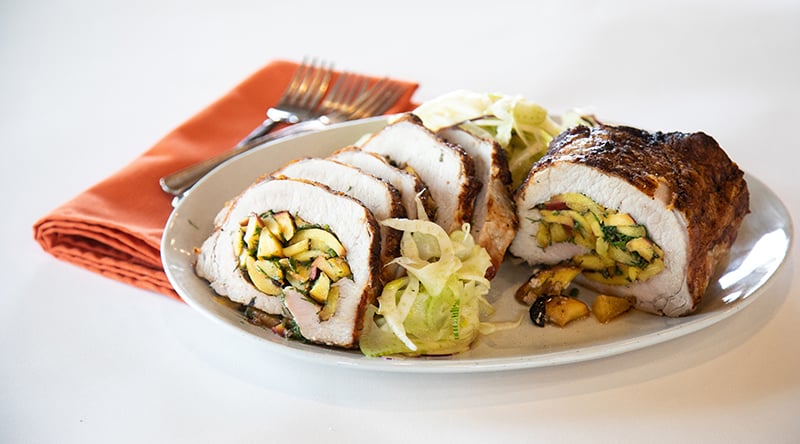 Grilled Peach-Stuffed Pork Loin with Fennel Salad
Serves: 6 to 8
Prep Time: 20 minutes
Cook Time: 50-60 minutes
5 ripe peaches
5 tablespoons olive oil
½ to ¾ teaspoon red pepper flakes
1 teaspoon sugar
1 bulb of fennel with tops
2 to 3 spring onions or scallions, finely sliced
2 tablespoons white balsamic vinegar
1 (2 to 2½-pound) boneless pork loin
Kosher salt and black pepper, to taste
Special items: Butcher's twine, roasting rack
1. Preheat the oven to 425°F.
2. Cut the peaches in half and then into quarter-inch thick wedges. Place in a bowl and toss with two tablespoons of olive oil.
3. Heat a grill or a cast iron grill plate to 500°F. Grill the peaches on all sides until they develop grill marks and soften. Remove from the grill and place in a large bowl.
4. Remove the tops of the fennel and mince a couple tablespoons of the fronds and add to the peaches. Season the peaches with red pepper flakes, sugar, and salt. Set aside.
5. Lay the pork on a board fat side down, and butterfly by slicing downward through the length of the center, just until you have about a half-inch thickness of meat intact, like the binding of a book.
6. Open the pork up like a book and push on it to flatten.
7. Starting on the left side, with the blade of the knife parallel to the cutting board and the blade facing left, slice down the length of the seam, maintaining the same thickness.
8. Pull the meat open and press down to flatten. Continue cutting and flattening the entire left half to even thickness.
9. Rotate the pork and repeat on the other half.
10. Season the meat with salt and pepper, then spread with seasoned peaches. Roll it up lengthwise, ending with the fat on the top of the roll.
11. Tie the pieces of twine around the pork, spacing them about an inch and a half apart and using scissors to trim off any excess string.
12. Place the rolled pork loin on a baking sheet lined with a roasting rack. Rub a little olive oil around the outside of the pork and sprinkle with salt. Roast in the center rack of the oven for 30 minutes. Lower the heat to 350°F and roast for another 20 to 30 minutes, until the interior of the pork is 145°F.
13. Meanwhile, thinly slice the fennel and spring onions (or scallions). Place in a bowl and toss with the white balsamic vinegar, the remaining olive oil, and salt and pepper. Refrigerate until the pork roast is ready.
14. Remove the pork from the oven and tent with a sheet of aluminum foil. Allow to rest for 15 minutes. Remove the strings, slice thick, and serve topped with fennel salad.