Recipe: A Fall Salad from Chef Alyssa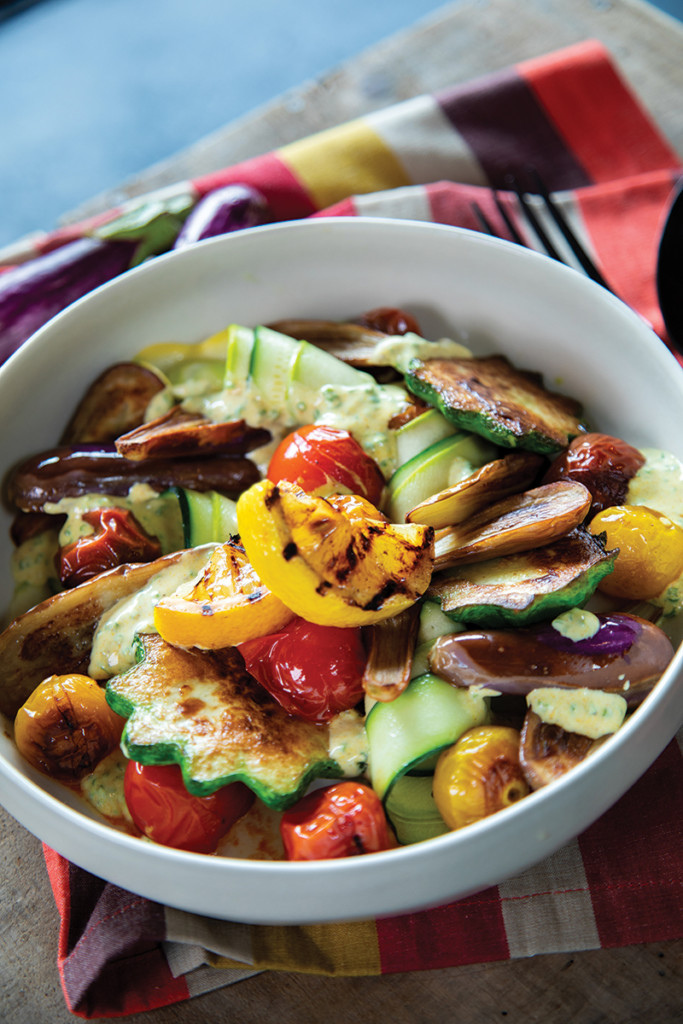 Vegetable-based entrées are growing in popularity, especially in fall when produce like eggplant and squash are in season. Enjoy this healthy and colorful salad that's hearty enough to serve for dinner.
Roasted Eggplant Salad with Yogurt Dressing
Serves: 4
Prep Time: 30 minutes
Cook Time: 30 minutes
Dressing:
½ cup plain whole milk Greek yogurt
½ lemon
¾ teaspoons ground turmeric
½ teaspoon ground allspice
1 to 2 teaspoons honey
½ cup extra virgin olive oil
2 tablespoons minced chives
Kosher salt, to taste
Cayenne pepper, to taste
Salad Vegetables:
½ pound fairy tale eggplant (or another small variety)
1 cup cherry tomatoes
½ pound small variety of zucchini and pattypan squash, sliced into wedges
1 lemon
Kosher salt, to taste
Dash of cayenne pepper
1. Prepare the yogurt dressing: In a bowl, mix the yogurt, a squeeze of lemon juice, turmeric, allspice, one teaspoon of honey, and one tablespoon of olive oil. Add the minced chives and adjust seasoning to taste with additional honey, lemon juice, salt, and a dash of cayenne pepper. Refrigerate while preparing the vegetables.
2. Slice the eggplant in half and remove the tops by peeling them rather than trimming with a knife. Heat a cast-iron skillet on medium-high heat and pour in about a quarter-cup of olive oil. Place the eggplant, halved-side down, in the pan before it gets fully hot. As the heat rises, the eggplant will caramelize and become tender. Check the eggplant after a few minutes and rotate them to different spots to ensure they brown evenly. Once they are caramelized, remove from the pan and onto a sheet pan; sprinkle with salt.
3. In the same skillet, add a few more tablespoons of olive oil to cook zucchini and squash wedges until they become bright in color and golden brown on the edges. Remove from the pan and onto the same plate as the eggplant.
4. Slice the lemon in half and place in the hot skillet to brown. Meanwhile, heat a sauté pan on medium-high heat with the remaining oil and add the tomatoes. Allow them to cook and blister for about eight minutes, rotating them back and forth in the pan until the skins break and they become caramelized.
5. To plate the salad, arrange the eggplant and zucchini decoratively and, using a spoon, surround them with the blistered tomatoes. Squeeze the juice of half the caramelized lemon over the vegetables, and drizzle them with dressing. Slice the remaining caramelized lemon and place it on top of the salad. Enjoy!