Recipe: A Winning Pasta From 5Church's Chef Jamie Lynch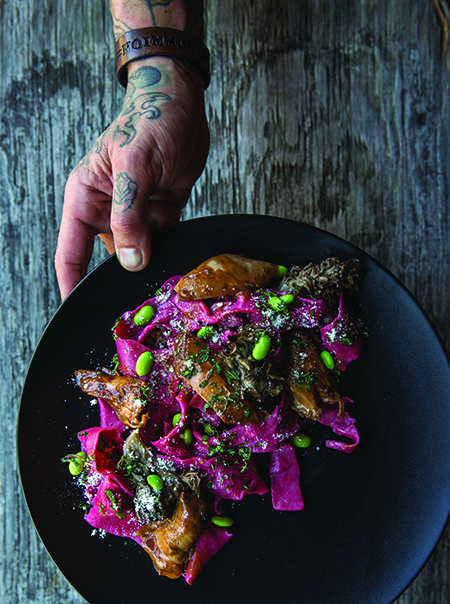 Chef Jamie Lynch of 5Church restaurant competed on Top Chef this year, and even though he was eliminated, we can still see him at work here in Charlotte. This competition-worthy pasta dish is delicious to the eye and palate.
Tip: Use fresh rabbit whenever possible. Freezing and thawing proteins can damage the cellular structure and result in flavor and texture loss.
Tip: Toss the mushrooms with a splash of olive oil and soy sauce and roast them ahead of time. This adds an earthy, concentrated flavor to the dish.
Tip: Remove the pasta from boiling water slightly undercooked. It will finish cooking in the sauce and will have a better texture and flavor.
Tip: You can often find fresh shelled edamame at grocery stores. This will save you some prep time.
---
Pappardelle with Braised Rabbit
From 5Church
Serves 6 to 8
Pappardelle:
3 cups flour
Pinch kosher salt
2 whole eggs, plus 3 yolks
3 tablespoons beet juice
1. In a food processor, pulse all of the ingredients until dough begins to form. Remove from the food processor and knead by hand for 3 to 5 minutes. Run the dough through a pasta roller on the second-thinnest setting. Cut the sheets by hand so they are about 12 inches long and 1 inch thick.
Rabbit:
1 whole rabbit (ask the butcher to break it down)
1 white onion, roughly chopped
2 stalks celery, roughly chopped
1 carrot, peeled and roughly chopped
2 quarts chicken stock
1 cup white wine
1 sprig thyme
1 bay leaf
1 cup edamame, shelled and blanched
1 cup hen of the woods mushrooms, cut into bite size pieces and roasted
2 tablespoons butter
2 tablespoons grated Parmesan cheese
2 tablespoons chopped mint
1. Season the rabbit with salt and pepper.
2. Gently brown the rabbit in a braising pan.
3. Add the onion, celery, carrot, and herbs and lightly caramelize. Deglaze with white wine, then reduce by half.
4. Add the chicken stock and bring to a simmer. Cook the rabbit for about an hour, until the meat on the larger, back legs pulls away from the bones.
5. Remove the rabbit and pick the meat from the bones. Then, strain the braising liquid and reduce it by half.
6. When sauce is reduced, cook the pasta in boiling salted water for 1 to 2 minutes.
7. Strain the pasta, then add it to a sauté pan with the braising liquid, edamame, mushrooms, rabbit meat, and butter.
8. Cook for 2 to 3 minutes until everything is hot.
9. Top the pasta with cheese and mint and serve.