Recipe: Fish and Feast With RockSalt's Brandade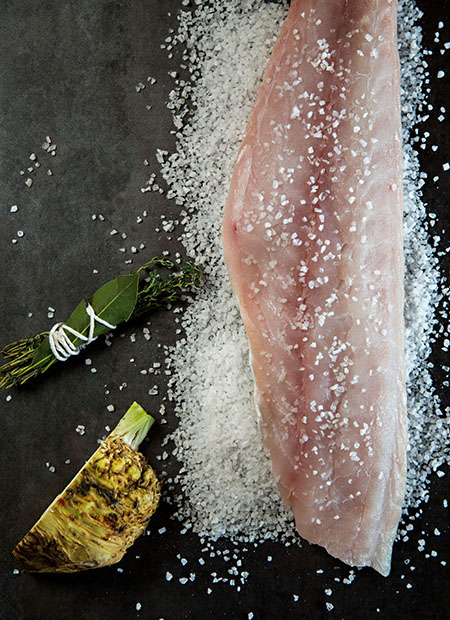 AT ROCKSALT, chef Jim Diecchio creates fresh and flavorful fish entrées out of what's seasonal. He even celebrates the holidays with the Feast of Seven Fishes, an Italian tradition in which multiple courses of seafood are served for Christmas Eve dinner. Bring a taste of that tradition to your own celebration with this seafood dip.
Tip: Brandade is a traditional dip or spread of salt cod and potatoes, often seen in French, Spanish, and Italian cuisines. Salt cod, or baccala, is a heavily salted and dried fillet of cod. In our version, we trade the dried fish for a fresh, salted fish.
Tip: When prepping, roll up the thyme and bay leaves in a piece of cheesecloth and tie off with some butcher's twine. You can even tie it off on the handle of the pot to make for easy removal of herbs.
Tip: If you are worried about the amount of salt in the dish, you can replace the reserved milk with fresh milk to reduce the amount of salt. Then, adjust seasoning at the end to your liking.
Tip: Adding celery root along with the potato isn't traditional, but the flavor fits perfectly.
---
RockSalt's Brandade
Serves 6
8 ounces fresh tilefish, rockfish, hake, or cod
1 large potato, peeled and diced
1 small celery root, peeled and diced
1 medium white onion, peeled and diced
4 large garlic cloves, peeled and smashed
3 bay leaves
3 large sprigs thyme
2 quarts whole milk
Zest of 2 lemons
¼ cup parsley, chopped
¼ cup salt
½ cup mixed herbs (parsley leaf, dill, tarragon, chive sticks, chervil)
1. Remove any skin or bones from fish.
2. Season heavily with salt and place in a Ziploc bag, then refrigerate for 2 to 3 days.
3. Remove fish from the bag, discarding remaining juice, and cut fish into 1 inch cubes.
4. In a large pot, combine fish, potato, celery root, onion, garlic, and herbs. Add enough milk to cover, then place over low heat and bring milk to a gentle simmer. Cook about 20 minutes, until potato and celery root are soft and fish is cooked and flaky.
5. Remove from heat and strain off milk, reserving 2 cups. Remove bay leaf and thyme.
6. Add strained fish and vegetables to food processor and purée. Once the ingredients are puréed and well combined, slowly add reserved milk until desired consistency is reached. Fold in lemon zest and chopped parsley. Add dip to a serving bowl, then garnish with mixed herbs. Serve with toasted bread, vegetables, and halved lemons for squeezing over dip.