Recipe: Pan-Roasted Carolina Quail
French techniques don't have to be intimidating. Work on your knife skills with a quail dish by Chef Tom Condron, owner of Lumiere. It's sure to impress any guest.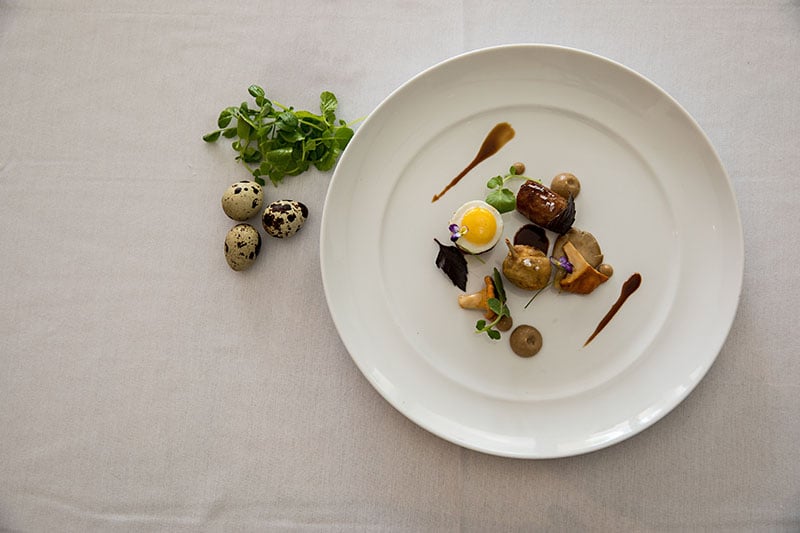 Tip: Ceps are also called porcini mushrooms and are hard to find in our area, but you can use trumpet mushrooms, portobello mushrooms, or even button mushrooms in the recipe and the plating of the dish.
Tip: Quail eggs can be purchased at any Asian market and most grocery stores.
Tip: Quail is a great alternative to chicken. It cooks quickly and tastes great. South Carolina is a large producer of quail, and you can now find it even at Harris Teeter. Quail doesn't taste gamy and is affordable.
Tip: Sorrel can be found seasonally at farmers' markets in Charlotte, but if you can't find it, try watercress or arugula.
---
Pan-Roasted Carolina Quail
From Lumiere
Serves 4
Herb brine
17 cups water
1 ½ cup of salt
3 ½ tablespoons rosemary
2 tablespoons thyme
4 bay leaves
2 tablespoons garlic
½ tablespoon black peppercorns
Quail
4 quail, broken down into legs and breast, with skin on
Grapeseed oil
Flour to coat, seasoned with salt
1 egg, beaten
1 cup panko
Mushroom purée
2 cups ceps (porcini mushrooms), trumpet mushrooms, or portabella mushrooms, chopped
1 shallot, finely sliced
½ cup butter
1/3 cup heavy cream
For serving
4 quail eggs, fried
1 cup mushrooms,
chopped and cooked
in butter
Sorrel, to garnish
Quail
1. Add all brine ingredients to a large stockpot, then bring to boil. Remove from heat, and chill.
2. Meanwhile, prepare the quail. Remove the quail legs and set aside. Debone the breasts, but leave them attached to the skin in one piece.
3. Add the quail to the brine. Brine the breasts for 40 minutes and the legs for 1 hour.
4. Rinse the breasts and legs under cold water, then lay the breasts skin-side down on a sheet of cling wrap. Tightly roll the cling wrap to shape the quail into cylinders. Let set in the fridge for at least 3 hours (longer is ideal), up to three days.
5. Remove the thigh bones from the quail legs and, if desired, French-trim the leg bones. Fold the thigh over the bone and pierce the skin through the bone to create a lollipop shape, then tie the legs with butcher's twine to keep the meat intact.
6. Heat enough grapeseed oil to cover a pan over medium-high heat, then cook breasts and legs until golden brown, about 6 minutes per side.
7. Heat oil in a Dutch oven to 300 degrees.
8. Meanwhile, coat the quail legs in flour, then dredge in egg wash. Roll in the panko to coat.
9. When the oil is hot, deep-fry the legs until golden brown.
Mushroom purée
1. Sweat the shallots in butter, then add mushrooms and cook over medium heat to soften. Season, then add cream and reduce until thickened.
2. Transfer the mixture to a blender. Pulse until smooth, then pass through a fine sieve.
To serve
Serve 1 breast and 2 legs per plate, along with purée, as well as pan juices, if desired. Top with a fried quail egg, cooked mushrooms, and sorrel.