Recipe: Ramp Maque Choux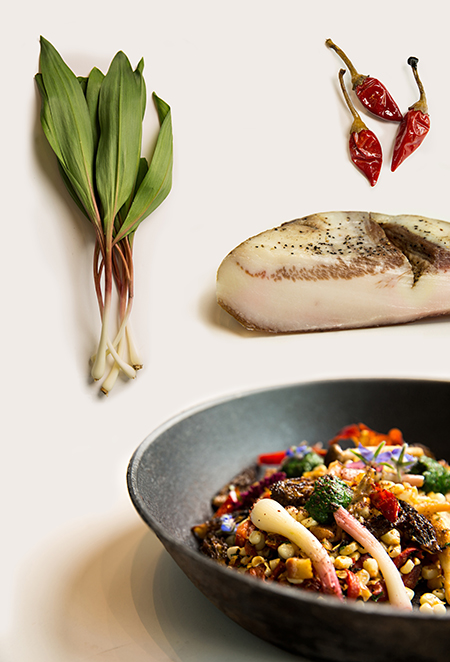 CHEFS GO CRAZY each year during ramp season, which usually takes place in May. Buy them while you can, and freeze them to extend ramp season at home. Here, Rooster's Executive Chef Cody Suddreth shares a tasty way to cook the green onion-like plant.
Tip: Substitute shallots or the bottoms of spring onions for ramps when they're not in season. To keep the veggies green, blanch them by dropping them in salted, boiling water for 15 seconds, then shock them in ice water. Using a little ice water while blending your purée will keep the veggies bright green.
Tip: Calabrian chillies originate from the region Calabria of Italy. They're dark red and range from 25,000 to 40,000 on the Scoville Heat Scale. I usually buy them in an oil and vinegar mixture. Find them in a specialty foods market.
Tip: To make the dish vegetarian, omit the guanciale. For a vegan version, substitute Arbequina olive oil—available at specialty grocers, including Whole Foods—for the butter. Don't turn the heat above medium when cooking to prevent the oil from smoking.
Tip: Pickle your ramps when they're in season and save them for later. Clean 50 ramp bottoms and let them sit in a mixture of: one gallon red wine vinegar, half a cup each fennel and coriander seeds, eight bay leaves, one quart granulated sugar, one quart light brown sugar, and two tablespoons salt. They'll last a month, or can them to keep them even longer.
---
Ramp Maque Choux
From Rooster's Uptown
Serves 1
2 ounces ramp tops, puréed
1 ounce pickled ramps, diced
4 ounces fresh corn, cleaned and cut from the cob
1 ounce guanciale (Italian cured pork), diced
2 ounces maitake mushrooms
2 Calabrian chilies, sliced
1 teaspoon Calabrian chili oil
1 teaspoon ground sumac
6 cherry tomatoes
1 ounce unsalted butter
Lemon juice to taste
Kosher salt to taste
1. Place guanciale in a pan to render fat. Let cook about 5 minutes, until the guanciale is golden brown and starts to get crispy.
2. Add corn, mushrooms, tomatoes, and red peppers. Cook on medium heat for 3-4 minutes.
3. Add ramp top purée, pickled ramps, Calabrian chilies, oil, butter, and sumac. Combine, then remove from heat.
4. Add fresh-squeezed lemon juice and salt to taste. Garnish with sumac.