Recipe: Yafo's Moroccan Braised Leg of Lamb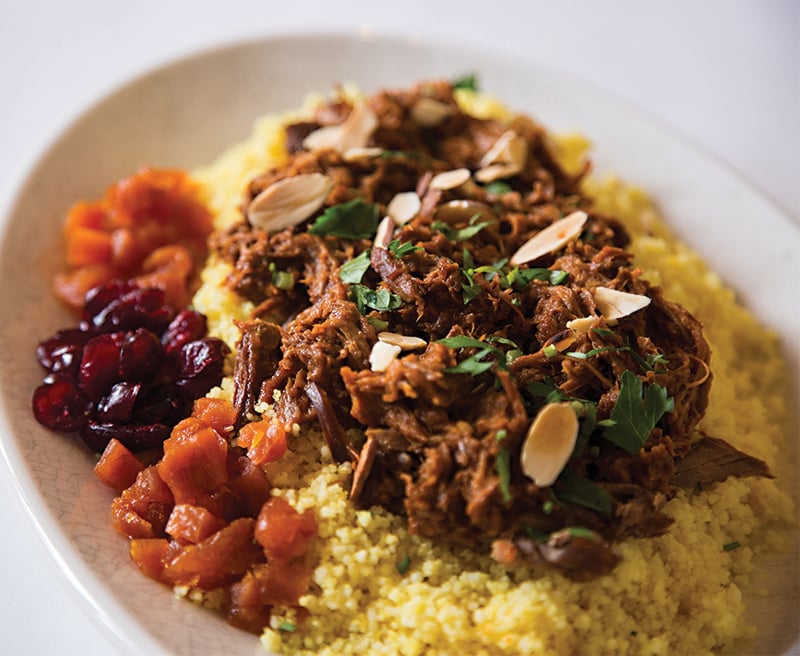 Yafo Kitchen, a new Mediterranean and Middle Eastern spot in SouthPark, is changing the flavors of fast casual. The restaurant's bold menu is courtesy of chef Shai Fargian, who was born in Israel. With this braised lamb dish, those flavors can hit your own table.
Tip: Serve over couscous or rice.
Tip: For a brighter flavor and more depth, use fresh whole nutmeg. Use a zester to grate the amount called for in the recipe. Whole nutmeg is readily available at spice shops and grocery stores.
Tip: Add dried fruit, such as apricots or cranberries, to any braise to add some sweetness. Garnish with fruit, slivered almonds, and parsley.
Tip: Choose cinnamon sticks that have a strong aroma, and that are hard but not brittle. Cinnamon sticks should not break in your hand (or in the packaging). Try to buy your spices at a store that rotates inventory quickly and purchase only what you need.
---
Moroccan Braised Leg of Lamb
Serves 4
Recipe from Yafo Kitchen
4-6 pounds bone-in leg of lamb, seasoned generously with salt and pepper
¼ cup oil
2 large carrots, peeled and diced into large pieces
2 large onions, peeled and diced into large pieces
4 celery sticks, diced into large pieces
2 14-oz. cans of crushed tomatoes
10 cloves of garlic, peeled
3 cups chicken stock (plus more as needed)
½ tablespoon ground cumin
1 cinnamon stick
1½ tablespoons kosher salt
½ tablespoon smoked paprika
1 teaspoon ground turmeric
½ teaspoon ground nutmeg
1. Preheat oven to 350 degrees.
2. Add oil to a large, heavygauge pot (with an ovensafe lid) over medium-high heat. Sear the lamb on all sides.
3. Remove the meat from the pot; then reduce heat to medium and add the carrots, onions, celery, and garlic. Cook until browned.
4. Mix all of the spices in a small bowl. Then, add the spices to the vegetables and cook for 30 more seconds.
5. Add stock and deglaze the pan.
6. Add the canned tomatoes and the seared lamb. Make sure the liquid covers the lamb halfway, adding more stock if needed. Bring to a boil.
7. Cover the pot and place in oven for 4 hours. Lamb should be fork tender.
8. Remove from oven and take the cooked meat out of the pot. Gently remove the bones from the meat, then discard the bones. Remove and discard cinnamon stick.
9. Using an immersion blender, puree the vegetables and sauce until smooth.
10. Return the lamb to the pot and stir. Add stock, salt, or pepper as needed.
11. Remove from heat and serve over rice or couscous.