Recipes: Mad for Mango
Three mango-based recipes from Sandy Salle, author of Taste of Africa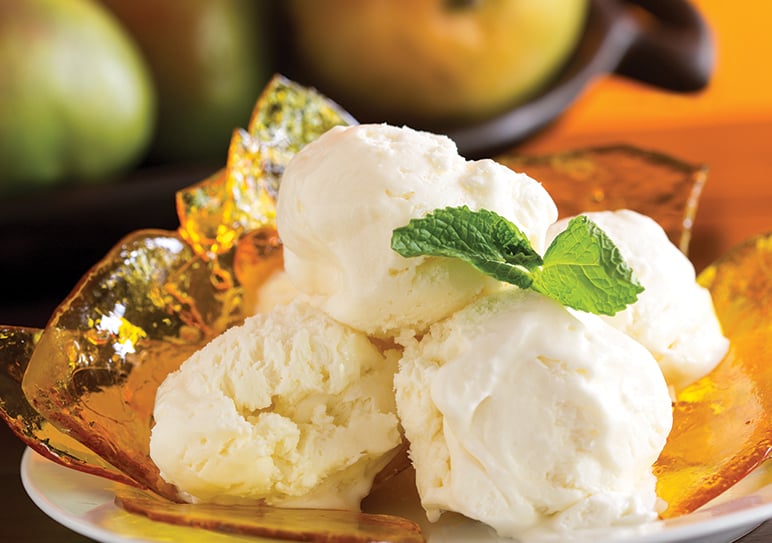 SANDY SALLE, author of A Taste of Africa cookbook, runs a travel agency called Hills of Africa out of Huntersville. In her cookbook, she gives a culinary sample of the diverse cultures of Africa. Here are three mango-based recipes to make your summer taste a little more tropical.
Saflodge Homemade Ice Cream
Makes 4 servings
Recipe from Victoria Falls Safari Lodge in Zimbabwe
Ice Cream
4¼ cups whipping cream
3½ cups sugar
15 egg whites
14 oz. sweetened condensed milk
1¼ cups mango juice or puréed mango
Whip the cream. Separately, whisk the sugar and egg whites until fluffy to make a meringue. Mix the meringue and the whipped cream. Fold the sweetened condensed milk and mango flavoring into the cream mixture. Freeze until solid.
Glucose Cup
1 cup sugar
1 cup water
1 tablespoon glucose
3 drops coloring
Vegetable oil
Mix all the ingredients except the oil in a heavy saucepan. Boil until the mixture has the consistency of syrup. Grease aluminum foil with vegetable oil, and cut into 3-by-3-inch squares. Pour a little bit of the syrup to cover each foil square. Let sit for 2 minutes. Mold the syrup on the back of a cup. Remove the tinfoil. Keep the glucose cup at room temperature. Remove from back of cup when cup shape has formed and hardened. Serve the ice cream in the glucose cup.
---
Turkey and Mango Croissant
Makes 4 servings
Recipe from Selinda Camp in Botswana
4 turkey breasts, roasted and shredded
4 croissants
1 mango (fresh or canned), diced
5 spring onions, chopped
1 tablespoon mayonnaise
1 tablespoon olive oil
Salt and pepper to taste
Mix all ingredients and place on top of open-faced croissant or mixed greens.
---
Mango, Coconut, and Cucumber Salad
Makes 4 servings
Recipe from Ol Donyo Lodge in Kenya
2 teaspoons brown sugar
1 tablespoon lime juice
1 tablespoon lemon juice
1 tablespoon ketchup
1 cucumber, peeled, seeded, and diced
2 tablespoons desiccated coconut
1 mango, peeled and diced
1 small red bell pepper, diced
½ bunch cilantro, chopped
Chopped fresh chili (optional)
Mix first four ingredients in a serving bowl, and then add remaining ingredients except the cilantro and chili, which should be added as garnish.