Reid's Chef Exits to Start Old-School Barbecue Shack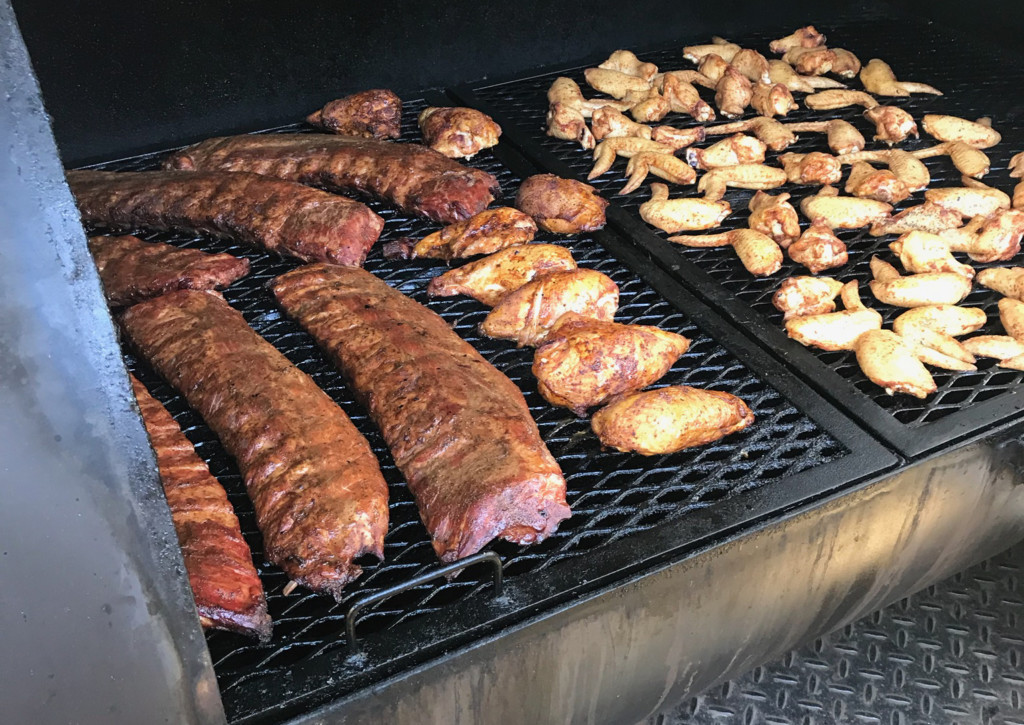 LEWIS DONALD, the former executive chef of Reid's Fine Foods, has left the upscale grocer and restaurant to open an old-school barbecue shack. James Loftus has been promoted at Reid's, which announced it would add an uptown location later this year. Though Donald doesn't expect to open his new place until later this year (he's hoping for late summer or early fall), he wanted to leave his former kitchen in a good position to succeed as Reid's grows.
"I really didn't want what I had going on to interfere with Reid's Fine Foods and what they have going on, because they have a lot going on," Donald says.
The barbecue shack will reflect the South's barbecue heritage, serving up classics in a low-key space. There will be seven seats at a bar and community seating inside and out, and 10 beers on tap. The restaurant will sell beer and wine, Squirt and Cheerwine, as well as barbecue essentials: pork shoulder, chicken, ribs, collards, and other regional sides. The menu will be small, Donald says, with daily specials, such as wings or fried chicken. The restaurant/shack will open at 10:30 a.m. (closed Mondays) and serve barbecue until it runs out. No tableside service, no frills.
"It's all just good cooking," Donald says. "We don't want to do anything crazy."
He's currently working in the kitchen at Futo Buta, where chef and owner Michael Shortino is giving him the flexibility to focus on opening the barbecue spot as needed. The South End ramen shop gig is getting Donald back into the routine of cooking in a busy kitchen; as executive chef at Reid's, he focused a lot of his time on managing the multiple locations. He's also hoping to launch a barbecue catering business at the end of March.
Donald is opening the barbecue restaurant with a local partner who doesn't want to be revealed just yet. They're looking locations in NoDa or the Belmont neighborhood, near Plaza Midwood, though they haven't settled on one just yet. That decision will help inspire the name; there are two contenders, dependent on where they land.
An Ohio native, Donald says he grew up thinking barbecue was hamburgers on a grill—something I'm guilty of, too, as a New York native. He took a fascination with barbecue when he moved to the South more than two decades ago, and his love for barbecue has inspired him to step away from fine dining and into the soot-filled passion he found here.
"It's something I can be passionate about day in and day out. I'm passionate about barbecue," he says. "I'm passionate about cooking a perfect brisket. I'm passionate about having the best pulled pork with a nice smoke ring—nice and tender, not dry. Passionate about that. I don't know that I'm passionate about being everything to everyone."
Charlotte's barbecue is known as a more modern interpretation, with places such as Midwood Smokehouse and Mac's Speed Shop focusing on an experience with craft beers, friendly service, and broad menus. These places are great for families and fun nights out, but it's hard to see an evolution of barbecue without restaurants that have been run the same way for generations. We can't go back in time and drop a Lexington Barbecue somewhere outside of uptown, but Charlotte's barbecue scene has long been passed over due to its lack of a gritty, line-when-it-opens, tears-when-it-sells-out-early kind of place.
I was lucky enough to sample Donald's barbecue at a wedding rehearsal dinner for my former boss, Michael Graff, and his wife, Laura. Donald's 'cue has the potential to silence the haters.
"We want to be part of the community," Donald says. "We don't want to necessarily take over the culinary scene. We just want to serve tried and true barbecue in Charlotte."