Remembering Jesse Campbell
Friends and customers share memories of the late Campbell's Greenhouses & Nursery owner.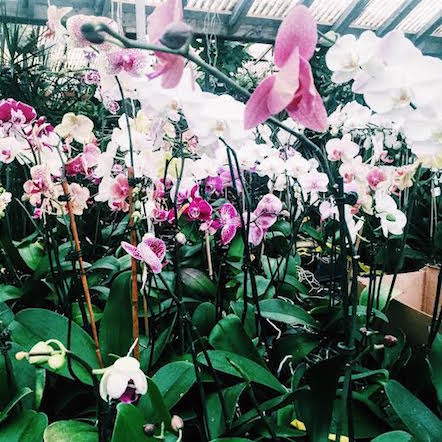 He was more than a local businessman. Jesse Campbell was a companion.
When the beloved greenhouse owner was shot and killed in his Lake Wylie home in early January, the community was shocked. It was unfair that a man who gave goodwill as freely as Campbell did was the victim of such a tragedy. To the many mourning his death, a common word used to describe the killing is "senseless."
Most people know Campbell as the orchid whisperer, the curator of colorful spaces – the owner of Campbell's Greenhouses and Nursery in Dilworth. But Campbell didn't just plant seeds in soil; he planted seeds of contagious spirit that customers will cherish forever.
Lee Ellen Lawn, a customer of 13 years, remembers her fond interactions with Campbell. "You were not only a customer, but you were his friend," she says. "You craved going to Campbell's."
Lawn mirrors the sentiments of countless customers commenting on the Greenhouse's Facebook page – everyone had a special connection with Campbell. Everyone was a favorite customer.
Lawn remembers lightheartedly about Campbell's orchid reviving abilities, stating, "I always felt bad bringing in a dead orchid, but he would say, 'Sweetheart, if it were not for you, I would not be in business!'"
Although most know Campbell from his greenhouse, Dr. Bill Anderson saw a slightly different side of him, dating back to 1977 when the two began teaching together at Myers Park High School. Anderson taught special education and Campbell taught biology.
Anderson recalls Campbell's classroom saying it was like a nursery, with plants growing everywhere: "His classroom was like the greenhouse."
The two men kept in touch beyond their teaching years. "He was a friend forever, somebody that I really respected," Anderson says.
But Campbell's spirit will continue to bring beauty to people's lives by way of beautiful blooms.
Pender Hollmeyer, a customer of five years and Lawn's neighbor, says, "He cared for his friends and customers the way he cared for his beautiful plants, with lots of love and attention."
Hollmeyer says she will likely never look at an orchid the same way again.