Repurposing Project
A former mill in Mooresville now houses furniture and antiques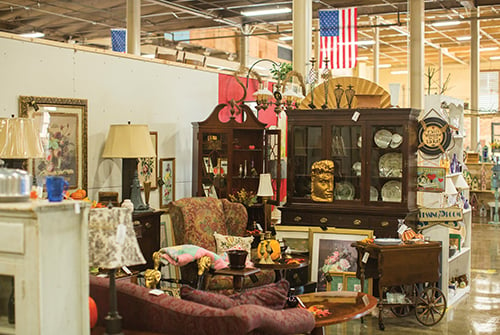 A DINING ROOM suite, a lineberry cart, a set of china, and a rack of wedding dresses are all lined up side by side at Main St. Antiques & Design Gallery. With its long aisles and 160,000 square feet of space, the Mooresville showroom has amassed a varied collection in just four short months. One hundred ninety-three tenants now rent a booth here inside the former Burlington Industries mill building.
"If you have a nice, clean, comfortable, friendly place, people will come," says Michal Bay. Bay owns the entire mill property, which includes 40 acres, eight buildings, and 1.1 million square feet of space. He bought it site unseen while on a boat in Italy. He had one business project in South Carolina, but he had never heard of Mooresville. The 121-year-old structure sat vacant for 13½ years before Bay purchased it. He and his staff are gradually cleaning out clutter, refinishing concrete floors, and filling the space with merchandise to attract shoppers.
The antiques space, which connects to Merinos Home Furnishings in the neighboring building, has tall ceilings and ample windows. Customers wander down the aisles, some hunting for specific treasures and others browsing for an unexpected find. Designers often walk through looking for a vintage chandelier or well-worn table to repurpose in a new home.
Bay is currently working on a pizza restaurant in another section of the building. Three Italian ovens are already in place. He envisions people spending hours here, having coffee or pizza, discussing furniture and design. It's an old building, he says, but it has new life.