Restaurant Review: Rosemont in South End
It is what it is, Meaning, mediocre grub served past the hour when quality matters, this writer says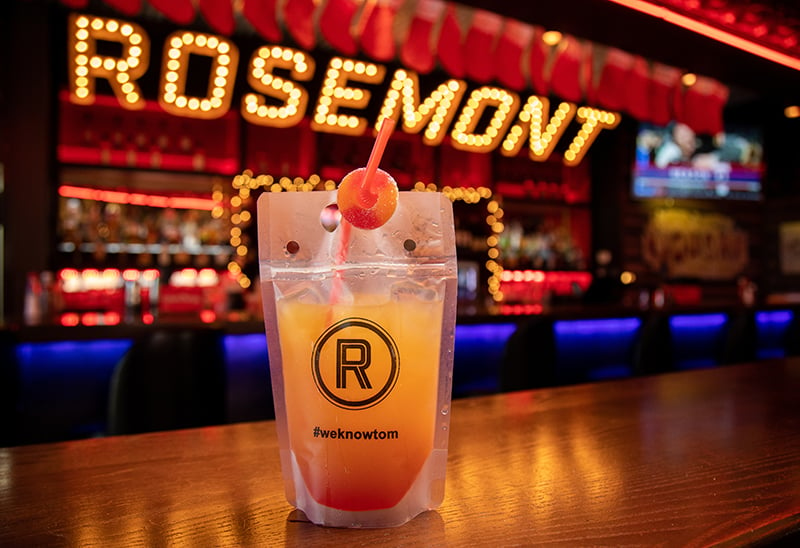 SURE, THERE was a time when a lust for the devilish fruits of late night determined my restaurant choice for the evening.
"A bar on Folly Beach? I'm sure the nachos are fine."
"I don't know—that place with the sticky floor? Wait—wings are how cheap tonight?"
Thankfully, I have grown up. And paralleling my maturation, the hospitality scene in Charlotte has developed a culture in which good times, solid drinks, and well-conceived food options are not mutually exclusive.
South End, especially, has evolved into a destination for those discriminating debauchees who seek not only craft beer and cocktails but thoughtful dishes alongside. Rising from the ashes of Wu's Cajun Seafood, a new restaurant by the Bottle Cap Group (Ink N Ivy, Brazwells) focuses on satiating just one of those desires—and suffers because of it.
In May of last year, around the same time the hashtag #stopsucking promoted banning plastic straws worldwide, BCG began marketing its new concept with the hashtag #weknowtom, revealing photos of adult Capri Suns and vaudeville lights with the new name: "ROSEMONT."
Tom Wicker is an owner of BCG. In the past, patrons of his establishments have attempted to unlock the door to special treatment using his name as the key. Thus, the hashtag was created to let everyone know Tom's doors are open to all.
The space itself is built for a good time. A bar area just behind the host stand has a few cocktail tables and high-tops that lead into a small music stage. Flashing video games and flat-panel televisions line the main dining room.
Outside, a restored Airstream trailer pokes out from behind the restaurant. A covered lounge area in the corner and wraparound patio give the space a SoCal backyard party vibe.
But in the end, despite the best efforts of the staff, Rosemont is limited by the quality of its ingredients and the shallowness of its menu. To quote longtime former Panthers coach John Fox, "It is what it is."
Buffalo options are plentiful—chicken is prepared as a sandwich, wrap, or salad, while a "snack" section includes the upstate New York sauce in Buffalo shrimp ($10), chicken wings (6/$8; 12/$15; 24/$28), cauliflower ($9), and a cream cheese-based chicken dip ($9).
I ask my server to point out a few of her favorites. After highlighting a few cocktails and the Buffalo wrap, she suggests the tomato soup.
My peach ring cocktail ($6) arrives in a plastic pouch, printed with the hashtag reminding me that I should know Tom. After the first syrupy sip, I scan the restaurant—considering my options for a clandestine disposal.
Next, my tomato soup ($3) shows up. My first sip reveals not only an aggressively seasoned base, but also crunchy salt crystals, left undissolved. I brace for a second bite that adds both a seasoned crouton and salty, powdered, domestic Parmesan.
I revisit my sugary cocktail to swing the seasoning pendulum in another direction. But generic gas station peach candy dissolved into margarita sour mix is not the flavor combination I seek to rescue my taste buds.
On my bacon cheeseburger ($11), a slice of American cheese has become one with my top patty. The "dive sauce" advertised to accompany my burger is either forgotten or easily forgettable. The sensory association to a fast food burger is unmistakable—right down to the flavor of the bacon and texture of the well-griddled but, well, well-done ground beef.
The mac and cheese side, baked and presented in cast iron, is another tale of unbalanced extremes—overcooked, unseasoned pasta bound by white cheddar is both rich and flavorless at the same time. The overwhelming weight of the fat, without the flavor-enhancing properties of salt or the brightness of an acid, becomes tiresome, even objectionable, after the first few bites.
Despite its disappointments, Rosemont is exactly what it intends to be. Broadway-style lights are the backdrop to salty, fried food meant for soaking up syrupy cocktails and cheap beer at one o'clock in the morning. Those same cocktails are served not to highlight alcohol but to hide it. And the flavors of Buffalo are meant to be shared by one and all, whether by land, sea, or brassica.
Bottle Cap's hedged bet of trend over substance may win over the young hearts of South End. I just hope these kids have learned that it's possible to fight for their right to party and eat well while doing so.