Restaurant Week: Aria
The Tuscan grill in uptown shines through its classic Italian food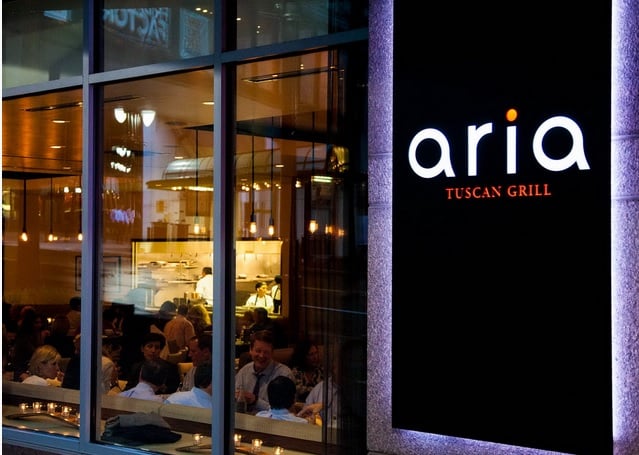 As previously stated, the Queen's Feast, or Charlotte's version of restaurant week, gives restaurants around the city an opportunity to show off their best dishes for a fraction of what diners would normally pay. It's a gastro-extravaganza for foodies to explore eateries they may not normally frequent or may not be as adventurous to try.
Because this writer resides all the way down in the Ballantyne/Stonecrest area, I don't often visit restaurants all the way uptown (because 485). During restaurant week, however, I've been known to make exceptions.
With my boyfriend and a few friends visiting from Richmond, VA, in tow, we trekked to the Italian eatery, Aria.
My first impression: a beautiful space full of the same feel as a warm Italian restaurant from my homeland of New Jersey, but with a more sophisticated and elegant touch. I'll admit, I'm not surprised, as Aria holds a coveted spot on the Best 25 Restaurants list.
Appetizers are perfectly sized and won't ruin your dinner. For a lighter starter, the classic Caprese ($9) salad offers warm oven-roasted tomatoes and light, fluffy mozzarella. If you aren't afraid of a heavier dish, the carmelized gnocci ($10) features sweet pear and salty prosciutto.
Dinners vary from pastas to classic entrees. The slow roasted lamb shank ($24) is fall-off-the-bone tender and flanked by a flavorful broth with notes of tomato and wine. However, if you're looking to stick to tradition, the spaghetti & meatballs ($13) is satisfying and classic.
Creamy and light tiramisu ($6) for dessert is always a hit, but the fig crostata ($6) is perfectly complemented by cinnamon gelato.
If you haven't been to Aria, head there this week for the Queen's Feast or wait until the crowds subside a bit until after. Normal prices are listed next to dishes; the full menu is offered as 3 courses for $30 during the Queen's Feast, which ends this Sunday, Janaury 26. Either way, don't miss this Italian masterpiece.