Review: At Bardo, Dishes Nostalgic, Yet Indulgent and Innovative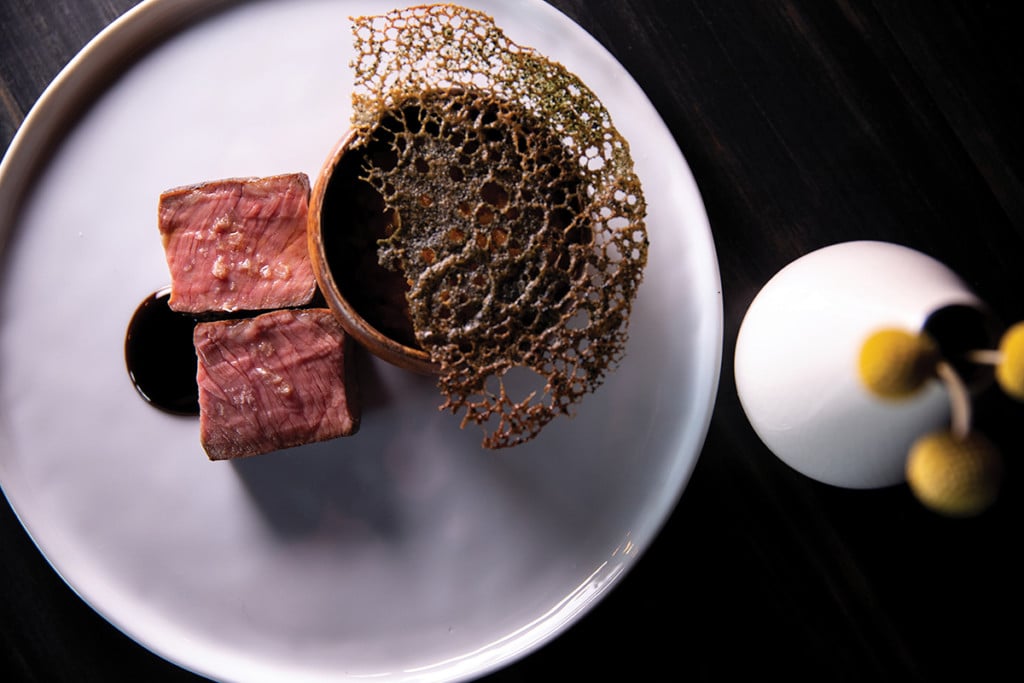 MY FAVORITES at Bardo all eat like junk food, and I mean that in the best way. The diver scallops, with chicken skins and a fermented hot sauce, remind me of childhood road trips in which the aroma of my spicy fried pork skins filled the family station wagon. Just as I was then, I'm embarrassed—but not restrained—by my own guilty pleasures while trying the winning dishes at Bardo, chef Michael Noll's new restaurant in Wilmore.
On an August evening, my friends and I sit at the bar and order cocktails imagined by bartender Amanda Britton. The Japanese whiskey gives the Melon Soda ($12) a smoky, peaty backbone, and the honeydew cordial in it delivers a taste of Southern summers. The Professor Plum ($12) plays on an Old Fashioned with a plum molasses and high-proof bourbon.
For dinner, we start with charred shishito peppers ($9) and beef tartare ($18) to share. In Bardo's walk-in kitchen, Noll stares intently at the handful of dishes in front of him—occasionally scanning the dining room with the same focused look. I get the feeling nothing goes unnoticed.
I also order a bowl of porridge with the humble title "eggs and grains" ($12) just for myself. The four grains are cooked separately, then combined, while a few lucky ones are set aside and crisped to provide textural contrast.
Now, back to those chicken skins. The skins form the base of the scallop dish ($22). They're almost like the popular Spanish tapa, migas, but where bread would normally be fried, chicken skin is used as the bread crumbs. The vinegary hot sauce on top is spicy, salty, and glutinous—just like those spicy fried pork skins from family vacations past.
A chunk of Spanish octopus, with pineapple, chorizo, avocado, and espelette ($17), is firm but satiny—a pleasure to chew. Again, the flavor combination brings to mind more of my guilty choices—this time, experimental late-night pizza, a welcomed nostalgia.
The smoked beets course ($10) seems too tame. I perceive reservations from the kitchen—especially with its moderate use of boquerones—to challenge local diners with the intensity of classic Spanish tapas. And Noll may be right to approach Charlotte diners in this way—for now.
The dry-aged beef ($23) feels more grown-up and perhaps a nod to something else—my first thought is sushi. After all, the tender meat is served alongside rice, this version a Carolina Gold grain mounted with a spicy kimchi butter. Also, like sushi, the flesh sits under-seasoned, in naked respect. It is only after a drag through the reduced soy sauce that the flavor Noll intended truly emerges.
On this trip, dessert is a miss. The peaches selected for the charred peach dish with miso, elderflower, and white chocolate ($10) are starchy and unripe, almost vegetal. But I'm transported to early Saturday mornings, watching cartoons and eating Lucky Charms cereal, as I eat the strawberry-dusted wafer covering the dish, reminding me of what chef Noll can do in his tiny kitchen: put out bold flavors that still seem familiar.
At Bardo, I couldn't help but feel like I'm in a cool, West Coast garage—one that fixes hot rods by day and, at night, brings in guerilla chefs to serve avant garde food and drink to hip patrons. Bardo's industrial, speakeasy style and walk-in kitchen concept certainly would be more at home in cities like Chicago, Oakland, and Los Angeles—but for now, it's Charlotte's turn in the back of the station wagon.
---
BARDO
1508 S. Mint St., Unit B
980-585-2433
Small Plates: $9-$23