Revisit: New Perspectives at Heirloom Restaurant
Exploring the new and approachable a la carte menu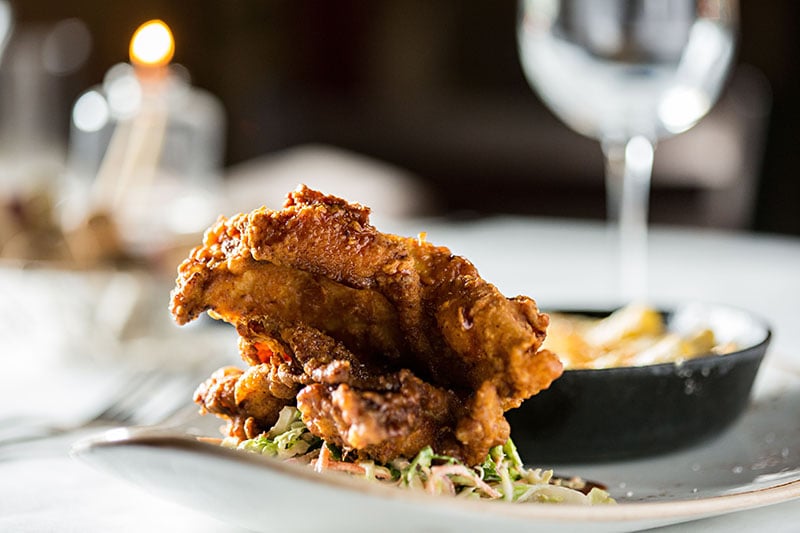 HEIRLOOM IS UNDERGOING some big changes. The original 12-course tasting menu is no longer. Frank Scibelli, Charlotte's ubiquitous restaurateur, signed on as the restaurant's first partner. Marketing firm Plaid Penguin redrew the restaurant's branding. And a remodel or move is brewing.
Chef Clark Barlowe is stepping outside his comfort zone and embracing a new perspective.
"What it comes down to is a renewed sense of the hospitality industry," Barlowe says. "I want everyone to have a great experience." The chef and original owner hopes to draw more diners who come in more frequently, and was concerned that the 12-course menu wasn't relatable for most diners. The strategy is to keep his inventive tasting menu, now offered as six courses ($70), but add approachable a la carte options for guests who "may just want a soup and a salad."
For those who go the salad route, try the simple kilt kale ($7) with house-made bacon, Arkansas Black apples, farmstead cheese, and Sundrop vinegar. It is well balanced among bitter, sweet, savory, and salty. I added an order of chicken chips, which are a delicately fried pile of chicken skins. They lack a dose of salt, but that's easy to remedy by dunking them into the creamy buttermilk dressing or the honey that arrive as accompaniments. The honey, by the way, is harvested from hives that reside on the rooftop of the restaurant. Amidst all of the change, one thing will remain the same: Barlowe is unequivocally committed to using products sourced from North Carolina's farmers, foragers, and growers.
I have a favorite, must-have dish on the new menu, and it's not what you'd expect: pork & beans ($24, and also the chef's fave). Heirloom does its version of the dish with house-made garlic pork sausage on a bed of rich, sorghum-baked field peas from Barbee Farms. Steamed, yet crisp, cabbage sprouts, an ingredient I haven't been introduced to before, share the plate.
A fixture on the seasonal menu is the fried chicken. Based on the chef's grandmother's recipe, the crust is incredibly crunchy, while the meat stays juicy inside. It is served with a tasty, tossed-to-order heirloom cabbage slaw and truffled mac-n-cheese that has a pleasing earthiness but, unfortunately, sat under the broiler a little too long.
The shrimp and grits ($25) were fantastic, with whole, blistered heirloom tomatoes, roasted corn, and more than a dozen succulent, barely opaque shrimp sourced from Tim Griner and other North Carolina fishermen. But it's the crab roe mixed into the pillowy grits that makes them stand out. I have tried a multitude of versions of this dish throughout the Carolinas, and this is at the top of my list.
Sadly, there were some clear misses. My expectations for the duck confit ($29) were high, after our server told us Barlowe learned to make the dish during his stint at Chez Pascal in Providence, Rhode Island. However, it arrived overcooked and over-salted. I was thankful for Aunt Nancy's Onion Pie ($3 if ordered as a side dish) that arrived alongside.
I also tried the Double Double ($16), Heirloom's attempt at a California icon, the In-N-Out burger. The patties had great flavor and a nice char, but the burger didn't quite live up to its reputation. The bun was on the dry side and the sauce was overwhelming. A second dish trying to emulate a fan-favorite is the North Carolina lump crab cakes, in the style of Clyde's Restaurant Group in Washington, D.C., where Barlowe worked before moving to Charlotte. Granted, I spent several years in that area, so I am a tough critic. But the texture was mushy, the spice heavy on cayenne, and the flavor slightly fishy. I hope the next iterations of both are unique to Heirloom.
End on a bright note with one of Heirloom's staple desserts, apple cake ($9). It is tender and moist, from apple butter and brown sugar caramel, while ginger snaps impart robust flavor. It paired well with bartender Dexter Dunan's newest cocktail, the apple milk punch ($10), made with 1712 Bourbon, Paw Paw Murphy's Amaretto, Arkansas Black apple infusion, orange juice, and more apple butter.
We've seen in a few hiccups as Heirloom transitions to its new menu. Still, I am confident the changes will be great, especially since Heirloom's core values are staying the same: a dedication to local sourcing and a deep sense of community.
Jen Lover is a creative director, stylist, event planner, writer, and photographer with a passion for anything food, design, or travel. She can be reached at jenlover.com or jen@jenlover.com.