Richmond, Revisited
Exploring the cultural transformation of the former capital of the Confederacy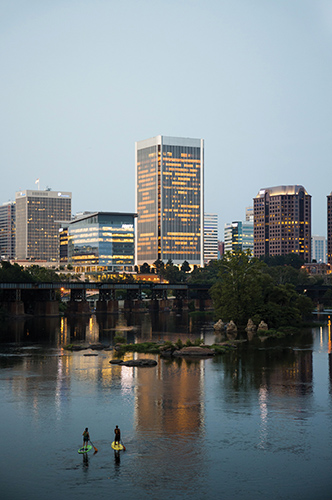 Richmond's cultural transformation can't be seen from the interstate. Driving through the city on Interstate 95, you'll see a striking view of the skyline against the James River rapids, but the scenery is soon marred by a series of billboards and the boarded windows of unoccupied buildings. What isn't visible from the highway is this historic city's Bohemian vibe.
The popular monthly festival First Fridays draws thousands of Richmonders, from college students to artists to collectors, to check out more than 20 art galleries around Broad Street. And the Richmond Mural Project splashes buildings with vibrant, colorful paintings from world-renowned muralists.
Investors are turning former industrial warehouses and bakeries into trendy lofts and condominiums, breathing new life into some of the previously neglected, historic neighborhoods. Richmond's population grew an estimated 8 percent between 2000 and 2013 after declining in the previous three decades.
A dynamic array of restaurants has launched, including Heritage in Richmond's Fan District, with its locavore-inspired, seasonal cuisine and renowned cocktail menu, and The Roosevelt, serving twists on Southern-style cuisine in the Church Hill neighborhood.
Richmonders flock to Sugar Shack Donuts, a small doughnut shop that opened last year in the city's historic, 19th-century working-class Carver neighborhood. The shop's hand-dipped treats come in creative flavors such as maple bacon and caramel apple cake, attracting lines that often spill out the door.
The city has also joined the nationwide craft beer trend. In 2012, the Virginia legislature passed a law allowing brewers to sell pints at their breweries, and Richmond took full advantage. The area now has nine breweries, and they bring their malty creations to people in many ways, including weekly food truck festivals and trivia nights.
History serves as the backdrop to these festivities. There are Civil War sites, including battlefields; the White House of the Confederacy, where Confederate President Jefferson Davis and his family lived during the war; and the Richmond Slave Trail, following the journey of African slaves in the city.
But history lovers can go back even further, to the Colonial era, with a visit to St. John's Church. On some Sunday afternoons, visitors can watch a reenactment of the Second Virginia Convention of 1775, which was held there. The reimagined version culminates with Patrick Henry's "Give me liberty or give me death" speech.
Be sure to visit Maymont, a romantic, 100-acre estate left to the City of Richmond by railroad baron James Dooley and his wife, Sallie, who lived on the estate from 1893 to 1925. The park includes the Dooleys' mansion, extensive Japanese and Italian gardens, a petting farm, wildlife exhibits, and a nature center.
Outdoors enthusiasts will want to visit the James River Park System, with trails for hiking, plus swimming and whitewater rafting on the country's only Class IV rapids in an urban setting.
Or enjoy the James as most Richmonders do, sunbathing or picnicking on its giant rocks and sandy shores.
***
COURTESY RICHMOND REGION TOURISM
Where to stay: The Jefferson (from $275 per night). A favorite with visiting celebrities, Richmond's iconic hotel opened in 1895. Thirteen U.S. presidents have stayed here, including Teddy and Franklin Roosevelt, both Bushes, and Obama. Even if you don't sleep here, it's worth a visit for afternoon tea, Sunday Champagne brunch, or just to look around. (You won't be the only one.)
Local pride: What is "RVA"? Short for Richmond, Virginia, you're likely to see these stickers and decals around town. It's due to a local branding effort to give Richmonders the opportunity to show city pride. The stickers are plastered all over the city, on cars, bikes, storefronts, and backpacks.
***
COURTESY RICHMOND REGION TOURISM
Visiting with young kids? Don't miss the Children's Museum of Richmond. This interactive museum offers a variety of opportunities for children to run and play, including an indoor carousel, outdoor water play, and a town square with a make-believe cafe, grocery store, and news studio. Best for children under 6 years old.
Not to miss: The Virginia Museum of Fine Arts includes more than 33,000 works in a sprawling building that recently underwent a major expansion. The free gallery includes extensive art nouveau and art deco collections as well as Russian art, including five Fabergé eggs.
***
Bilyana Dimitrova
Classic Richmond: Visit Millie's Diner, which offers made-from-scratch fine dining in a small, no-frills eatery. Weekend brunch is popular, but the long wait is made easier by mimosas and bloody marys.
Enjoy the James: Belle Isle combines historic interests with outdoor pursuits. The wooded island, site of a prisoner-of-war camp during the Civil War, is surrounded by wide, flat rocks ideal for sunbathing, picnicking, and watching kayakers fight the river's rapids. The island also includes hiking and mountain-biking trails and a rock-climbing wall.
Eat and Drink with a View: The Boathouse restaurant, located in the new Rocketts Landing development, offers panoramic views of the James River. For the best view of Richmond's skyline, enjoy a beer or grab a meal on the back deck of Legend Brewing Co.