Riding in Style: Kelsey Briggs
A love for horses shapes her life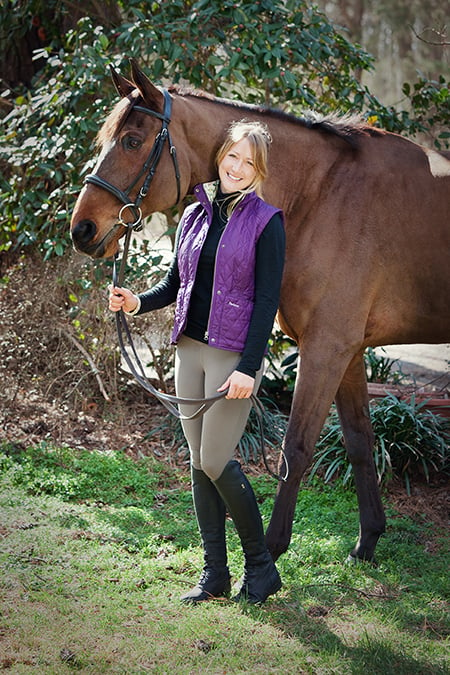 THE DAY Kelsey Briggs found Pirate in the pasture with a fractured neck was a dark one. "They told me to put him down," she recalls. No one knew how the injury happened.
She had bought the thoroughbred at an Ohio racetrack seven years earlier, in 2006. He went cheap because no one saw his potential. She named him The Gentleman Pirate and poured herself into training him, ascending the ranks of U.S. eventing, the triathlon of the equestrian world.
But on this dismal morning, she thought he'd never compete again.
"I refused to give up on him," she says, and Pirate had no intention of being put out to pasture. Rest and treatment led to a remarkable recovery, and the next year he was at The Fork Horse Trials showing off his parade moves, galloping the obstacle course, and jumping.
He's the horse of a lifetime, Briggs says. Now 27, she had an epiphany when her parents took her to the 1996 Summer Olympics in Atlanta. "That's what I want to do with my life," she told them during the equestrian events. By age 13, she was getting paid to ride other people's horses. A licensed steeplechase trainer, her instincts are uncanny as she trains horses to land in ditches and sail over hedges.
This month, she and Pirate will return to the horse trials at The Fork, about 50 miles east of Charlotte. Hundreds of riders will compete at the 1,600-acre farm, including Olympic hopefuls. Briggs hopes the competition will move her closer to her dream: the esteemed Burghley and Badminton Horse Trials in England. Until then, she and Pirate are savoring each leap of victory.
---
NORMAN THELWELL BOOKS // His first pony cartoon for Punch magazine appeared in 1953; in the following decades, Norman Thelwell's fan base spread far beyond his native England. Briggs owns four first-editions of his books. "He's quite famous in the horse world," she says. "If you have a fat, naughty pony that's always in trouble, you call it 'a Thelwell.'"

---
EQUESTRIAN HATS // The rounded derby hat was a gift from Briggs' godmother, a Virginia foxhunter who hunted sidesaddle. Briggs wears the formal top hat during high-level competition.

---
TACK CONDITIONER // Briggs uses Belvoir Leather Balsam from Waxhaw Tack Exchange to condition leather saddles, bridles, and other tack. The lanolin and beeswax formula keeps the leather soft and adds a shine. The English manufacturer (Carr & Day & Martin) provides care products to Queen Elizabeth II.
---
ALBERTO FASCIANI BOOTS // With ergonomic soles, anti-slide grip in the calves, and Velcro closures at the zippers, these handmade boots are as practical as they are beautiful. Briggs wears this pair of marbled brown leather during cross-country competitions. She is the only American rider sponsored by the Italian boot company.
---
PIRATE BUTTONS // To ride in the highest international competitions, Briggs dons her shadbelly. The formal coat with tails has a special touch: buttons with pirate emblems, sewn in place by her mom.
---
AIKEN HUNT CHINA // Aiken, South Carolina, is a magnet for equestrians; unpaved streets are easy on hooves, and the town hosts numerous equine events, including a horse show and steeplechases in the spring and fall. Briggs began collecting Aiken Hunt Country China, by CE Corey, when she was 13.