Rob Clement Bets Charlotte Will Go Meshugganah Over His Jewish Deli
The story behind the popular pop-up looking to become a brick-and-mortar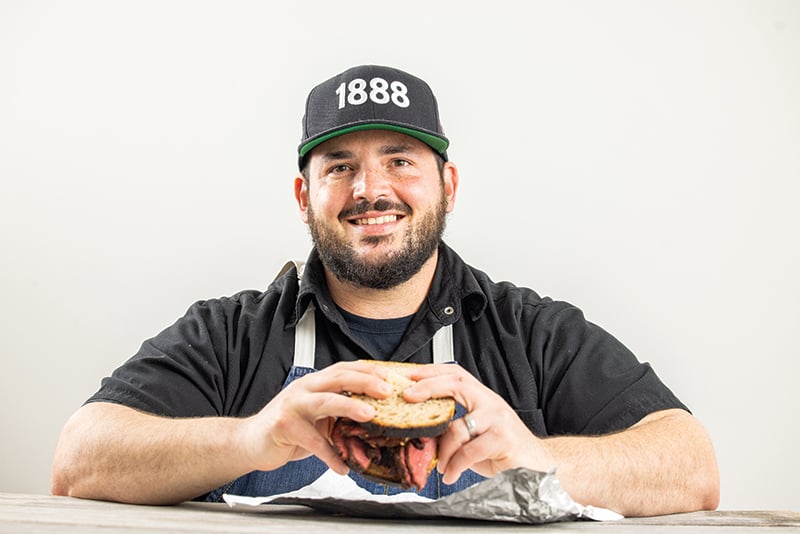 "There are so many layers to what Jewish food really is," says Rob Clement, chef and owner of Meshugganah, the Jewish deli pop-up he launched in 2020. "Jews have been a migratory culture throughout history, running for our lives, so there's no specific region of the world that can embody Judaism."
Clement, who grew up near Tampa, says it's why the foodways of Judaism are so diverse. "You can go to New York and get Ashkenazi Jewish food. You have Ethiopian Jewish restaurants and Israeli Jewish restaurants. The biggest misconception is that Jewish food is just New York deli food."
In a city with little Jewish cuisine, Clement hopes Meshugganah can help normalize Jewish culture. He offers these points of reference for first-timers with Southern palates: Pastrami is like Jewish barbecue, and matzo ball soup is like a Jewish version of chicken and dumplings. Instead of cloning New York bagels, he uses local ingredients to make "Carolina-style bagels."
Meshugganah isn't certified kosher, but Clement says it's a deli influenced by Judaism, which means he occasionally mixes meat and dairy in sandwiches but avoids pork and shellfish. Knishes and kugels are his specialty, and he varies them based on what's in season, but he's always working to perfect his pastrami and bagels.
Clement didn't go to culinary school, and he doesn't come from a long line of cooks. Most of his education came from reading cookbooks and working in restaurants. The 35-year-old was executive chef at The Porter's House when the pandemic hit. First he was furloughed. Then his pay was temporarily cut in half. Once in-person dining resumed, he decided that continuing to work wasn't worth the risk to his wife and two young children, so he taught Zoom cooking classes from home and started making challah and kugel in his spare time.
That summer, the team at Free Range Brewing asked Clement to do a Jewish deli pop-up. "I told a few people in my family that I was doing these pop-ups," he says, "and they all told me I was crazy." It's how he landed on the name Meshugganah, which is Yiddish for a crazy fool.
But the idea wasn't crazy. People waited in line for up to three hours for his pastrami sandwiches. His wife, Franki, baked challah and black-and-white cookies for the pop-up menu. They made take-home dinners, which they cooked out of their house and advertised on social media, for Rosh Hashanah. "We sold so much food, we broke our oven," Clement says. "The last potato kugel came out of the oven, and the carbon monoxide detector in our house went off. We'd maxed out what we were capable of doing at home."
In May 2021, he signed a lease on a restaurant space on North Graham Street that didn't pan out. By December, he changed course and moved into a space in City Kitch West End, a ghost kitchen where he works alongside vendors that include Best of Both Souls, Distinctive Soul Creations, and Honeybear Bake Shop. Preparation for a weekend pop-up typically starts four days out with the bagel and bread dough; he smokes the pastrami the day before, and finishes baking and assembling everything the day of.
Clement's goal was to open a restaurant by age 35, and he still hasn't given up finding a brick-and-mortar for Meshugganah. "I'm 35 now, but in Judaism, 36 is a lucky number," he says. "'Chai' is 18, and a double 'chai' signifies luck and good fortune, so opening a restaurant in my 36th year is beshert, or meant to be."
He's thought about leaving the hospitality industry for an easier, more reliable job, but he says he can't abandon this crazy idea. It's too important to the city's cultural fabric. "You have artists like Mike Wirth and the work of all the organizations at Shalom Park doing amazing things," he says. "I think coming at it from a foodie perspective makes Jewish culture easier to talk about and opens up some new doors. I am just a small, albeit cool, piece of the puzzle."