Rockabilly Fare: Texicali Taco & Tequila Bar
Mexican-inspired cuisine goes retro at the NC Music Factory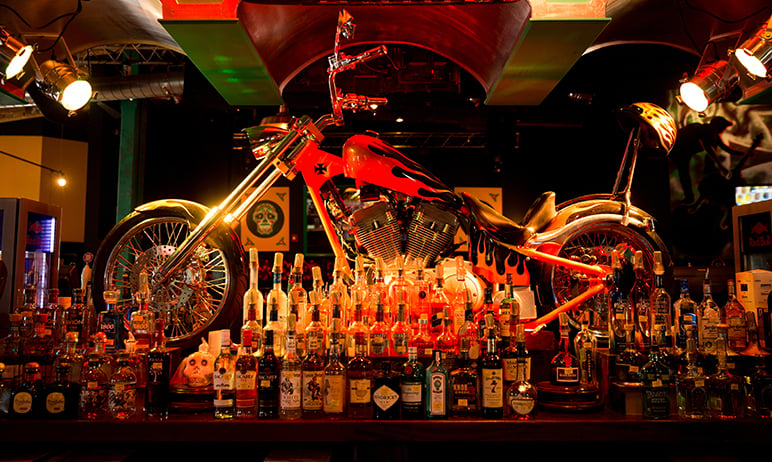 A grinning skeleton on a 1950s motorcycle greets you at the door. Columns catch the light from glow-in-the-dark Day of the Dead décor, and a large mural of a skull adorned with roses overlooks the space while rock music blares. A new member of the NC Music Factory strip, Texicali Taco & Tequila Bar is rockabilly meets Ed Hardy meets Mexico.
"The quest was to make a fun restaurant, like a little museum or gallery where you can walk around and see all of the unusual items we have while enjoying a meal," says co-owner and operator Alex Myrick.
Myrick and Executive Chef Gene Briggs, the duo behind Blue and Osso, paired up again to create Texicali, where the menu spans U.S. gulf shore to authentic Mexican cuisines. You won't find a heaping plate of food flanked by refried beans here; most dishes come in dainty portions. Chef de Cuisine Carlos Rangle, who hails from Mexico City, helps ensure that the Mexican-inspired menu items are authentic, but a wide array of tequilas and margaritas makes it clear the beverages here are just as important as the food. Proof: An oversized bar is visible from every table and is the true centerpiece of the eatery.
Authentic Mexican fare at the rockabilly-themed Texicali Taco & Tequila Bar includes shredded brisket enchiladas.
Los Tres Compadres ($6.95), a trio of salsas, highlights the kitchen's fluency, with its addictive, smoky Salsa Borracha made with toasted morita chiles, orange juice, aged tequila, and garlic. A classic Salsa Roja marries cooked tomatoes, spicy jalapeños, onions, garlic, and fresh cilantro. Last, the bright-green Salsa Verde lends a sour bite of green tomatillos, smooth avocado, chile salt, and spices. The trio is served on a bigger-than-your-face platter with spicy housemade tortilla chips.
Tacos ($3.95 each) are the smart choice for eating with one hand if you're here to watch the game. Choices include brisket, salmon, chicken tinga, crispy fried chicken, carne asada, grilled portobello, and carnitas—and each has its own presentation, with toppings ranging from pineapple (with the carnitas) to grilled onions (with steak). Choose between corn or flour tortillas that are made fresh daily.
Chicken pozole soup ($7.95) combines shredded chicken, green chiles, hominy, and cilantro in a bright, tangy broth. It's a hearty dish but seems a little out of place on a menu where almost every other dish is meant to be eaten with your hands.
Other staples include burritos—green chili pork ($9.95) and roasted veggie ($8.95)—and enchiladas (the chicken with spinach and mushrooms in a cream sauce for $8.95 is a standout). With its musical flair, Texicali fits in well at its Music Factory home—but it stands out with dishes beyond just munchies to go with your margarita.