RockSalt hoping to open by Valentine's Day
Executive Chef Jay Pierce gives an update on the anticipated seafood restaurant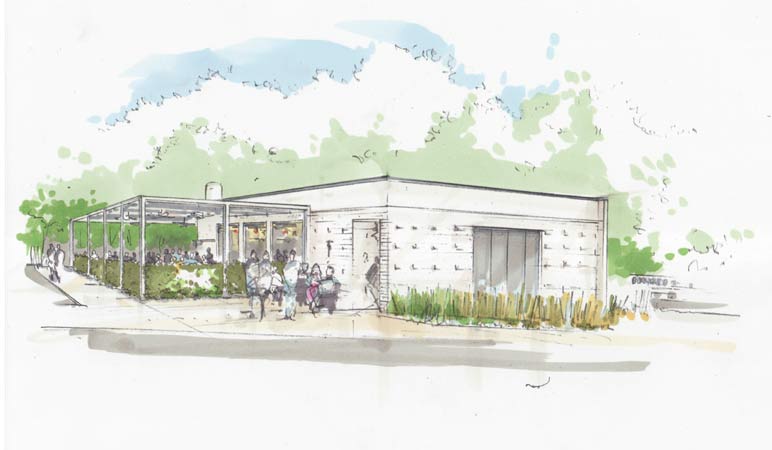 RockSalt restaurant is eyeing mid-February for its grand opening, according to Executive Chef Jay Pierce, who took some time to fill us in on the seafood restaurant's progress in between interviewing for a sous chef Friday. It started with a simple update.
"There's a lot going on," he said.
That much was evident from the number of hard hats and two-by-fours inside 512 Brandywine Rd., but Pierce and RockSalt owner Travis Croxton have also been busy putting together a staff to run the place. They've hired Bonterra general manager Jessica Opperman to oversee the front of the house, and are in the midst of bringing a bar manager on board.
With the menu written, the opening date now depends on construction wrapping up on time and permits coming through without delay. Pierce is hoping to be open for Valentine's Day, when they'll start serving a smaller version of the menu he's created. Once the staff has a month or so of experience and can "nail every one" of the menu's entrees, according to Pierce, they'll expand to the full menu.
Though RockSalt's raw bar will be similar to that of the restaurant's original location in Charlottesville, Virginia, Pierce's menu is his own creation. He is working with Firsthand Foods, an aggregator of humane, pasture-raised meat products from small farms that allows for restaurants to buy big quantities from small farms. His passion for serving sustainable foods—Pierce wrote a book encouraging readers to buy local shrimp—will be reflected on the menu, but not in an over-the-top way.
"If asparagus is not in season, I'm not going to buy it," he said. "I don't have to make the consumer feel bad because they had asparagus for lunch, and they go home and read in the Wall Street Journal about asparagus in Peru and the fuel miles it takes to get it to Charlotte."
The menu is about 60 percent seafood, Pierce says, but don't even look for fried clam strips—there is no fryer in the RockSalt kitchen, and won't be even after the kitchen appliances are delivered and installed on Tuesday. Deliveries will continue in the coming days, but the building itself, tucked behind Park Road Shopping Center, has already taken on a RockSalt look.
"From the outside of the building, it looks like a coastal building, low-slung, a little weathered," Pierce said. "We want it to look like it's kindof fresh, but seasoned, like it would come from the coast."
The interior of the dining room, expected to seat 65 to 70 customers, will be furnished with tables, chairs, and barstools built from reclaimed wood by a woodworker in Virginia who supplied the Charlottesville location's seating. Once the interior of the restaurant is finished, a patio with room to seat 100 more customers will remain under construction, and should be completed as the weather turns warm enough to enjoy it.
Pierce, whose resume includes working in Emeril Lagasse's New Orleans restaurant as well as, more recently, Greensboro's Lucky 32, says by the time it gets cold again, heaters will be added and they expect to use the patio most of the year.
Once open, RockSalt will start with dinner service only, before adding lunch once the first week or two passes. When the restaurant has a firm opening date, we'll let you know through another post on Dine and Dish.