Room We Love: Blue Period
Designer Donna Livingston transforms a once-cramped bedroom into a relaxing retreat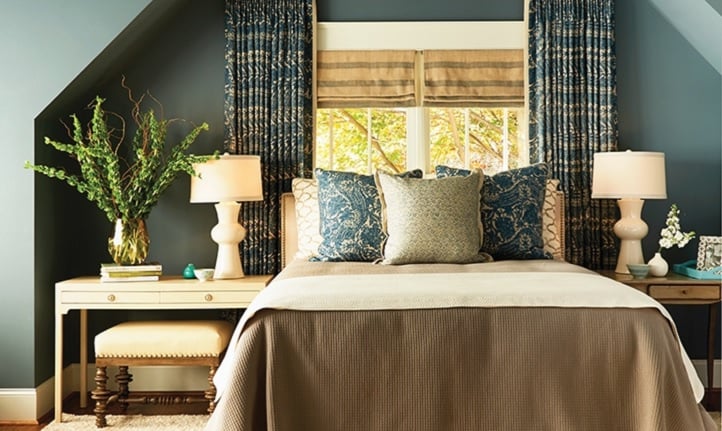 SPACE
Put small nooks to use. "The eaves really add the interest [to the room]," explains Livingston. "Take advantage of niches … I love that it tucks the bed in and feels like [the bed] was made for [the room]."
INSPIRATION: "People often don't know where to start, so find one fabric you love and work from that," explains Livingston. "It may be something you already own. You may take a pillow you love, or you might be starting new. But it should be something you love, because everything else fills in around it."
COLOR: The bedroom is a place of rest and relaxation, so choose a calming color palette—but don't be afraid of darker colors. "I find blue to be one of the most soothing colors," says Livingston. "Everyone fears a room will look smaller with a darker color, but that's not necessarily a bad thing. … Who doesn't want a bedroom that's cozy?"
GREENERY: Plants can help soften a room's severe angles. "An organic, loosely shaped green helps soften the angular lines of the ceiling," explains Livingston, who adds that it also lends height to the space, which is truncated by the eaves.
PATTERN: When mixing patterns, find a commonality among them. In this space, for example, each fabric is linen, which unifies each pattern without feeling overwhelming.
BEDDING: For bedrooms, Livingston suggests using neutral bedding and then layering with throw pillows and other patterns to bring interest to the space. "A solid coverlet [the ones in this space are from Isabella and Restoration Hardware] with subtle texture like we used in this room makes the room feel bigger," she says.