Room We Love: Fashionably Found with Cheryl Luckett
Designer's bold design doesn't break the bank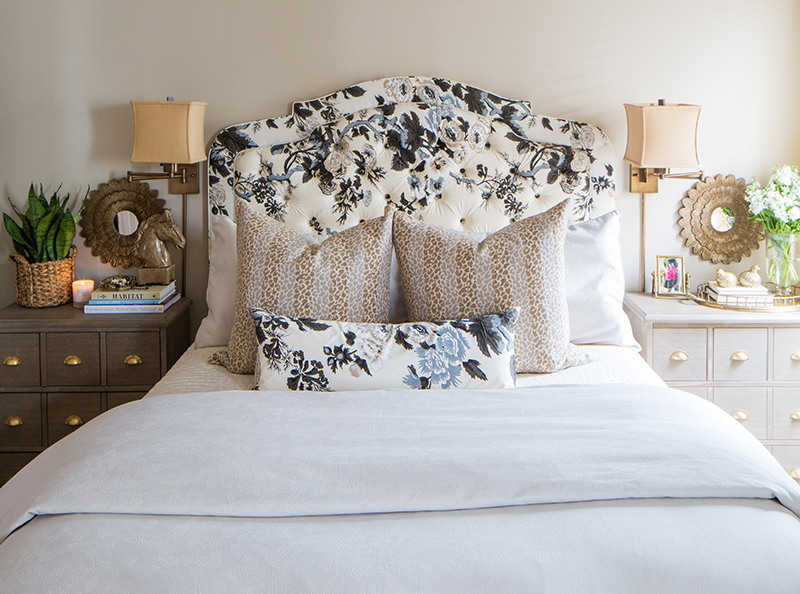 SCONCES
Maximize space by elevating your light fixtures. The pair of swing-arm sconces not only provides much-needed light, but also opens up ample space on the top of the nightstands. "That extra space allows me to have my 'pretty' displayed on top," says the designer of her flowers, books, and figurines.
HEADBOARD
Go bold with your centerpiece. Luckett scored the vintage chintz fabric by Schumacher on a recent shopping trip to Metrolina Expo. She designed a headboard, then had it swathed in the traditional fabric. The piece became the inspiration for the rest of the bedroom's aesthetic.
STARBURST MIRRORS
In lieu of larger artwork, Luckett added the small-scale gold starburst mirrors just above each nightstand so as not to overwhelm the eye. "I wanted your eye to be drawn to the headboard," she says of the custom-designed piece. "I knew that anything I put on the side of that bed didn't need to distract attention from the headboard."
BRASS ACCENTS
Don't be afraid to use of-the-moment brass throughout the room. In addition to providing instant warmth to the space, the brass accents on the side tables and sconces create a collected, vintage feel. "It makes it look as though some of the pieces are heirlooms," explains Luckett.
BEDDING
Embrace neutral linens. The duvet by Barbara Barry creates a serene space that patterned or dark-colored bedding might not. "Crisp, white or pale gray linens immediately make you feel warm and cozy," says Luckett. "That's exactly what a bedroom should do."
NIGHTSTANDS
Create symmetry. In her original bedroom's design, Luckett had two different nightstands. This time, the designer opted for a matching pair to flank the bed to create a sense of formality to the room. "The fabric is more formal, so I wanted to bring a level of sophistication to the room and the nightstands achieve that," she says.