Room We Love: Master Retreat
Architects Ken Pursley and Craig Dixon teamed up with designer Kathy Smith to create this cozy and sophisticated master suite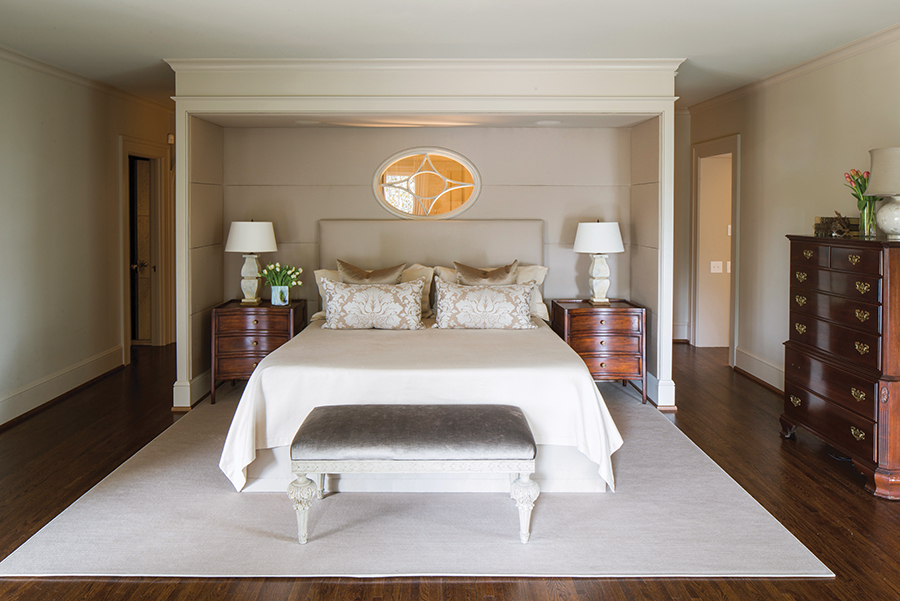 VIEW
Consider reworking the layout. Pursley and Dixon reconfigured the room so the bed faces the fireplace and views outside. But to achieve this, they created a cocoon-like bed nook, which Smith upholstered with wool sateen. "[The walls around the bed] make you feel more nestled, plus it gives a place for the bedside tables to be contained," explains Pursley.
LIGHT
Bring in natural light if at all possible. Pursley and Dixon added the small window above the headboard. "It became a decorative feature as well," says Pursley, who adds that the window provides an intimate view from the closet into the master bedroom.
COLOR
Choose your palette appropriately. "The clients are very busy parents of twin boys, and I wanted this to be their sanctuary, a place for quiet," explains Smith, a designer with Circa Interiors. Warm, neutral tones of taupe in varying textures for added interest make the room feel more serene and inviting. "The idea is that it's an escape from life, and that it has a calm, ethereal feel to it," adds Pursley.
BALANCE
Think symmetry. "I think furniture, like life, is better when it is balanced," says Pursley. The two nightstands flank the crisp, clean bed while the window above the headboard and the upholstered bench at the foot help balance the sleeping nook, making it comfortable and cozy.
BED
Keep it simple. "In keeping with the transitional architecture of the room, I kept everything clean-lined, including the bed, the bed linens, and the upholstery," explains Smith. Though the lines are simple, throw pillows add interest with texture and color variation.