Room We Love: Relaxed Vibes in a Dilworth Cottage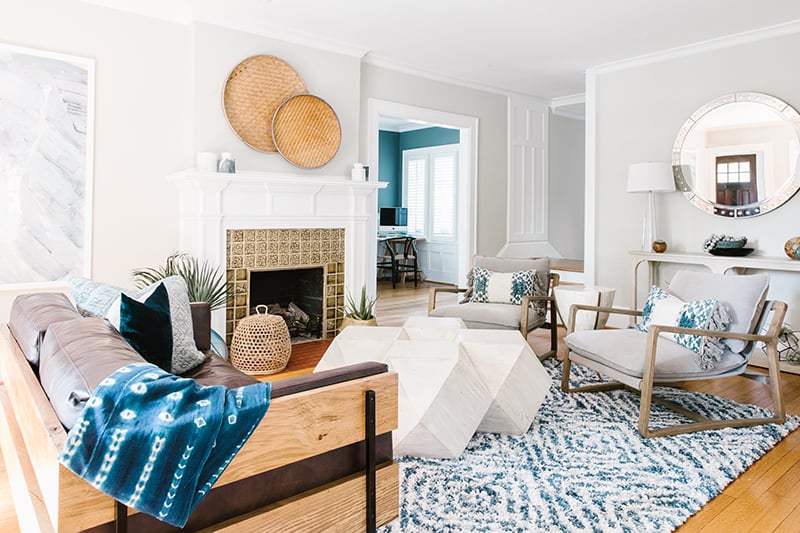 AFTER MOVING into a Dilworth cottage, Liz and Christopher Leonard weren't sure how to use the finishes the previous owners had left behind. Dealing with a "beige-on-beige" space with a confusing layout, the family called on Berkeley Minkhorst and Kelley Lentini of House of Nomad (HON) to create the vibrant and warm sitting room.
Unexpected Texture
In lieu of traditional art, two antique rice baskets from Indonesia hang above the fireplace. "That's what your attention goes to," Minkhorst says. The baskets "created this really cool, unexpected moment. We are going to Bali in June, and that's the kind of stuff we hope to bring back." HON also sells the chicken baskets (bottom of fireplace).
Going Indigo
"The wife and husband had two different styles, so this was like a happy medium. It's really inviting and soothing," Lentini says of the cerulean tones around the room. The designers say they treat blue as a neutral because it's not polarizing—men and women can agree on the hue. "The indigo blanket is from Africa—we keep stock of those," Lentini says.
Geometric Influence
The edgy coffee table is a conversation piece. "We defined (the Leonards') style to be a relaxed California vibe and slightly transitional," Minkhorst says. "They both immediately loved that piece. It's playful." The geometric design on the African blanket complements the coffee table in this unique sitting area, creating a hard-and-soft contrast.
Keeping Character
The greenish tiles that border the fireplace were "the one thing we couldn't touch," Minkhorst says. Instead of erasing the home's historical charm—even if it didn't match—the designing duo styled around it to pull in other earthy tones.