SAS Cupcakes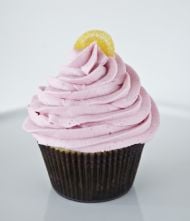 It's Monday. I know, I'm sorry too. However, there are things that can make Mondays feel better. Those things are called cupcakes.
This weekend I finally got down to Blakeney to check out SAS Cupcakes, the (relatively) new cupcake shop there selling a variety of the sweet creations in quite possibly the cutest shop front you've ever seen. There's candy lining the wall, colorful cakes in the case, and more shades of pink than I actually realized existed.
You can check out the Web site (sascupcakes.com) to find which cupcakes are there on which days. For example, today you can find Lemon Rasberry (pictured), Bailey's Irish Cream, or White Chocolate pretzel, while tomorrow you can nibble on Cinnamon Toast, Oreo, or Peppermint Schnapps.
Personally, I'd suggest the Triple Chocolate. It's there almost every day and it's chocolate three different ways. I think it's pretty obvious why it's a good choice.