Sauceman's Brings Authentic Southern BBQ to South End
It's taken a few months, but Sauceman's is showing some serious promise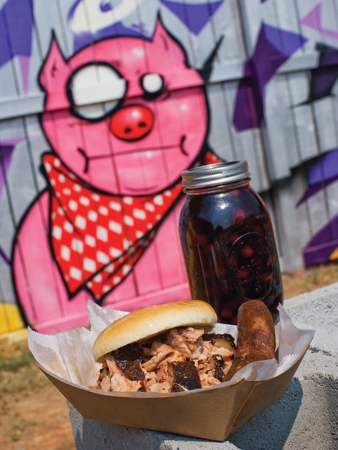 When Sauceman's opened last December, the South End spot couldn't seem to decide on its identity as a restaurant. The two owners, a real estate developer and a doctor, wanted to produce serious Lexington-style barbecue, but the menu also offered pasta and pizza. And, as the restaurant's often-empty gravel parking lot reflected, customers frequently left dissatisfied.
These days, under new chef and pit master Zach Goodyear, you'll likely have a hard time finding a space in the casual restaurant's lot. Goodyear slow smokes his barbecue for more than twelve hours over hickory and white oak. You can smell the 'cue—and see the log pile—before you even walk in the door. The menu has eliminated all the pizza and pasta and is sticking strictly to sandwiches, burgers, and salads, except on Friday and Saturday nights, when you'll find racks of ribs with a spicy rub and popular low country boils.
Sandwiches, which are the menu's main focus, come in ten varieties. Each is offered with your choice of burger meat, pork, chicken, turkey, or veggies. Ask Octavius Freeman, the friendly guy typically behind the cash register, which meat he recommends for any sandwich and he'll have good suggestions, but if you like barbecue and you don't try the pork, you're making a mistake. Sauceman's slow-cooked pork has the perfect mix of smoke and spice and is cut into large chunks of moist meat that's piled high between slices of buttery Texas toast. It's best on choices like the Dixie Cuban ($5.99), topped with pimento cheese and fried pickles, or the Sweet Smoke ($6.79), served under melted cheddar cheese, thinly sliced Granny Smith apples, and house-smoked apple-wood bacon. If you prefer chicken or turkey, they're also smoked and served the same way, as are the potatoes for the creamy—and mandatory—potato salad. If you arrive early enough in the lunch hour, you can wash it all down with a glass of the house-made Arnold Palmer, so good it runs out most days.
The restaurant's layout feels a little confusing, with a small counter for ordering placed between two dining rooms. It does offer a view into the kitchen, where you're likely to catch a glimpse of large cuts of pork being chopped. The walls are shrines to Carolina's barbecue history, with a large map of North Carolina on one and a tree showing the connections between the state's famed barbecue joints on another. It may not be to the level of deserving its own name on the wall yet, but Sauceman's 'cue is headed in the right direction.