Screen Saver: Christine Nelson's Style
The WBTV anchor's fashion choices complement her sunny attitude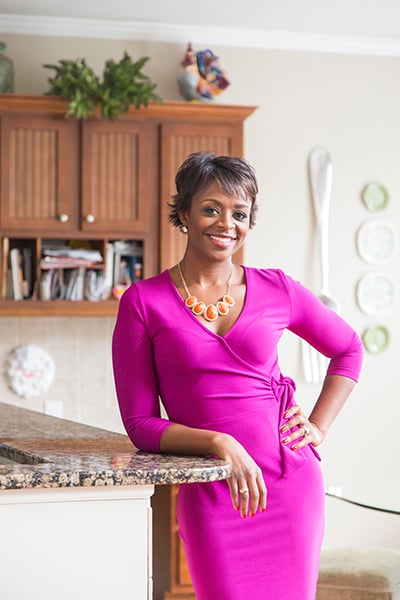 IN CHRISTINE NELSON'S spacious living room, the sound of her laughter pops like the bright colors she loves to wear. The anchor of WBTV's News This Morning and News at Noon is at ease when people are around, and her good humor is contagious.
Charlotteans will need a little of that humor this month. North Carolina's U.S. Senate race between Kay Hagan and Thom Tillis is drawing national attention, ire, and money, all of which will come to a head on November 4. Nelson is no stranger to covering politics. She still recalls the menacing presence of Laura Bush's bodyguards when the first lady visited Mississippi in 2002, and the thrill of interviewing Senator Barack Obama via satellite before the 2008 election. She's won two Emmys and knows how to balance the seriousness of news with an upbeat style.
News anchors at WBTV don't have station-supplied stylists or a clothing allowance, she says. "We all do our own hair and makeup—we have a makeup room with lots of outlets." They choose their own clothes, and most avoid white because it's too bright for the cameras. "Traditionally, for news anchors, you'll see them in a lot of color—purples, reds, greens, yellows—solid, rich colors."
Form-fitting clothes are favorites; she played volleyball for the University of Georgia and remains tall and graceful, gliding on four-inch heels.
How does she keep her sense of humor with all of the bad news these days, especially when work starts at 3:30 a.m.? She credits her coworkers, who are like family. "We have crazy hours, and we're tired, but we have such a great team of people."
And here comes that wonderful laugh.
Awards // Nelson has twice won Emmys for Best Morning Newscast, Midsouth Regional Chapter.
---
DECOR // The wreath on her front door is from Blacklion, a local home furnishings store that showcases a variety of individual merchants and designers.
---
CHUNKY NECKLACES // Big statement pieces with lots of color add glamour. Nelson buys what catches her eye—she picked up this necklace at a friend's Stella & Dot jewelry party.
---
BOOTS // "I love boots, and I love the fact that flats are in," Nelson says. These black Vince Camuto boots from Dillard's at SouthPark have just enough embellishment: a crisp row of gold military buttons. "I can wear them to work, or I can wear them with a pair of jeans on the weekend."