See the Kitchens of Charlotte Chefs, Restaurateurs, and Bartenders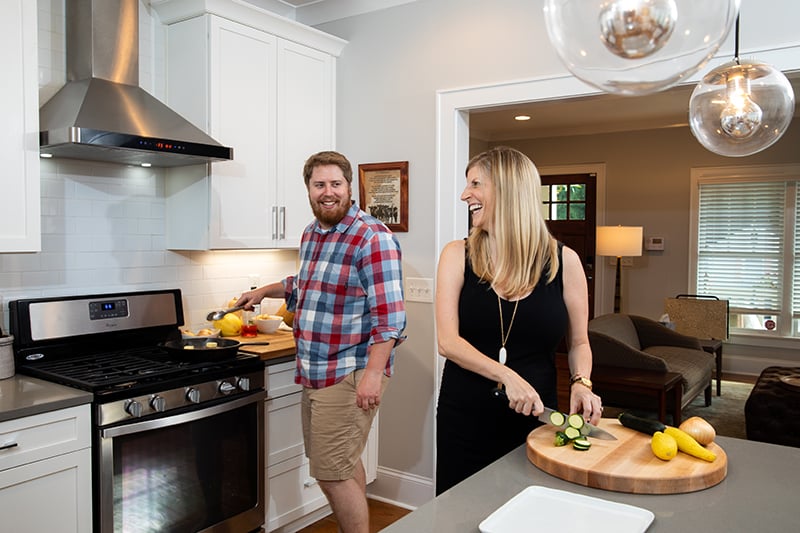 RACHEL RUSSELL KNEW she had met someone special when Matthew Krenz cooked for her. She'd lost her mother, who was a chef, but she had vivid memories of the things her mother cooked for her—specifically, her buttered noodles. So when Matthew asked Rachel if he could cook for her, he made buttered noodles from scratch. They tasted just like Rachel's mother's—so much so, she cried.
"He just hooked me," Rachel says of that date three years ago.
Rachel Russell is now Rachel Krenz, Matthew is no longer just "the noodle maker" to her friends, but the life they're building together still centers around family and food. They bought a house together and renovated the kitchen last year, putting in all of the touches they dreamed of, like a range with a flattop grill and cabinets that hid all of the appliances. Rachel, director of real estate development and services at Ram Realty Services, designed them.
Not long after the renovations were finished, the couple learned they were expecting their first child, and needed something bigger.
"We really loved our old house, and the kitchen was one of the things, we were like, can we really leave this place?" Matthew, who works as executive chef at The Asbury, says.
They bought a home in Villa Heights, between Plaza Midwood and NoDa, and have slowly been nesting, preparing for the arrival of their newest family member. The kitchen isn't quite the one they'd made in their last home; they're already talking about changing the gas stove. That's not to say the space isn't getting used. They often eat breakfast and dinner together, and lately, a few extra treats in between.
"There's nights that she's wanting something specific," Matthew says of Rachel's pregnancy. "One of the cravings she had was a skillet cookie."
So he got out a big, cast iron skillet, and made his bride a blondie. Soon, Matthew will be cooking for three. Sitting in the kitchen as her husband cooks up steaks, Rachel shares the one rule her mother had given her about relationships: Never date a chef. If she could only see this couple now, it's a rule she would certainly take back.
---
AMY AND FRANK SCIBELLI, owner of FS Food Group (Yafo Kitchen, Midwood Smokehouse, Mama Ricotta's), purchased their south Charlotte home six years ago. When they decided to renovate three years later, they realized the kitchen—with large windows overlooking the backyard—wasn't the only space they'd need to work on. They hated the yard.
"It was hard to sit in here; we didn't want to go outside," Amy recalls. To create a kitchen they wanted to spend time in, they decided to do some work on the backyard, too, pulling out a dated, kidney-shaped swimming pool and adding a basketball court. The outdoor work took 63 dump trucks.
The renovations inside took a year, and the result was a stunning, naturally lit space with bright white surfaces and enough open space to entertain. They couple spends most of their time at home in the kitchen, with Amy cooking on weekdays and Frank manning the gas range on Sundays.
Sunday is a special night in the kitchen—either date night, when Frank will cook a dinner the kids likely wouldn't want to eat, or family night with the Scibellis' kids: Amy's daughter Ande, 10, and Frank's sons, Joe, 21, Nick, 18, and Michael, 12. The surfaces are stain-free for the most part, keeping the space kid-friendly.
"We wanted to be the house that all the kids come to," Amy says.
Gathered around the table, the family plays a game they made up about superheroes. Someone will drop hints about a superhero—"I am green," to give an easy example—and the first person to guess correctly gets to host the next round. Joe is the best at it, but the game is competitive—the more obscure the superhero, the better.
Stepping outside the kitchen, there's a seating area, a fireplace, and a pathway that leads to a large outdoor dining table and the swimming pool. A fig tree provides a fitting pairing for the red wine the couple enjoys drinking. Things are different now in the yard they once didn't even want to look at from the kitchen window.
"We eat outside all year," Amy says.
---
ON MOST NIGHTS, the bar at Dogwood Southern Table in SouthPark is packed with regulars there to see bartender Brian Lorusso. He's gained a loyal fan club with his cocktail prowess and perceptiveness, which allow him to craft a custom drink for each person sitting at his bar.
It's no surprise, then, that when Brian and his wife, Rowena, entertain, there are cocktails. It's the food that generally surprises guests. You won't just find a few dishes; the Lorussos have a full-on feast ready.
"If we're having a party, I want people of all different dietary needs or taste to be able to enjoy everything," Brian says. "If you just have two or three things out, it's inevitable people aren't going to be able to nosh."
They usually prepare finger foods, vegetables, appetizers, sides, and a main protein that guests can pick at all night—a favorite is slices of pork loin. When guests arrive, the dishes are spread out on the couple's Carrera marble island. They moved into this house in Biddleville nearly two years ago, a new build that they were able to personalize. The marble was Brian's design request, and with gray cabinets and abundant natural light in the room, the bright white of the marble creates an energetic yet elegant space. At first, Rowena was uncertain about the countertops, given how fragile the material can be.
"But they look so damn good," Brian says. "I've always wanted Carrera marble countertops. They're timeless. They'll always be in style."
There are a few chips near the sink from washing a heavy dutch oven, but the couple wouldn't change a thing about the kitchen. Having met while working behind the bar together at Dressler's, they share a love of food and drink. Rowena now works a day job in financial data management, which means the two get to spend only Sunday and Monday nights together. Those nights, Brian will often make a meat and cheese plate for the couple, with enough food for a full house; his love of hospitality, it seems, doesn't slow down when he's at home.
Even when there is a full house, there still seems to be too much food. Before entertaining, the couple makes a prep list, divides the tasks, and gets to work. And those lucky enough to be invited quickly learn that despite backgrounds in bartending, the Lorussos are more than capable of cooking.
"It's nice to a degree to be able to show off your skills in the kitchen, because I haven't spent this long in the business to not have learned anything," Brian says.
---
GREG AND SARA ZANITSCH​, owners of The Fig Tree in Elizabeth, were in Napa seven years ago when they got a phone call from the business owner next door. She was selling her holistic health office in a converted house, and there was a family interested in buying it. The Zanitsches were nervous. Their restaurant's patio was only yards away from the home's front door, but with the business next door closing at 5 p.m., that was never a problem. If a family moved in, though, the new neighbors might not take to the clatter of dishes, cars coming in and out of the parking lot, and "mostly trucks beeping and going up and down the driveway," Greg says.
So they bought it to live in.
Converting the home from a lobby and offices back into a living space wasn't easy. There were no full bathrooms, and the whole space had been chopped up. It took three or four months to get the home to a point where the family could move in. Greg and Sara did a lot of the work themselves, all to ensure their restaurant wasn't at risk of unsupportive neighbors. The new commute was easy; however, their proximity had some negatives, too.
If the blinds are up, you can see into the home from the restaurant, something Sara often jokes about. The backyard has been taken over by staff parking, but inside, the 1924 building has returned to a family home—with some clear indicators that a chef planned the kitchen. A large center island with a gas range and burners hosts dinner no matter who is cooking—Greg, Sara, or one of their kids: Ava, 10; Grace, seven, who cooks scrambled eggs; and the youngest at five years old, Wolfgang.
The Zanitsches have now bought a new house, one where they won't be called over for a minute when something goes wrong at the restaurant, and where guests can't see into The Fig Tree owners' home. It's even got a yard for the kids, and as they move in, they'll turn their home next to the restaurant into an Airbnb.
During one of the last weeks in their first home as a family of five, Ava is making her specialty: bananas foster. She gathers the ingredients—bananas, butter, brown sugar, and banana liqueur—and lights the chef's gas range. And if something's missing, there's a fully stocked kitchen next door.
That's the only thing they'll be missing at the new house.