See the Restoration of a 1899 Victorian Home in South Carolina
A young couple restores a historic structure in York County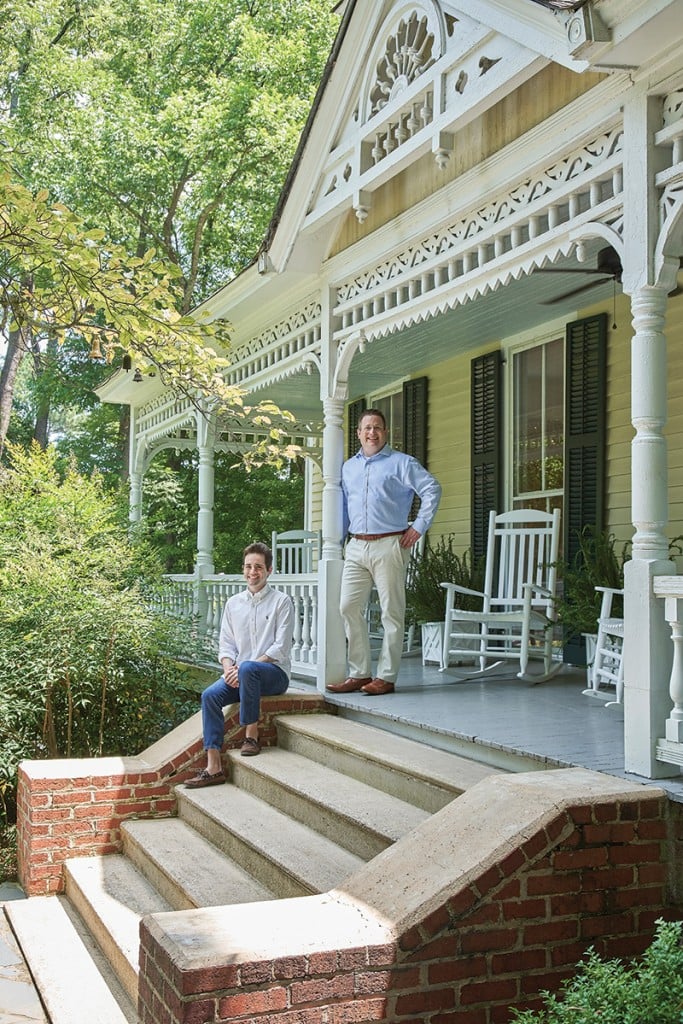 Spencer and Jordan Barkin had been married less than a year when they bought an 1899 Victorian in York, South Carolina. "We were looking for something beautiful, and we're inspired by historic homes," Jordan says. "The level of detail in the woodwork and the quality of the materials spoke to us, but also the homey appeal of Victorian architecture."
The 4,300-square-foot Queen Anne revival-style home sits on three-quarters of an acre in York's historic district. An 1,100-square-foot veranda wraps around the exterior, and high ceilings, tall windows, plaster walls, and paneled doors with transom windows distinguish the inside. The home has six original fireplaces (only three functional), and an enclosed sleeping porch with original hardwood floors and clapboard ceiling.
The previous owners installed storm windows and stainless-steel appliances in the kitchen; air conditioning and plumbing had been added years before. Jordan, 40, and Spencer, 30, didn't want to make major changes inside, and the home's inclusion on the National Register of Historic Places kept them from major exterior work.
The Barkins moved in February and have gradually begun to make it their own. "The idiosyncrasies of an old home are things that we learned only after we bought it," Jordan says. They found squirrels in the attic, a bunny on the veranda, and carpenter bees inside the porch spindles. "Those were all easy fixes except for the squirrels. We had to relocate them and fix the eave they'd entered through in the attic in a way that respected the historic exterior," he says with a laugh. "That cost more than our sofas."
The kitchen and main floor bathroom got two fresh coats of white paint, and they had to install a Wi-Fi booster because the signal wouldn't go through the plaster walls. They also added two flat-screen TVs. "That's just a nod to the times, and we love Netflix," Jordan says. Everything else, he says, has been a thoughtful process.
Jordan, who holds a master's degree in interior design from the Savannah College of Art and Design and worked for three years as associate editor at Veranda, already understood space planning and craftsmanship. Spencer, a Rock Hill native, works in health care but is an avid art collector. "Of the two of us," Jordan says, "Spencer has the eye for color and trends."
They found inspiration from Ruby Ross Wood, who decorated Swan House in Georgia, and Stéphane Boudin, who designed rooms in the White House under Jacqueline Kennedy's guidance. Jordan's mother also passed down some key pieces, like the Hudson River School oil painting over the fireplace in the study. Their furniture is a blend of heirloom pieces, antiques, and reproductions. They had some reproductions made in High Point and Hickory, including a Baker Furniture demilune and tea table. The large sideboard in the dining room was crafted in Winchester, Virginia.
With antiques and artworks that span so many decades, Jordan says this wasn't an exercise in historic preservation. He follows a design movement called "grandmillennial," which, he explains, is a more relaxed attitude toward luxury items. "Even if no one else on earth likes that color or pattern, embrace it, and don't worry about maintaining it to perfection," he says. "If your grandma left you a tea set and you don't want to polish it, leave it tarnished." While the pink dining room wasn't a color they would choose, "we liked it, so we kept it, and that embodies the grandmillennial outlook."
Not long after they moved in, the Barkins put white rocking chairs on the veranda. Almost immediately, neighbors showed up with welcome baskets and homemade preserves. "York isn't a city where people try to keep up with the Joneses," Jordan says. "People are stewards of these homes and actively tend their own gardens and value family living. There's no snobbery here. The best parts of the house I can't take credit for."
TAYLOR BOWLER is lifestyle editor of this magazine.