Seoul Food Meat Co. Opening Saturday in South End
Korean barbecue spot opening in former industrial building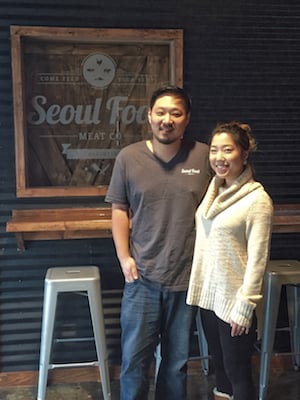 Tim Chun grew up in Charlotte, living here until heading to the University of Georgia for college. It was there, in Athens, that he learned how to make Korean food with the limited ingredients available to him in the college town. The experience showed him how easily Korean dishes can be made more familiar to American diners. Now, he's adapting that knowledge to a new concept in South End, opening Saturday.
Seoul Food Meat Co. takes the space of Kenny Color Laboratory, a former print-making office with few windows and a bare interior, at 1400 S. Church St. Tim and his wife, Lisa Kamura, updated the space with lots of natural light, streaming in from garage-door style windows that can be opened in the warm weather, and wooden paneling and corrugated steel on the walls. Strings of light bulbs speckle the black ceiling. Servers behind the long bar will also have an open window to serve drinks through to diners on the restaurant's patio, which has picnic table seating for about 50 and standing room for many more. There's seating for 120 diners inside.
Three large smokers in the kitchen will supply the bulk of the restaurant's menu: Korean-inspired smoked meats. The cuts of meat will be American, but the flavors used will be Korean—something that's not all that far from what Americans are used to, Tim says.
"American barbecue, you put a rub on it, it's smoked, and then slow-cooked and served with sauce. American food is all about sauce; Americans love sauce," Tim explains. "Korean food is all about marinade. It's going through the same cooking process, but instead of having a rub on it, it's been marinated overnight. So everything has been marinated prior to being cooked."
They'll also serve Korean fried chicken, another thing Tim and Lisa believe is lacking in the Charlotte area. Tim describes this chicken as staying crispy for hours, because the fat is rendered out. They'll also use rice bran oil for frying; rice bran is believed to be a much healthier alternative to traditionally used frying oils.
"It's significantly more expensive, but I think it's worth it," Tim says. "Who's not gonna like healthy fried chicken?"
Who, indeed? The sides will be a fun play on traditional American barbecue sides; the mac-and-cheese will be made with ramen noodles, and the slaw will be made using kimchi. The meat is served family-style, in orders by the pound or half-pound.
"Koreans are all about family-style eating," Tim says.
The cocktail list will also have an Asian influence, with soju, a popular Korean liquor, becoming the base of many drinks. Our unfortunate liquor laws, however, mean Seoul Food will have to special order each case, which, in turn, means they could sometimes be out of it. They're also curating an Asian craft beer list, which will fit in well amid the South End craft beer culture.
The couple is considering an authentic Korean spot in the future, but have significant concerns that permitting in Charlotte will make it too difficult. They joke that they'd need to find a standalone building with a supportive landlord who would let them put vents over every table. They hope that the Korean-inspired fare at their new spot will sate both those looking for true Korean flavors and those who aren't too familiar with the cuisine.
"One of the biggest problems we have is that people are excited a Korean restaurant is coming, but we're not really a Korean restaurant. And we're not really a barbecue restaurant either," Tim says. "We're playing a very hard game, being able to stay in the middle, instead of veering this way or that way. We're trying to stay in the middle, and I think that might be one of the hardest things we have to overcome."
With their placement in South End, though, where new residents flood in every day, an additional eatery is always welcome news.
Expect Seoul Food Meat Co. to be open daily for dinner, and lunch service to begin shortly on weekends. The official opening is Saturday, starting at 4:30 p.m., at 1400 S. Church St. in South End.