Seoul Food's Fusion Earns Fans in South End
Seoul Food Meat Co. brings Korean back to Charlotte in barbecue fusion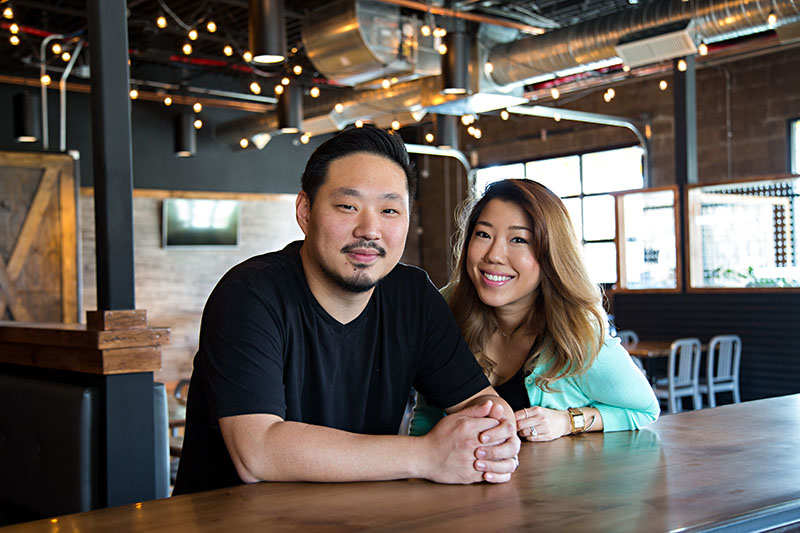 (Above, top) Everything at Seoul Food is served family-style, delivered on a metal tray such as this one with chicken wings, beef ribs, and pimento corn cheese.
(Above, bottom) Before becoming Seoul Food, the Church Street space was a dark, raw print shop.
BEFORE TIM CHUN and Lisa Kamura opened Seoul Food Meat Co. in South End in February, they described it as a fusion restaurant. The menu would combine American and Korean barbecue traditions, using American cuts of meat seasoned with Korean flavors, and list sides from ramen mac-and-cheese to pickled deviled eggs.
So they were surprised, during their first weeks in business, when a number of customers were disappointed to find a menu of fusion dishes instead of authentic Korean food.
Chun, 33, grew up in Charlotte and saw many Korean restaurants open and close, including one his aunt owned on South Boulevard. She hoped to serve traditional Korean barbecue, but she couldn't get permits to add the necessary hoods above each table—Korean barbecue dishes are often cooked on a grill built in to the diner's table. All of the restaurants he remembers from the early 1990s are now closed. Chun believes one reason for this demise is that the Korean community predicted growth in the wrong part of town.
"People were always like, is it going to be South Boulevard that grows, or is it going to be Independence that grows?" he explains. "And a lot of the Koreans banked on Independence, but they all just went downhill, and Independence just became a highway."
Before Seoul Food opened, PePeRo in Matthews was the closest remaining Korean restaurant to Charlotte.
"We wanted to introduce Korean food to Charlotte," Chun says. "Slowly, in a more Americanized way," Kamura finishes. "But I guess they were ready."
The feedback has led the pair to consider opening a second restaurant, one serving authentic Korean dishes. Those plans won't take away from what they're trying to do at Seoul Food, though.
This restaurant will always be fusion, they say. It's been a celebrated addition to a neighborhood that has no trouble gaining residents, but much trouble maintaining places for them to go, as apartment buildings replace former retail spaces. Chun and Kamura leased the former Kenny Color Laboratory, turning what was a dark photo print shop into a natural light-filled space with glass-paned garage doors and a bar that opens to a side patio.
Strings of bulb lights brighten the black walls and concrete floors of the dining room, and bright colors of Korean pop music videos flash from flat-screen TVs on the wall.
The fried chicken wings are a fitting starter for the American palate looking to expand with Korean flavors. The wings are fried with rice bran oil, a healthier alternative to traditional frying oils. Once coated with a hot sauce or a ginger soy sauce, the wings are flavorful, the fried chicken skins giving way to moist meat with a delightful snap. It's clear from one bite that Chun and Kamura want to give their guests comfort in the familiar, while familiarizing them with new flavors.
They stay true to that throughout the menu, with fall-off-the-bone, slow-cooked meats that are marinated, as is standard in Korean cuisine, instead of sauced, as they would be on an American plate. Tin platters covered in brown paper hold the meats, with small cups of pickled radishes on the side.
The ramen mac-and-cheese comes in the classic gooey, Southern style, yet thin ramen noodles hide the cheese between each curl. Kimchi coleslaw brings heat to the cold crunch of the original. The best way to eat everything may be to order the soft, pillowy bao buns and stack meat and kimchi slaw for a small, Korean sandwich, sprinkling some Sriracha cracklins on top for a Southern crunch.
This fusion continues on the beverage list, which lists Asian craft beers along with local brews. At 1400 South Church Street, Seoul Food sits in the heart of the craft beer district, and Kamura says customers' willingness to try Asian beers has surprised her. One beer in particular, Kiuchi Brewery's DAi DAi IPA from Japan, has been extremely popular. Fusion or not, this Korean restaurant has picked the right part of town.
Kristen Wile is senior editor of this magazine. Reach her at kristen.wile@charlottemagazine.com or on Twitter: @kristenwile.
Seoul Food Meat Co.
1400 S. Church St.
980-299-5143
Meat plates: $9-$24
---
This article appears in the May 2016 issue of Charlotte Magazine
Did you like what you read here? Subscribe to Charlotte Magazine »
---