Shawn Harrison: The Traveling Vegan Chef
A pop-up chef brings meat-free cuisine to Charlotteans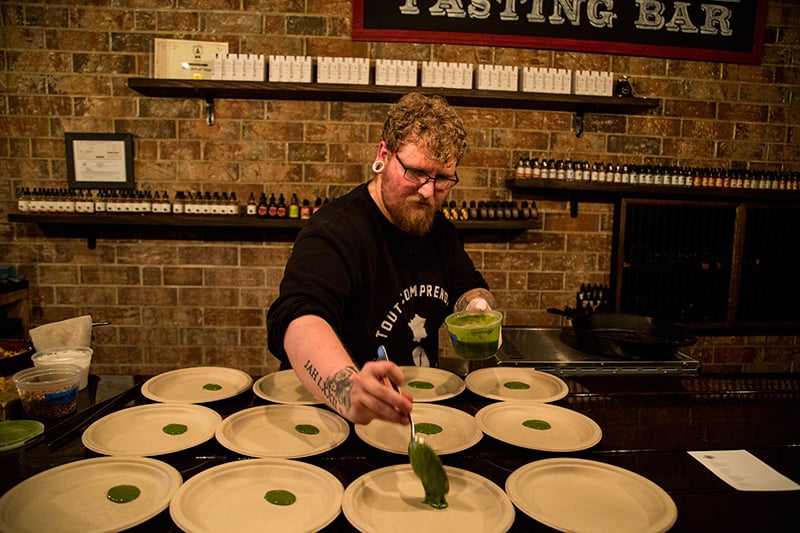 SHAWN HARRISON is standing behind a bar that's not really a bar because, well, this isn't really a restaurant. There aren't even any tables here, except for the three fold-up tables Harrison brought. And a pool table, if you count that.
To Harrison's right, charred okra heats up over the flames from two fold-up, butane stovetops. He carefully drops fresh fig preserves from a plastic container onto an exquisitely molded mound of chèvre that rests on a less-than-exquisite brown paper plate. The contrast of elegance and the mundane might sound unusual, but it's become the norm for Harrison, who started hosting pop-up meals in June 2015.
Paper plates may not be what you'd expect, but little is at this dinner. That chèvre cheese? It isn't really cheese, because the dish is vegan, as are the other four courses this evening, as are all of Harrison's pop-up meals.
Harrison, the chef and founder of Tephra Vegan Pop-Up, prepares the cashew-based "cheese" for an autumn-themed pop-up dinner in September at The Art of Vape, a warehouse-style emporium with a smooth, exposed-brick interior. He's expecting a sold-out crowd of 16 diners tonight.
So far today, Harrison has prepared the beet and sweet potato purées, the pear butter, the miso black walnut crumble, the sage lavash, and the endless other ingredients for tonight. He packed enough food for 16 people into plastic containers and brought them here from his tiny kitchen near NoDa in a single blue cooler. To do it all, Harrison's been up since 4 a.m.
"At first, people feel skeptical of this type of dining," Harrison says.
Do you mean the pop-up style or the vegan food?
"Both," Harrison says with a laugh.
Harrison acknowledges the Southern fixation on meat. In fact, it's how his pop-up series got its name. Tephra is material created by a volcanic explosion—a violent reaction to change.
"It's like I'm changing people's perceptions, but it may be a little violent," Harrison says. "Sometimes, people are not accepting of anything different, even if it's really good."
Although Harrison compliments the handful of vegan and vegetarian restaurants in Charlotte—notably, Bean, Fern, and Luna's Living Kitchen, all places he's worked—he says no restaurant is doing what he's doing with plant-based fare.
Harrison has never been to culinary school. He learned most of his cooking techniques in the restaurants where he worked, both vegan and non-vegan.
Harrison started eating only plant-based foods in 2009. It wasn't until 2015, though, that he staged his first pop-up dinner (then called As You Do) with his then-business partner, Brian Williams. At the time, Harrison was working at Whole Foods. The pop-up thing was just a side gig.
"Back then, I really didn't know what I was doing," Harrison says. "I made way too much food, I did way too many drinks, so I really wasn't making any money."
Enter Jason Lemon. Lemon honed his vegan craft while working as the chef de cuisine at Luna's Living Kitchen and noticed Harrison had a knack for cooking. Since then, Lemon has helped Harrison with three of his pop-ups, including making one of tonight's desserts.
After generating enough interest and realizing he wanted to be his own boss, Harrison, who has since branched off from working with Williams, made Tephra Vegan Pop-Ups his sole source of income. It has spread to events in Savannah, Asheville, and Greenville, South Carolina.
The tri-state presence is obviously good for business, but Harrison says that's not the reason he cooks seitan-based chicken and waffles or cast iron-seared wild mushrooms. "At the end of the day, it's nothing but vegan food," Harrison says. "The only reason why I do what I do is to get vegan food out there."
Indeed, Harrison says, only about 30 to 40 percent of his pop-up diners are vegans.
But why would omnivores sit down in fold-up chairs in front of paper plates at a pseudo restaurant for vegan food?
"Exclusivity is a huge thing for a lot of people," Harrison says. "There's only going to be a certain number of people experiencing this."
While Harrison continues to grow and expand his presence in the Southeast, he says he doesn't have plans to open a restaurant anytime soon.
"I used to want a restaurant, but now I kinda want that traveling (life). That way I can get the name and not the spot," Harrison says. "At some point, it's sort of old-world thinking to have a restaurant and stay there."
Back at his chef station, a bar that holds hundreds of vials of vaping fluid, Harrison begins to pack up the 20 plastic containers in which his five courses were stored. The Art of Vape is without a kitchen sink, so he'll have to wash the containers back at his apartment.
Dessert tonight is a carrot chiffon cake with raw cacao ganache and sweet potato mousse served, of course, on paper plates. Harrison hopes these 16 guests remember the flavors: the nutty, spicy, chocolate undertones. But, mostly, he hopes they remember his name—because this restaurant won't be here tomorrow.
Jared Misner, a vegan for eight years, is a writer for this magazine. Contact him at jaredsmisner@gmail.com.
Find out where Harrison will take his pop-up dinners next here.
---
Tephra Vegan isn't the only vegan pop-up in the city. Here are a few others serving vegan fare:
Move That Dough Baking Co.
Makes vegan doughnuts and cakes every Sunday, before dropping them off at Central Coffee Co. in Plaza Midwood. Rarely do the sweet treats make it to Monday. You can find their doughnuts and vegan ice cream at Two Scoops Creamery, also in Plaza Midwood.
Terra Flora
Harrison's former business partner, Brian Williams, started this raw-centric pop-up business.
Masa Casa
This traveling tamale stand offers vegan flavors such as chorizo and jalapeño, with wicked sauces to drizzle over the top.