Shop Talk with Cigi Guzman
Talking shop with designer Cigi Guzman about her new "speak-easy" boutique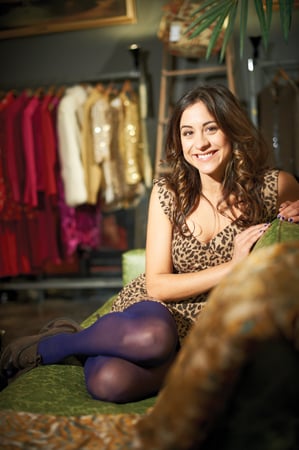 The former Jason Mraz merchandise designer and founder of THE FLOCK fashion line opens up about her latest venture: V.VILL Speakeasy Boutique
What can we expect to see in store at V.VILL? A hand-curated collection of what I like to call "quirky elegance." They're all one-of-a-kind pieces ranging from vintage silks to sequins, cashmere, and furs. Some pieces have been reimagined with the intent of making the garment more fashion forward, while others are untouched, honoring the classic works of designers such as Oscar De La Renta, Fendi, and Missoni. I pride myself on finding and carrying only the rare and eclectic.
Most in-demand item from V.VILL? A shop photo in front of the secret blue shop entrance door; every visitor gets one.
Must-have piece from V.VILL? The one piece that screams your name—that's the must-have for you.
What inspires your designs? Exploration and discovery. How have you evolved as a designer? I have found a way to be both green and forward thinking in my designs and in the way I run my business.
Biggest fashion mistake of your past? Taking myself too seriously. There are no mistakes in design; there are merely attempts that didn't speak to the masses.
Favorite item in your closet at present? My mom passed down her great legs, so anything that's cut off, rolled up, or shorty-short.
Fashion piece on your wish list? Nothing. This year I was able to successfully bounce back after losing my previous business to the economy. I get to do what I love for a living. What more could a gal want?
Location:
4451 Central Ave. (behind Value Village)
Charlotte, NC 28205
facebook.com/V.VILLstyle