Shop Talk with LaVonndra Johnson
Charlotte native, owner of Elle VJ Boutique, host of the annual Mode Noir CIAA Fashion Week, and president of Cinhte Magazine, gives us a glimpse into her world of style.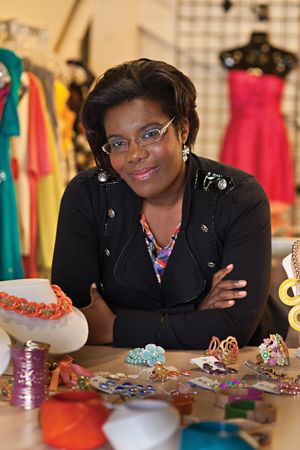 Your father introduced you to fashion at an early age. How so? He's a pastor, but he designed fashion when I was younger, including all of the clothes we wore to church, and a local seamstress made them. I learned everything from him. My dad is the best-dressed person I know.
What's your favorite fashion memory? Buying floral boots on a fifth grade trip to Seattle. I realized I was different when it came to fashion.
How did Elle VJ get its start? We started out small, part-time, in a kiosk in Plaza Fiesta Carolinas in Fort Mill, S.C., in September 2009. Someone approached me about styling the host of Sundress Sundays, the young-professionals mixers. I styled her every week, and that's when people started to learn the Elle VJ name. I remained at the kiosk for one year and then rented the loft space at Hart Witzen Gallery. I knew the time was right, and I went full steam in November 2010.
Party and cocktail dresses are your big sellers. Which styles will we find flying off the racks? My signature style is simply stated—feminine dresses paired with funky shoes. Each season, I do a new collection, sometimes pieced together from different manufacturers.
What about for spring? That collection includes yellow, orange, turquoise, navy, and white shades and lots of solids. But you'll also find a few prints, such as stripes and polka dots. Shapes include A-lines, tea lengths, mini skirts, and curvy silhouettes. There are a few separates, too.
Elaborate on that "funky" shoe selection. The shoes I carry incorporate the "art" part of fashion, which echoes the gallery setting. I carry predominantly dress shoes, such as wedges and platforms with oddly shaped wooden or leather heels and girly accents, like bows.
Tell us about the new addition, Beauté by Elle VJ, which launched on Valentine's Day. It's my own private-label cosmetic line. Phase one included lipstick, gloss, preset eye shadow palettes, blushers, and bronzers. Phase two included concealer, foundation, mascara, and primer and hit the store last month.
How can we purchase? In-store at 136 E. 36th Street, Studio 2 at Hart Witzen Gallery, and through our Facebook page (facebook.com/shopellevj).