Shopping: New Year, New Table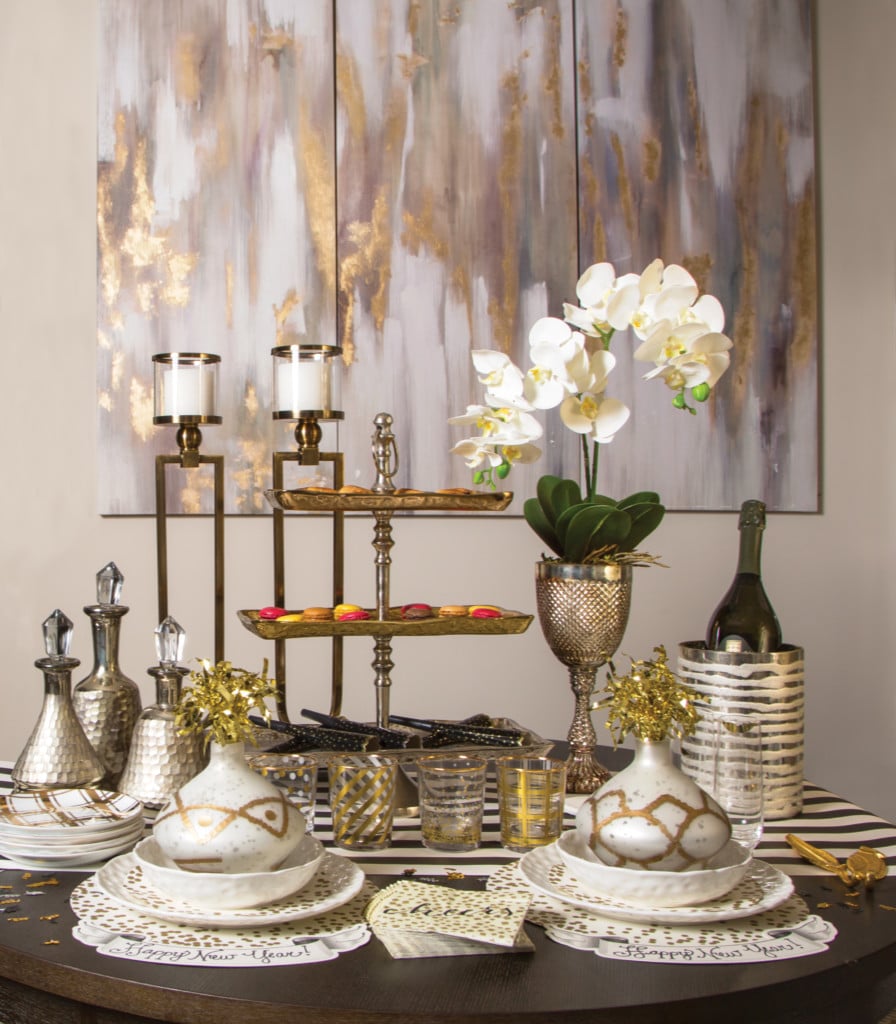 NO NEW YEAR'S EVE PARTY is complete without a little sparkle, including on the table. We turned to Emily Hudgens of Theory Design Studio in Dilworth for a few tips to design a table setting that will wow your guests and help ring in 2017 in style. Now, where's the champagne?
SHINE ON
Hudgens says sparkle "doesn't always have to mean glitter." For this table, she stuck with a neutral unifying base color, white, and relied on metallic finishes and accents for pop. "The neutral will keep your table setting grounded, while the color will add the personality and pizzazz you want," she says.
REACH NEW HEIGHTS
Finding the proper scale adds visual interest and keeps your table from looking one-dimensional. Balance bold patterns, such as the wide stripes on the runner with smaller ones, Hudgens says. Tall items go toward the center of the table, and shorter ones spread out to the edge.
MAKE FOR EASY CLEANUP
After the clock strikes midnight, your guests have gone home, and the party's over, do yourself a favor and make it easy to clear your table with disposable, yet elegant, accents. "We love paper table runners and placemats from Hester & Cook," says Hudgens. "(And) they're an affordable alternative to cloth."
1. Candle Holder, $249, set of two
2. Silver Glass Bottles, $145, set of three
3. Gold Dessert Plates, $48, set of four
4. Kings Mini Vase, $24 ea.
5. Gold Serving Papers, $18, pack of 30
6. Paper Place Setting Banners, $13, pack of 12
7. "Cheers" Cocktail Napkins, $5
8. Classic Stripe Paper Table Runner, $24.95
9. Gold Highball Glasses, $12 ea.
10. Rectangular Cake Stand, $85
11. Fairytale Urn with White Silk Orchids, $118.50
12. Silver Vase, $109, set of two
13. Gold Kiss Stemless Champagne Glasses, $11 ea.
14. Gold Bottle Openers, $11 ea.
Table setting design provided by Theory Design Studio, 1405 East Blvd., 704-900-0840