Shower Time: 10 Fabulously fun themes
Planning a shower or attending one of your own? Get creative with an out-of-the-box party theme!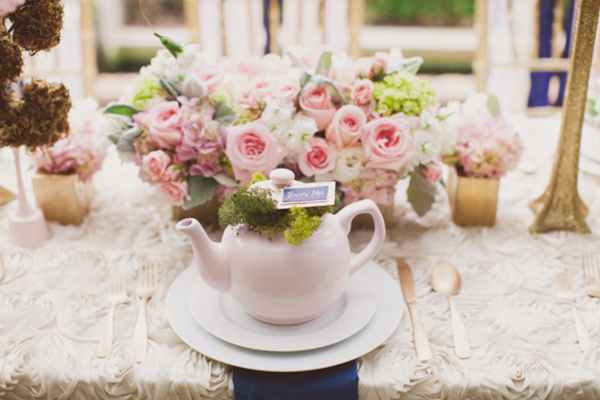 Any Gossip Girl fans out there? Twenty-something girls around the country turned Tiffany-blue with envy at the sight of Blair Waldorf's Tiffany-themed bridal shower, complete with little blue boxes and pearls draping from the chandelier.
If you're a bridesmaid or maid of honor planning a shower for a bride-to-be, now is the perfect opportunity to get creative and plan a shower that perfectly caters to your friend's interests.
Love the idea of a unique shower but don't have a creative bone in your body? Check out these 10 fun shower ideas to get you started.
High Tea – Cater to the bride's sophisticated side with high tea, complete with antique and feminine teacups, pastries and an abundant amount of floral décor.

Fiesta, fiesta! – Get the party started with this Mexican-themed shower. Serve mini quesadillas and tacos but don't forget the margaritas. Think bright colors and festive music. For a fun touch, toss in a piñata filled with bridal favors.

Country picnic – The perfect theme for southern girls! Plan the party in a local park or your own backyard and treat guests to gourmet subs or catered fried chicken. Decorate with daisies and sunflowers.

We all scream for ice cream – Cater to your inner child with a throwback ice cream shower. Create a do-it-yourself ice cream bar, complete with sprinkles and all the trimmings, perfect for outdoor summer showers.

Alice in Wonderland – Quirky brides will love this one. Drop by your local antique store for mismatched teacups and create a tablescape with roses and a deck of cards. Don't forget your hats, ladies!

Classy carnival – Treat the bride to a day at the fair. Rent a gourmet popcorn stand and sno-cone machine and decorate with bright reds, blues, yellows and whites.

Princess party – Looking for the ultimate girly-girl shower? Let the bride don a tiara and decorate with all things pink, gold and sparkly. Make sure to have champagne and an array of lush peonies.

Great Gatsby – Girls, get your glam on and channel your inner Daisy. Drag out your costume pearls and feather boas for this 20s-inspired soiree any bride is sure to love.

Garden glam – Ever popular in the shower world, the garden-inspired outdoor shower is chic, quaint and warm. Create a tablescape with fresh wildflowers and herbs and use seed packets for invitations.

Afternoon in Italia – For the bride who loves to travel, sweep her away to Italy in your own backyard. Serve fresh Italian pastas and veggies and don't forget an array of wines. For gifts, have each guests give the bride something for her honeymoon.